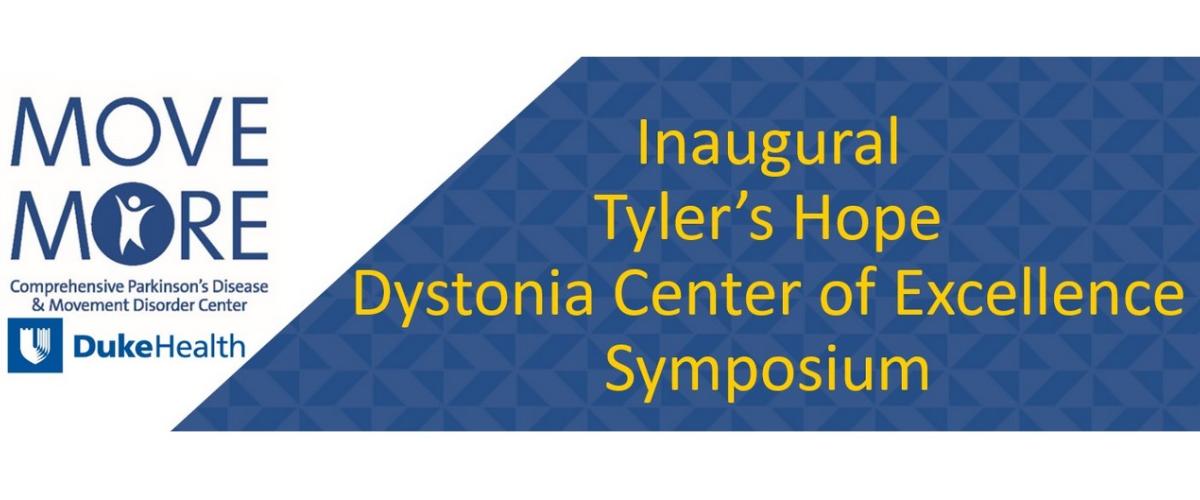 The Duke Department of Neurology and Tyler's Hope for a Dystonia Cure Foundation invite you to join us on Monday March 20, to attend the inaugural Tyler's Hope Dystonia Center of Excellence Symposium.
This event will be held from 2 to 6:30 p.m. in the Great Hall of the Trent Semans Center (8 Searle Center Drive, Durham, NC, 27710).
This symposium will feature dystonia experts from the Duke Department of Neurology and the Duke University School of Medicine, and across the country.
Parking is available at the Trent Drive Parking Garage 1, Duke Medical Center. Drinks and light hors d'oeuvres will be served.
All are invited to this free event. Please RSVP if you would like to attend so that we can have an accurate headcount.
Schedule of Events
2:00-2:20 p.m. Welcoming remarks
Nicole Calakos, MD PhD, Co-Director, Tyler's Hope COE
Rick Staab, Founder, Tyler's Hope for a Dystonia Cure
2:25-2:45 p.m. Deep Brain Stimulation for Dystonia: Challenges and New Opportunities
Kyle Mitchell, MD, Asst. Prof. of Neurology
Derek Southwell, MD PhD, Asst. Prof. of Neurosurgery
2:45-3:05 p.m. Noninvasive Brain Stimulation Technology:A Path to Personalized Medicine
Noreen Bukhari-Parlakturk, MD PhD, Asst. Prof. of Neurology, Co-Director, Tyler's Hope COE
3:05-3:25 p.m. Diagnostic Approach to Spasmodic Dysphonia
Alissa Collins, MD, Asst. Prof. of Head and Neck Surgery and Communication Sciences
3:25-3:45 p.m. Break
3:45 – 4:00 PM 3-Dimensional Approach to Sensing Dystonia Movement
Skylar Lee, Duke University undergraduate researcher
4:00-4:20 p.m. A Seed Takes Root: Journey of a Pilot Project Idea to Find New Treatments for DYT1 Dystonia
Nicole Calakos, MD PhD, Lincoln Financial Group Distinguished Professor of Neurobiology
4:20-5:00 p.m. 4:20 – 5:00 PM Using Genetics to Define Converging Molecular Mechanisms for Dystonia Pathogenesis
Guest Speaker: Niccolo E. Mencacci, MD PhD, Asst. Prof of Neurology, Northwestern University
5:00 – 6:30 PM - Reception and Poster Session
Speakers