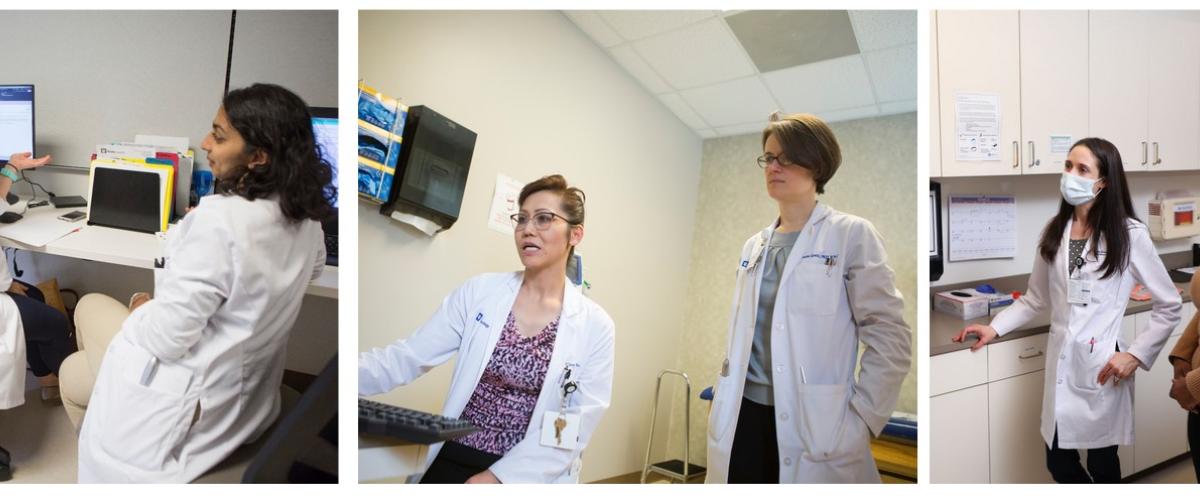 You're reading the Spring 2022 issue of the APP Fellowship Newsletter from the Duke Neurology Department.
Your gift to the Neurology APP Fellowship Support fund will allow us to maintain and build upon our existing program and continue to provide neurology training to the next generation of advanced practice providers. Make a gift today.
Welcome to the first Duke Neurology APP Residency Newsletter. It has been my honor and pleasure to be the director of the Duke Neurology APP Residency Program, now well into our 7th year and still going strong. As many of you know, we started the program in order to offer neurology specialty education to APPs interested in a career in neurology. As our program has developed, so has the Department of Neurology's utilization of APPs in practice. At this point, APPs have comprised part of the team of every specialty in neurology, every inpatient neurology service at Duke Hospital and every hospital in the Duke Health System including Duke Regional and Duke Raleigh.
The Duke Neurology APP Residency Program continues to evolve. We have been able to lean on our graduates to mentor our new APP residents (special thanks to Erika Cummings, PA-C and Elizabeth Devore, NP), start an APP residency journal club (special thanks to Elizabeth Devore), and continue presenting at regional/national conferences (posters at the recent NC Neurological Society from Ashley Lengel, PA-C and Jake Gardner, PA-C).
We are writing goals and objectives for each rotation with the goal to develop a curriculum we can share with other programs. Over the last one and a half years, I have given 11 Neurology Grand Rounds lectures at other institutions concerning our program and the need for specialty APP training in Neurology. I have had conversations with other institutions and several other Neurology APP Residency programs have begun.
Soon the program directors will start meeting to share educational information and consider developing a certifying exam. For any certifying exam, we would allow APPs with experience in Neurology to grandfather in should they want to take the exam. This is all incredibly exciting to me and I am so appreciative of the role many of you have played to support the program.
I have been fortunate to have extra help in interviews and program administration from 3 people in particular; Lesli Morcom, AGNP-BC, Bob Blessing, ACNP, and Bryan Walker, PA-C, MHS. Unfortunately, as you will hear, Bryan will be leaving Duke for an exciting new opportunity in pharma. With change comes opportunity and I am happy to announce that recent graduate Kelly White will assume the role of associate program director. Kelly has already been helping me with several aspects of the program and is excited to help facilitate improvements at Duke and beyond.
While we are all struggling with the continued issues of the pandemic, I am hoping that the 2023 AAN meeting in Boston may be a good time to try to get the participants past and present in our APP residency together so mark it on your calendar. 
Finally, I have started to raise money for the program so I can buy back some time to spend helping our program develop further and assisting programs outside of Duke to organize APP residency programs. Some Neurology programs in underserved areas really need clinicians and I hope the Neurology APP algorithm can be a solution. A link is attached at the bottom of the newsletter in case you want to give back. I wish you all a great 2022.
Joel Morgenlander, MD
Before I even entered PA school, I knew I wanted to practice in neurology. During school, I soaked up as much neurology content as I could even scheduling my elective rotations in it. Close to 25 years ago, when I joined my first neurology practice as a PA, there was no formalized training in neurology, it was "learn as you go." I was incredibly fortunate to have three academic neurologists to learn from and I've kept learning with each subsequent position.  
Working in neurology and PA education over the years, there has been an increase in the demand for tailored neurology training for PAs and NPs as more of these clinicians choose to go into neurology practices with the increased demand for neurology services. When the opportunity presented itself to come to Duke to work in neuroimmunology with Dr. Skeen and to work on the first-ever neurology Advanced Practice Provider residency program with Dr. Morgenlander, I left my academic appointment at the George Washington University and headed south.
This incredibly innovative program has served as the gold standard for training and on-boarding APPs into neurology practices for the past several years with many other academic and private practices looking at this model. Our measure of success has been in the APPs whom have completed the program and stayed on as integral members of our Department.
However, not everyone is able to dedicate an entire year to come to Duke for training and some would like focused education in a neurology subspecialty. Such is the case for multiple sclerosis and neuroimmunology. As such, I've accepted the position of Director of Provider Relations for Advanced Practice with EMD Serono, a biopharma company specializing in neuroimmunology for over 20 years. This is part of a very forward-thinking strategic initiative to provide APPs across the country with the education, tools and a receptive framework to grow in their careers as they care for Persons living with multiple sclerosis and their families. I will be joining a Director of Academic Medical Centers and a Director of Diversity, Equity and Inclusivity to meet this directive. It is through the combined educational opportunities for APPs that we will be able to work with neurologists across practice types and locations to provide access to the high-quality and evidence-based neurology services that patients deserve.
Bryan Walker, PA-C, MHS
As a college student, Jake Gardner, PA-C, knew he wanted to study the human brain but wasn't sure what specific career path to take. He studied to be a physician assistant, which cemented his love of working with patients with psychiatric and neurological disabilities in particular. Now, he's our newest addition to our APP residency program. In his "APP Resident Spotlight" interview, Gardner talks to us about the joys of connecting with vulnerable patients, his plans for the future, and loving James Bond and 1980s heavy metal when he's not at Duke.
What are your current responsibilities as an APP resident? What does a typical day look like for you?
I am so fortunate to have been accepted into this program. My job each day is to show up and learn from these amazing providers on the neurology team. Right now I spend the majority of the day observing one of the neuro providers in the exam room with the patient. They will often ask me to participate or ask my input on something. As the program progresses, I will be seeing patients on my own and getting a good history and a few differential diagnoses before my supervising provider comes into the room. We then discuss the case afterwards and I take the feedback given to me to improve.
How and when did you first become interested in treating patients with psychiatric and neurological disabilities?
In college I decided my career was going to involve the brain, some way somehow, but I was not sure whether that would be through medical school, PA school, physical therapy, teaching, or a PhD for research or to be a psychologist. So, my passion for the brain came before I decided on medicine, but once I picked medicine, one sort of followed the other, and this patient population became very special to me.
What do you enjoy most about working with this population?
I think psychiatric and neurological disorders, especially neurologic disorders localized to the brain, can be some of the scariest pathologies for patients because they affect the deepest part of who a person is; they can affect how we think and feel and oftentimes patients can feel helpless. I won't go into detail, but I will say that I can relate to this population very well and I think that helps me connect with them on a deeper level. Because these pathologies can be so scary, I find that patients are often extremely grateful and relieved through education and treatment. I enjoy being the one to help them feel that way.
In addition to your PA degree you also have a master's degree in neurophysiology. How does that experience and knowledge complement your work as a physician assistant?
The most important thing I took from that program was skepticism and the importance of how to properly research a subject. This pandemic, and the relentless spread of false medical information, has shown the world that these skills are incredibly lacking. All is well and good until false information starts hurting people, then we have a problem. Besides those aspects I mentioned, the degree helped me hammer down neuroanatomy and physiology, which we do NOT get much of in PA school at all. Neurology Is very much like a puzzle, and the best way to fix something is to first understand how it works. I find this to be very important in medicine overall but especially neurology.
What plans do you have for after you complete your residency? If you could have any job in the world, what would it be?
My dream job would be a subspecialty of neurology called behavioral neurology, also known as neuropsychiatry, where the worlds of psychiatry and neurology intersect. If there is an opportunity for me here at Duke once I finish this fellowship, I plan to take advantage of that. I am very grateful to be here with Dr. Morgenlander and the rest of the neurology team.
What other passions or hobbies do you have outside of the Department?
Reading philosophy is a hobby of mine. I enjoy video games. They are great fun in and of themselves, but they also let me play online with my best friends who I don't get to see very often. Hearing them in a headset is almost as good as having them sitting next to you. I also love 80s music, especially 80s metal, and I play my guitar every day. It is relaxing but also energizing. I enjoy exploring science museums or finding a new hiking trail. I also love movies. Some of my favorites are Gladiator and the Daniel Craig Bond films.
The Duke Neurology Advanced Practice Provider Program is a one-year post-graduate residency for licensed nurse practitioners (NP) and physician assistants (PA). Graduates of an accredited NP or PA program are eligible. Residents will be educated in general neurological principals and be capable of working in a general or subspecialty neurology practice upon completion. There will be experience in both outpatient and inpatient settings. Our graduates will be highly marketable as the need for these specialty-trained practitioners is great and increasing. Read more about the program here.