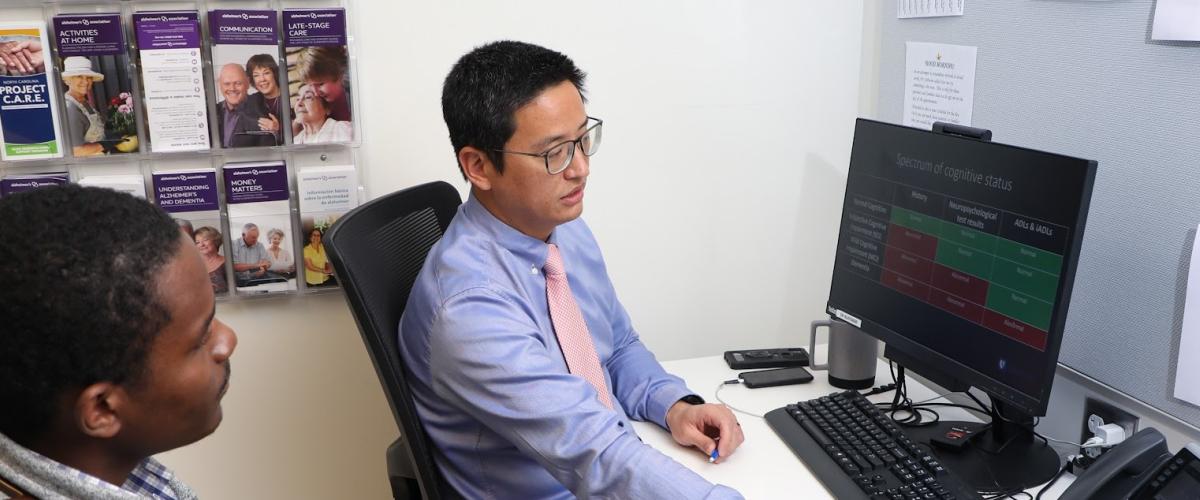 The Duke Neurology Department conducts innovative research in Alzheimer's disease. At the clinical level, our faculty and researchers are examining how Alzheimer's disease develops and progresses, with the hopes of detecting the condition earlier and improving our ability to care for the condition. These studies include efforts to find biomarkers for Alzheimer's, new imaging techniques, and behavioral therapies such as cognitive stimulation therapy. At the basic science level, members of our Division of Translational Brain Sciences are working to understand the origins and progression of Alzheimer's disease from a genetic, metabolic, and other factors.
Members of our Department are a major part of the Duke/UNC Alzheimer's Disease Research Center (Duke/UNC ADRC) which brings together leading researchers in Alzheimer's disease and related dementias across two major research institutions. As an NIH-funded center of excellence, the Duke UNC/ADRC aims to catalyze and support research, innovations in clinical care and academic work force development (with North Carolina Central University, East Carolina University and UNC Pembroke as partner institutions) in this field. Our ultimate purpose is to reduce the burden of Alzheimer's disease and related dementias regionally and nationally. The outstanding scientific environment at both institutions enables novel research to identify effective methods of prevention and/or early intervention, and to reduce racial and urban/rural disparities associated with dementia. Learn how you can participate in this research.
Individuals from North Carolina who wish to participate in studies relating to Alzheimer's disease are also invited to join the NC Registry for Brain Health. This registry is increases awareness of Alzheimer's disease and related disorders and connects North Carolinians of all ages with research opportunities designed to improve brain health.