Our division of Stroke and Vascular Neurology offers cutting-edge patient care and conducts excellent reserach to better understand, prevent, and treat strokes and related conditions. The Duke Comprehensive Stroke Center, originally named the Duke Center for Cerebrovascular Disease and was founded by Dr. Albert Heyman in 1966 as a collaborative effort of the NIH and the Veterans Administration. Certified as a Comprehensive Stroke Center by the Joint Commission, we offer the highest level of specialized stroke prevention and stroke care. We also offer a fellowship program in vascular neurology with a multidisciplinary faculty which includes members of our Department as well as the Departments of Neurosurgery, Cardiology, and Surgery.
The Duke Comprehensive Stroke Center is based in the School of Medicine, and has expanded to develop affiliated programs and includes faculty from an extensive list of clinical departments, research laboratories, and university centers. These include affiliations with:
Duke Cerebrovascular Center
Duke Clinical Research Institute
Duke Center for Genomic and Computational Biology
Duke Multidisciplinary Neuroprotection Laboratories
Research activities range from laboratory studies based on molecular biological approaches to neuropharmacology, neurophysiology, developmental neurobiology, receptor biology, cell biology, and behavioral recovery. The affiliated Multidisciplinary Neuroprotection Laboratories are dedicated to studies focused on understanding the pathophysiology of stoke and acute brain injury and to developing novel treatments.
A variety of clinically-based research projects are in progress including continuing participation in multicenter clinical trials.
A Certificate of Distinction as a Comprehensive Stroke Center, from the Joint Commission, was received by Duke's Stroke Center for the state-of-the-art care given to patients with acute stroke. The Duke Stroke Center integrates the care of stroke patients from before emergency department arrival through inpatient care and assessments for rehabilitative services.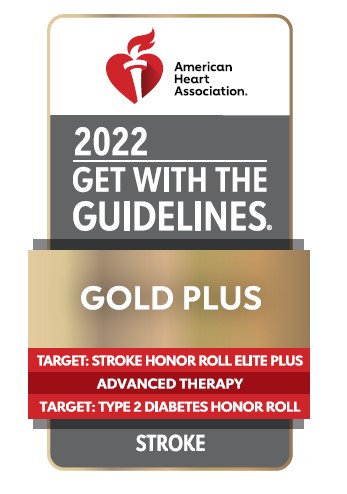 The American Heart Association and American Stroke Association recognize Duke University Hospital for achieving at least 85 percent or higher adherence to all Get with the Guidelines-Stroke Quality Achievement indicators for two or more consecutive 12-month intervals and achieved 75 percent or higher compliance with six of 10 Get with the Guidelines-Stroke Quality Measures to improve quality of patient care and outcomes. The award recognizes Duke's commitment to success in implementing excellent care for stroke patients, according to evidence-based guidelines.
Duke's Acute Stroke Response Team is available for immediate patient evaluation and management. Patients who are not candidates for standard intravenous thrombolysis are routinely assessed for endovascular interventions. Several cutting-edge clinical trials evaluating new stroke treatments are always available.
We typically admit patients suffering from acute stroke to the Duke University Hospital Neurosciences Step-Down Unit, located in the Duke Medical Pavillion, where we can provide specialized evaluation; and care is provided by a dedicated multidisciplinary team.
Patients who need more complex stroke care are admitted to the adjacent Neurosciences Intensive Care Unit. Neurosciences intermediate care beds are also available for patients who require additional assessment and treatment after they are stabilized. Staff members in each of these units are specially trained to care for stroke patients.
The entire course of care is organized around critical pathways that facilitate the provision of multidisciplinary services. A multidisciplinary supervisory team continuously monitors the quality of stroke-related care. Outpatient consultative and diagnostic services for primary and secondary stroke preventive evaluations are available.
In 2008, Duke became one of three American Stroke Association-Bugher Foundation Stroke Prevention Research Centers. The three awarded centers developed collaborative research programs. The center program also had an emphasis in providing multidisciplinary fellowship training.