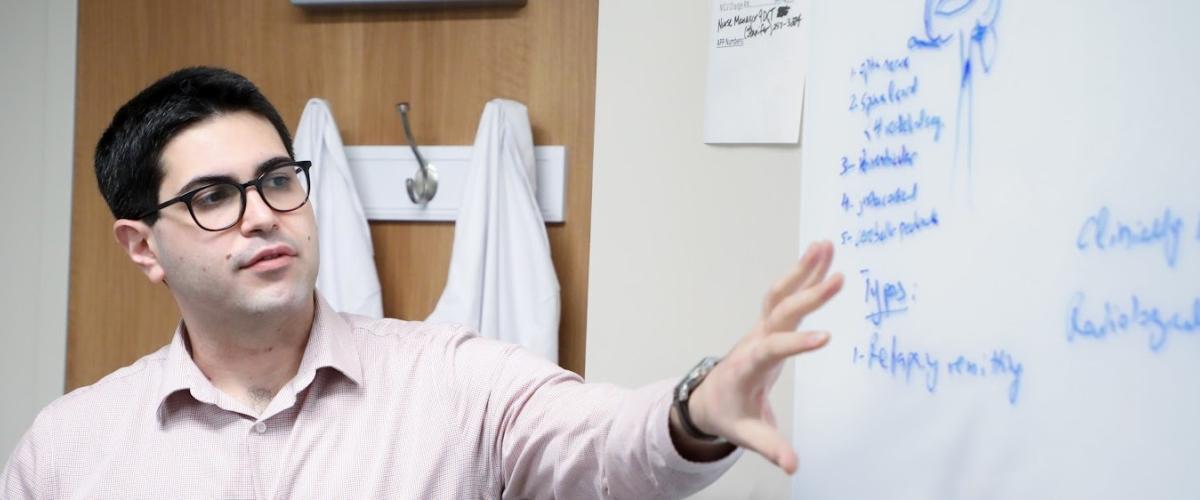 The Department of Neurology offers varied experiences to medical students throughout their four years at Duke Medical School, including a second-year clerkship in clinical neurology, clinical rotations, basic or translational research projects for third-year medical students, and various electives for students during their fourth year.
Neurology Clerkships
During their second years, all Duke medical students take a clerkship in clinical neurology, led by Clerkship Director Karissa Gable, MD.
The second-year clerkship is made of two, two-week subrotations with one centered in inpatient neurology, and the other in outpatient neurology. During their inpatient subrotation, students are assigned to the Duke consult service, the Duke stroke service or Duke general neurology service; for their outpatient rotation students are assigned to the VA Neurology Clinics, North Duke Street Clinic, Duke Neurology of Raleigh Clinic or the Duke pediatric neurology service.
"I have felt so at home within the Duke family. Everyone is always willing to listen and to help. I strongly believe I will get exceptional training here. I also love that the program does not limit resident research to basic science, but that I will have the opportunity for educational and quality improvement research as well."
Mishy Roy, MD, MHA -  Class of 2023
During this experience students master basic neurologic history-taking and examination skills, address common neurological emergencies, and learn to identify the anatomical areas where actual or potential neurological disease originate.
Students also attend educational conferences and lectures addressing basic and advanced issues in diagnosis and management of neurological disorders.
Clinical Rotations
Rotations in neurology are divided into two two-week blocks on the inpatient consult service, one of the adult inpatient services, or in one of the outpatient neurology clinics.
During the rotation, students evaluate patients with both new-onset and chronic neurological disorders. If you are a visiting student who wishes to rotate at Duke, please click here.
Research
Medical students interested in neurology or neuroscience may conduct neurology research during their third-year research year. Working closely with Department faculty, medical students can conduct basic or translational research in their area of choice. As the director of the School of Medicine's third-year research program, the Neurology Department's Daniel Laskowitz, MD, MHS, steers medical students toward research experiences that fulfill their interests and career goals.
Electives
During their fourth year, students may enroll in various electives including a one-month consultative neurology elective centered on the inpatient consult service or VA Clinics, a one-month clerkship elective (only for students who did not complete Neurology 205C), the neurological outpatient subspecialty elective, in which students spend 1-2 weeks in a subspecialty clinic, or a one-month neurology subinternship centered in the inpatient stroke or general neurology and NICU services. The subinternship involves a higher level of autonomy, input and responsibility for diagnosis and management of neurology inpatients.
Visiting Medical Students
The Department of Neurology offers electives to visiting medical students. If you are a visiting student who wishes to rotate at Duke, please visit the School of Medicine's "Visiting Medical Students" webpage.
Student Interest Group in Neurology (SIGN)
Duke's SIGN (Student Interest Group in Neurology) chapter meets regularly on a formal and informal basis. For more information about SIGN, contact our current chapter leaders Megha Gupta (Megha.gupta@duke.edu) or Safa Kaleem (Safa.Kaleem@duke.edu), or our current faculty advisor, Sneha Mantri (Sneha.Mantri@duke.edu).
Faculty and Staff
Karissa Gable, MD, Clerkship Director                                   
Christine Berry, Undergraduate Medical Education Coordinator