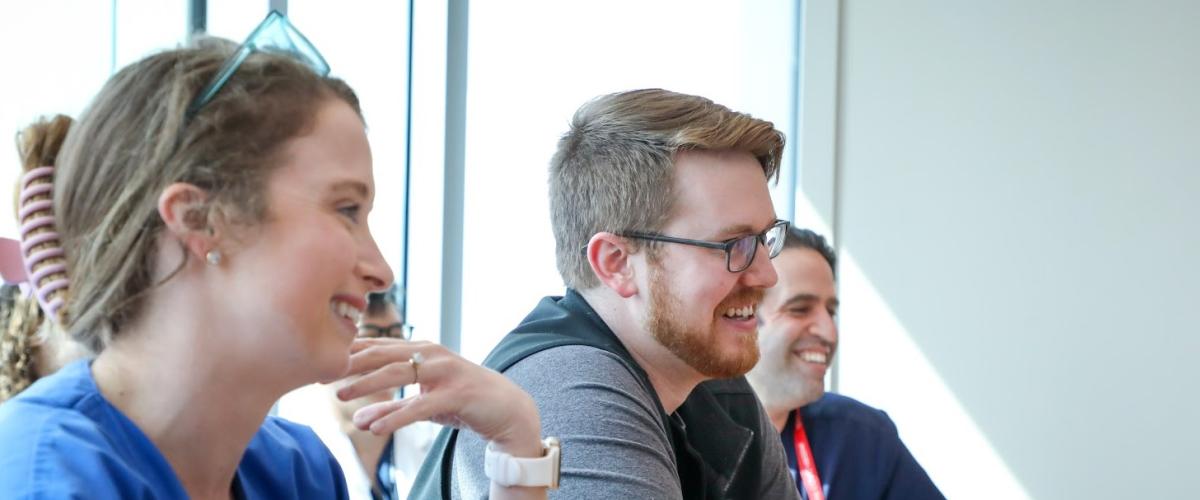 Didactics within the Department of Neurology are divided into residency, division, and department-wide conferences. Residents are encouraged to attend conferences at each level. 
Residency-specific didactics include morning report, noon conference, interesting case conference, and journal clubs. Most divisions have their own subspecialty-specific conferences that are optional for residents to attend. The department holds weekly grand rounds at which resident attendance is expected.  
Noon conference: 
For the first two months of the year, introductory topics including stroke management, acute seizure management, and brain death examinations are covered to provide a secure knowledge base for new PGY-2 residents. Noon conference covers topics in all neurological subspecialties as well neuroradiology, child neurology, professionalism, health disparities, and more. 
This twice weekly conference allows residents to present cases seen overnight for discussion and feedback by attendings.  
Interesting Case Conference: 
ICC, as it is known, is a weekly gathering of residents, APPs, and attendings who present and discuss interesting cases from both inpatient and outpatient services. These are often diagnostic mysteries for which group input on management is desired. 
This is the main departmental conference covering basic research, clinical research and clinical topics related to neurology. Both internal and external speakers are invited to present. Chief Residents present at grand rounds prior to graduation. A schedule of coming lectures, as well as an archive of Grand Rounds recordings, is available here.
Sample Divisional Conferences: 
Clinical Neurophysiology Fellows Conference 

Epilepsy Surgery Conference 

Neuromuscular Conference 

Sleep Interesting Case Conference 

Sleep Medicine Grand Rounds 
 
Monday
Tuesday
Wednesday
Thursday
Friday
7:30-8:30 a.m.
 
Morning report
 
Morning report
Neuroradiology Conference
8-9 a.m.
 
 
Neurology Grand Rounds
 
 
noon-1 p.m.
Continuum Curriculum (2/month);
Movement Disorders (1/month);
Professionalism (1/month)
Neuroimmunology (2/month);
Neuro ICU (2/month)
Behavioral Neurology (1/month);
Clinical Neurophysiology (1/month);
Neuroscience (1/month);
Residency Meeting (1/month)

Evidence-Based Neurology (1/month);
Neuro-Oncology (1/month);
Stroke (2/month)

Pediatric Neurology (1/month)
5-6 p.m.
 
Interesting Case Conference (Performance Improvement/M&M 1/month)