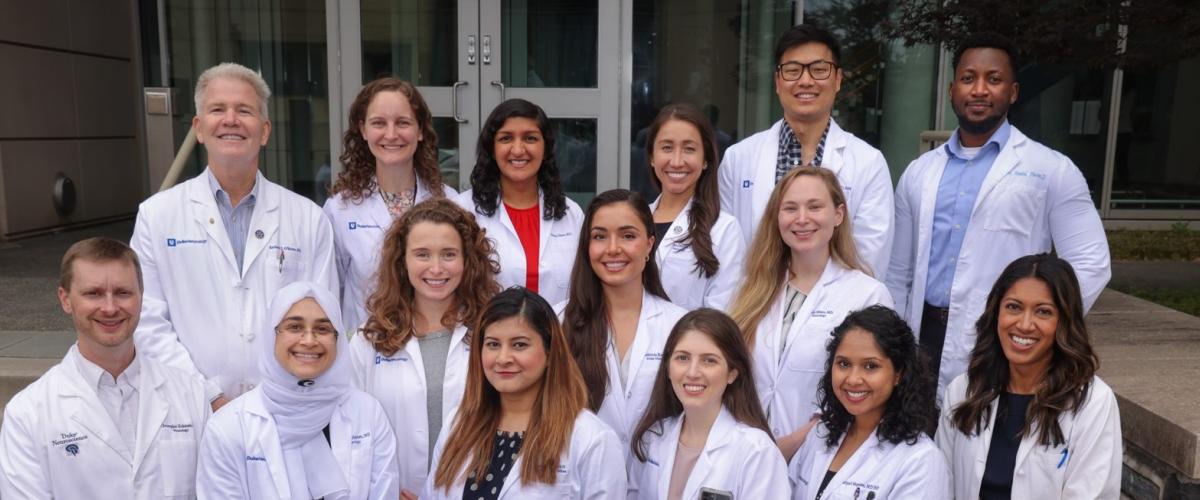 Graduates of our residency programs excel in research, private practice, and education. Residents who are interested in specializing in different areas within neurology may pursue one our fellowship programs.
Upon completing their residencies, many of our residents go on to one of our eight fellowship programs. Many later obtain academic positions at top universities in the country, sometimes with our Department. Others go on to provide clinical care.
The Neurology Department also maintains a Facebook group for alumni of our residency program and other aspects of our Department. If you are a fellow resident, fellow, faculty member, or staff member of the Department of Neurology, click here to join the group.
Andrew "Nate" Ameri, MD
MD: University of Virginia School of Medicine
BS: University of Virginia School of Medicine
Fellowship: Movement Disorders, Rush University

Petra Brayo, MD
MD: Lewis Katz School of Medicine, Temple University
BS, MA (urban bioethics): Temple University
Fellowship: Neuroimmunology, Georgetown University
 
Danielle Howard, MD
MD: U-Miami Leonard M. Miller School of Medicine
BS: Florida Atlantic University
Fellowship: Neurommunology, BIDMC/Harvard
Paul McIntosh, MD
MD, BS: UNC-Chapel Hill
Fellowship: Neuromuscular Disease, Massachusetts General Hospital
Alan Tesson, MD
Residency (Internal Medicine): Duke University
MD: University of Florida
Fellowship: Sleep Medicine, Duke University

     

Martin Weiss, MD
MD: SUNY Downstate Medical Center College of Medicine
BS: Stony Brook University
Fellowship: Stroke and Vascular Neurology, Duke University School of Medicine
 
Lina Barker, MD
MD: UNC-Chapel Hill School of Medicine
BS (Biomedical engineering): UNC-Chapel Hill School of Medicine
Fellowship: Sleep medicine, Mayo Clinic, Rochester, MN

Ovais Inamullah, MD
MD: Ross University School of Medicine
BA: Emory University
Hobbies: Watching and playing sports, exploring Durham, concerts,
traveling, and hiking
Fellowship: Vascular neurology, Duke University School of Medicine
Abigail Berezoski, MD
MD: Texas A&M Health Science Center College of Medicine
BS: Baylor University
Fellowship: Vascular neurology, Duke University School of Medicine
Abhi Kapuria, MD
MD: Emory University School of Medicine
BS: Washington University in St. Louis
Hobbies: Building furniture, animal rescue, gardening
Fellowship: Clinical Neurophysiology, Duke University School of Medicine
Marjorie Kilgore, MD
MD: Marshall University School of Medicine
BA: Elon University
Hobbies: Visiting the beach, trying Durham food, playing
with her Saint Bernard
Fellowship: Sleep Medicine, Duke University School of Medicine
Deepal Shah-Zamora, MD
MD: Baylor College of Medicine
BS: University of Texas (Austin)
Hobbies: Reading, sports (Hornets, Panthers, Duke basketball)
Fellowship: Movement disorders, Rush University, Chicago
Eric Gutglueck, MD
Fellowship: Neuromuscular Medicine, Duke University School of Medicine
Jennifer Kang, MD
Fellowship: Neurocritical Care, Duke University School of Medicine
Maxwell Levy, MD
Fellowship: Neuromuscular Medicine, LSU Health New Orleans

Jordan Mayberry, MD
Fellowship: Neuromuscular Medicine,

Shareena Rahman, MD
MD: University of Virginia
Fellowship: Clinical Neurophysiology, Duke University School of Medicine

Fang Sun, MD, PhD
Fellowship: Neuromuscular Medicine, Cleveland Clinic