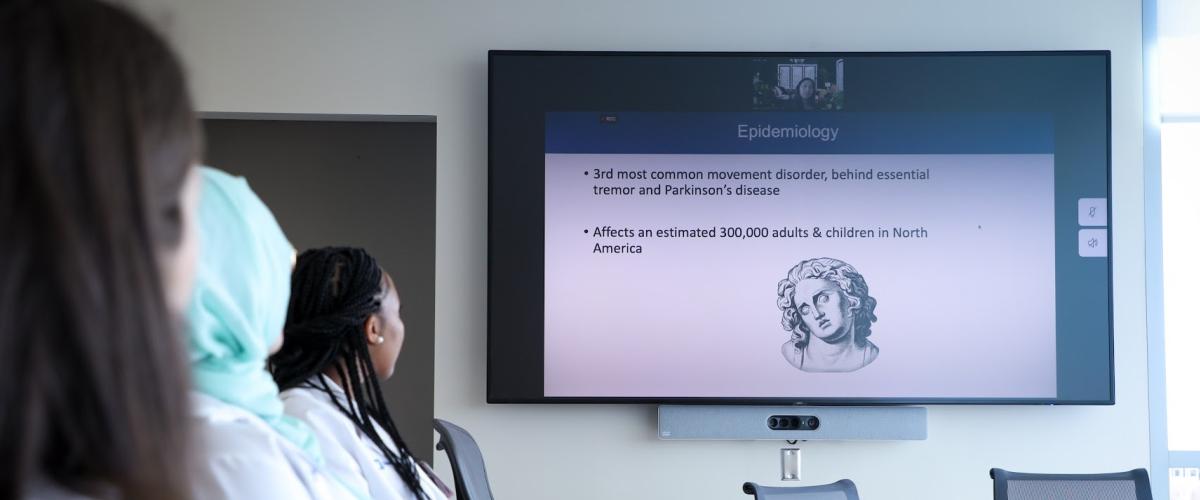 Our residents spend their first year in general internal medicine, and their three following years working with Department faculty, treating patients, and conducting their own research with gradually increasing responsibility.
Neurology Residents spend their PGY-1 year in either a preliminary internal medicine program or a transitional year. We highly encourage them to join the Duke Internal Medicine Residency Program, which offers a guaranteed internship slot to all trainees accepted for Duke Neurology. This program, one of the top residency programs in the country, provides a solid foundation in the essentials of general medicine. During this period, residents will participate in inpatient and outpatient general medicine, including critical care. PGY-1 residents in the neurology program also spend two months rounding in neurology. They are assigned a faculty advisor from within the Neurology Department to plan for their second year.
Following completion of an internship, second-year Duke Neurology residents (also known as "JARs", or Junior Assistant Residents) start their formal training in neurology. Residents spend time on the four inpatient services (General, Stroke, Consults, and neuro-ICU) at Duke University Hospital. They also work in outpatient clinics at Duke Clinic and the Durham VA Medical Center. Inpatient time constitutes about 55% of the first year. The seven Neurology residents from the Neurology Department are joined by two Child Neurology residents for the PGY-2 year.
PGY-2 Rotation Schedule
General Inpatient - 4-6 weeks
Stroke Inpatient - 4-6 weeks
Consult Inpatient - 4-6 weeks

Neuro-ICU

- 6 weeks
Night float - 4-6 weeks
Outpatient clinics - 14 weeks
EEG - 4 weeks
Elective - 4 weeks
Vacation - 3 weeks
During their PGY-3 year, Senior Assistant Residents (or "SARs") focus on subspecialty areas of neurology and gain additional experience leading the consult team. Residents spend about three months each learning to perform and interpret EEGs and EMGs. They also spend about six weeks on the inpatient pediatric neurology ward. During this year, the residents are also encouraged to start their research/academic projects. About 40% of the year is spent inpatient.
PGY-3 Rotation Schedule
EEG - 8 weeks

EMG

- 12 weeks
Pediatric Neurology Inpatient  - 6 weeks
Consult Inpatient - 8 weeks
Night float - 6 weeks

Neuro-oncology

- 2 weeks
Elective - 8 weeks
Vacation - 3 weeks
In the final, or Chief Residency year, our residents graduate to further independence, taking on administrative responsibilities for making schedules, leading conferences, and supervising junior assistant residents, interns and medical students. They also triage new neurology patients and accept outside transfers. This graduated responsibility increases in the second half of the year, when chief residents function like junior attendings with an attending supervising them. Approximately 60% of the year is spent inpatient. Given the recent expansion of our program to include a seventh resident, the elective time in the Chief year is expected to increase.
PGY-4 Rotation Schedule
General Inpatient - 8-10 weeks
Consult Inpatient - 8-10 weeks
Pediatric Neurology Outpatient - 6 weeks
VA Medical Center Inpatient - 8-10 weeks
VA Medical Center Outpatient - 10 weeks
Night float - 4 weeks
Elective - 2 weeks
Vacation - 3 weeks