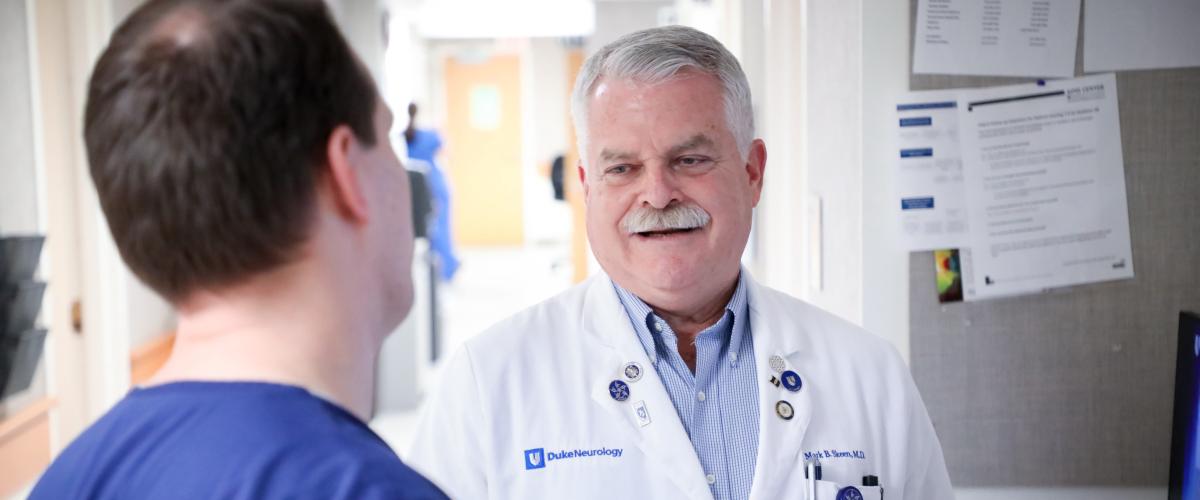 Our one year, multidisciplinary clinical fellowship prepares the graduating neurology resident to practice and lead a multiple sclerosis center of excellence.
Our one-year fellowship includes didactic sessions covering all topics delineated in the AAN Multiple Sclerosis Fellowship Core Curriculum as well as a review of immunology.
The Duke Multiple Sclerosis and Neuroimmunology Fellowship focuses on patient care in our multidisciplinary Multiple Sclerosis Clinic but the fellows also attend several other clinics including rheumatology, ophthamology, physical and occupational therapy, neurorehabilitation, neurosurgery, and urogynecology. These clinical experiences prepare the fellow to optimize care of MS patients in a multidisciplinary team.
Our clinic and inpatient practices focus on multiple sclerosis and other CNS inflammatory conditions including NMOSD, autoimmune encephalitis, neurosarcoidosis, and CNS manifestations of systemic disorders. The focus of the fellowship is clinical care. However our fellows participate in DREAMS – "Duke Research in Autoimmunity and MS," a coalition of MS researchers at Duke – and research opportunities abound. 
The Duke Neurology Department recognizes that diversity is a necessary component of its mission of world-class patient care, education, and research. Our program is committed to building and maintaining a diverse and inclusive community where all members thrive in a welcoming and engaging environment. Read more about our diversity and inclusion efforts across the Department here.
Take a "virtual tour" of Duke Health's hospitals, clinics, and other facilities here.
Thank you for your interest in our fellowship program. The Duke Neurology Department accepts one Multiple Sclerosis and Neuroimmunology fellow per year. Candidates must be board certified/board eligible to be considered.
Duke is now participating in the SF Match. Interviews will occur in January and February 2024.
Apply now for July 1, 2025 fellowship start:
For more detailed SF Match timeline information please visit:

For more information about our program, contact:
Christopher Eckstein, MD, Fellowship Program Director
Christine Berry, Program Coordinator