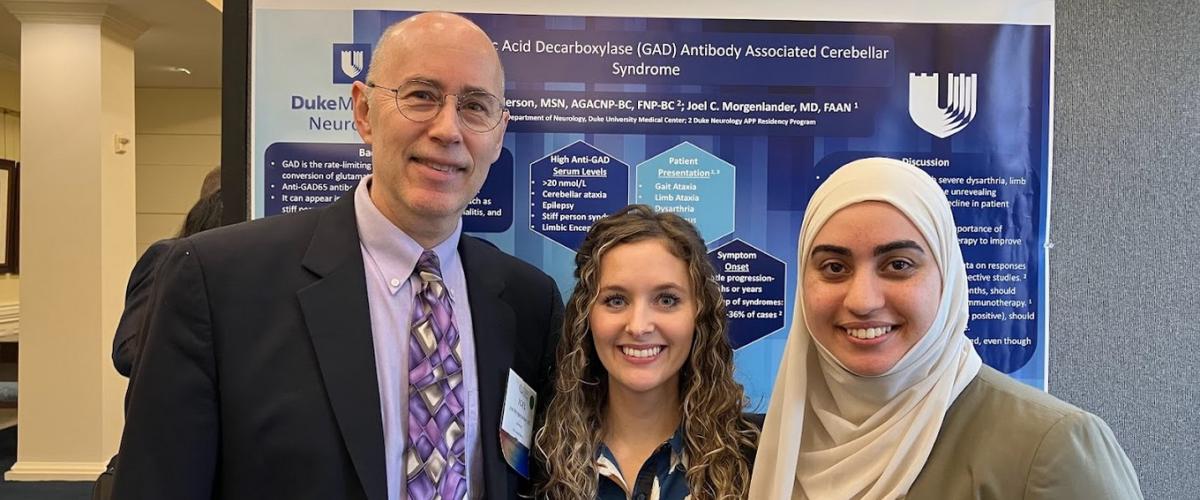 You're reading the Spring 2023 issue of the APP Fellowship Newsletter from the Duke Neurology Department.
Your gift to the Neurology APP Fellowship Support fund will allow us to maintain and build upon our existing program and continue to provide neurology training to the next generation of advanced practice providers. Make a gift today.
Hello Duke APPs and other Interested Folks:
It is a pleasure to send out this latest edition of the Duke Neurology APP Residency newsletter. We are proudly training our 8th class of APP residents and just got back from the North Carolina Neurological Society meeting where our current residents, Heba Al-Sahlani and Amber Anderson, presented posters. Erika Cummings led a discussion among APPs at a lunch session and has had a leadership role in the Society.
As Bryan Walker has left Duke for industry, Kelly White has joined me as associate program director. Kelly worked hard to create a residency handbook that includes all the goals and objectives for the year and each rotation. It is amazing tool to share with our residents. I am so thankful for the contributions of Kelly, Lesli Morcom, Bob Blessing and Elizabeth Devore with various aspects of the recruiting and education of the residents.
I participated in the AAN's Palatucci Advocacy Program this summer and my project was the development of Neurology APP Residency Programs. As part of my Palatucci plan, I hosted the first ever meeting of the Consortium of Neurology APP Program Directors (by zoom) in December. We had 15 programs on the call and many are already training APPs. I have been working with the AAN to see if they will sponsor the meetings of our group.
Additionally, I gave a presentation to the board of directors of the United Council of Neurological Subspecialties (UCNS) to discuss Neurology APP residencies and hopes for a certification test in the future. Any certification test would include experienced or previously trained APPs as eligible during a grandfather period.  There are many people interested in Neurology APP training throughout the neurological community.
I hope all current and past Duke Neurology APPs will join us at the Duke Neurology AAN reception in Boston on Tuesday, April 25 at Legal Harborside (adjacent to the convention center) from 6-8 pm. It is the first reunion we will have had for the program. Hope to see you then!
After graduating college with a degree in neuroscience I initially worried that I had just picked an extremely niche degree, in which my career options would be limited to a lab. It wasn't until about a year later that I even learned what a PA was, and the prospect that could potentially hold to practicing in neurology. I quickly discovered however, that APPs are primarily trained as general/primary care providers. This provided an essential base for understanding how to treat patients and navigate the challenges of medicine, but I knew that if I wanted to continue my goals towards neurology that I would have to further carve that path intentionally.
The first time I heard about the Duke Neurology APP Program was in my first semester at PA school. I received an email about an upcoming presentation on Multiple Sclerosis by a PA who worked at Duke University named Bryan Walker. At the end of the talk Bryan mentioned a neurology residency program for post-grad APPs at Duke. I can remember instantly thinking "this is my chance!"
I went to Bryan while he was trying to hurriedly eat his dinner and asked him eagerly what could I possibly do to be admitted to this program! He advised me to "graduate PA school first".  Well, after waiting about a year and a half (as well as successfully graduating PA school) I was finally given the chance to interview at Duke with our program director, Dr. Morgenlander, for a spot in the residency program, and thankfully was accepted to start later that year.
The APP Neurology Residency program provided me the necessary exposure, guidance, and opportunity within neurology that would have been unachievable in a typical first year job as an APP.  Afterward, I was fortunate enough to join our General Neurology team as a full-time outpatient provider. Several months later my journey came full circle when I was then honored to take over the role of associate program director from Bryan Walker himself. This allows me to work closely with our current residents in assuring that this program aligns with setting them up for the greatest chance of success and fulfillment in their own neurology expedition. I am looking forward to continuing on in this position of supporting our APP residents and being able to contribute back to a program that provided so much for me.
-Kelly White, PA-C
Associate Director, Duke Neurology APP Residency Program
Heba Al-Sahlani, PA-C, had prepared herself for a career as an investigative journalist until an anatomy and physiology class in her last semester of high school inspired her to pivot to medicine. After holding a human brain in her hand in college, Al-Sahlani decided to become a physician assistant and specialize in neurology. Now she's completing rotations in neurology as one of our latest neurology app residents. In this week's Spotlight interview, Al-Sahlani talks to us about her hopes for a career that combines helping patients' brains and minds, the joys of interacting with patients, and enjoying reading, helping underserved populations, and spending time with friends and family when she's not at Duke.
What are your current responsibilities as a neurology APP resident? What does a typical day look like for you?
I am currently in my neuromuscular outpatient rotation. My typical day in the clinic starts around 8 a.m. seeing patients with the attending. If I am not in clinic, I will be in the EMG lab alongside the fellows learning to localize lesions. Every day is similar in a sense, but no two days are the same. The neuromuscular team is phenomenal and there is never a dull moment. 
Additionally, so far through the program I have completed rotations in outpatient general neurology, epilepsy, and MS/ neuroimmunology. Each rotation has far exceeded my expectations, and it has been a privilege to be involved in patient care, meet the staff who go above and beyond for patients, and relish the opportunity to absorb all I can from my teachers.
How and when did you get interested in becoming a physician assistant? What made you decide to join our APP residency program?
I think the physician assistant (PA) profession found me before I chose it. I did not know what a PA was until my senior year of high school. It was my twin brother who introduced me to the profession. 
I had every intention in pursuing a career in investigative journalism since I was young. In my senior year of high school, I was co-editor in chief of two newspapers, the yearbook, and member of the Model U.N. I dreamed of traveling the world and sharing people's stories. In my last semester of high school, I decided to take anatomy and physiology with an astounding science teacher and in the midst of dissecting cow eyeballs, fetal pigs, and learning about the art of the human body, that's when I felt a shift. 
I still have full intentions of traveling and telling people's stories, but now I know I want medicine to be a part of it. I hope to be able to take the knowledge I have across oceans, mountains, and vast turmoil to give hope and a second chance to people who yearn for this each day.
I first held a human brain when I was a sophomore in college. It was the first day of the head and neck section of gross anatomy. In the background, I remember the TA writing on the board pneumonics to help us remember the order of cranial nerves and their actions. As my classmates flipped through their books trying to find as many structures as they could from the station we were at before the timer went off, I just stood there in awe as I held a person's whole world, their thoughts, their emotions, their fears, everything that well made them who they were.  
Since I knew neurology was going to be the specialty for me, a residency felt like the best next step after PA school. Duke's Neurology APP Residency Program has a legacy unlike any other in the country. Once I learned about it, I reached out to Dr. Morgenlander and that first email correspondence led me to this blessing.
What plans do you have after you complete your residency? If you could have any job in the world, what would it be?
As of now, I do not yet know if I want to work in outpatient or inpatient settings or exactly which subspecialty in neurology. My dream job is to combine all my professional passions. I know that I have an interest in psychology and want to pursue a Doctor of Psychology, specifically focusing on cognitive behavioral therapy (CBT) in the future. There is such a need for providers who specialize in CBT and I myself have found it to be a powerful and effective tool when used properly. 
Additionally, I hope one day to be teaching. I would love to teach PA students and give back to this extraordinary profession. When I am not with patients in the clinic or students in the classroom, I plan to be on mission trips helping underserved populations, learning about new cultures, and eating some really good food!
What do you enjoy most about your work?
I am a people person, so I really enjoy getting to know patients. I think developing a good, trusting relationship with patients is very important in order to provide the best care you can offer them.
What's the hardest part of your job?
Not having the answers. Medicine is forever growing, and we learn new revelations about diseases and treatments daily. However, even when we can accurately diagnose a patient, sometimes we do not have options to reverse their illness. Ongoing research is essential in creating strides and forging new avenues for patient care.
What other passions or hobbies do you have outside of the Department?
I read for fun and love spending time outdoors with family and friends.