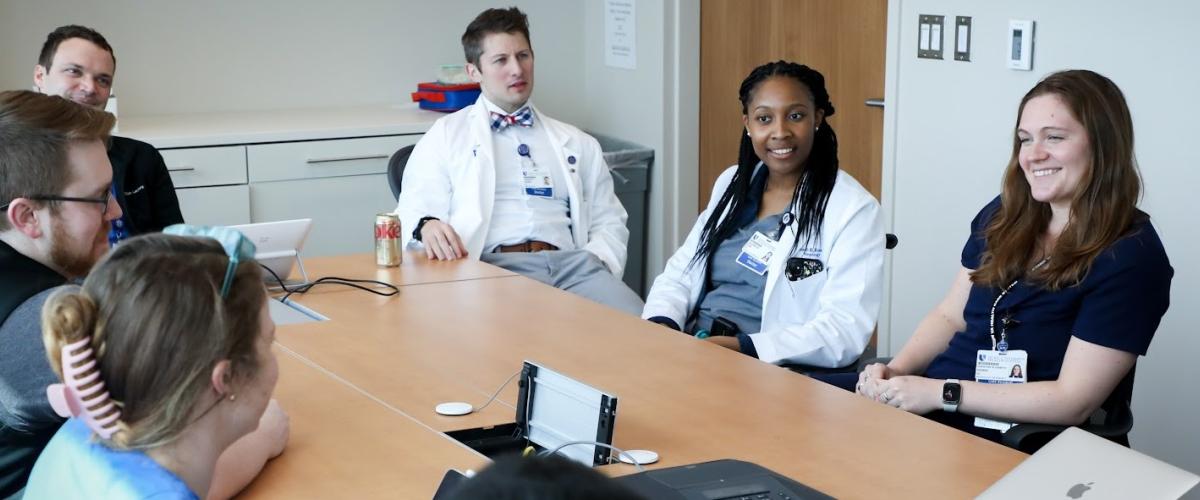 Requirements: All residents are required to undertake an academic project during their residencies. This can be a clinical or basic science research project but may also include performance improvement projects. Most residents will identify a project during their PGY-2 or early PGY-3 year. Many residents participate in several projects.
Resources: Duke Neurology has a large faculty with varied interests in clinical and translational research. Residents have many opportunities to participate in ongoing research or to find a mentor for their own idea. In addition to regular interactions during conferences and clinical work, residents can learn about research opportunities at monthly Neurology Research in Progress Meetings, where faculty members briefly present ongoing research.
In addition the Duke University Hospital is adjacent to Duke University, with nationally recognized programs and organizations such as neurobiology, the Duke Institute for Brain Sciences, engineering, genetics, immunology and variety of other fields. This offers opportunities for collaboration and program building.
The Duke Office of Clinical Research provides training and resources at several levels for Duke faculty and staff. This includes the opportunity to consult about project ideas and even seed money for projects. The Duke NCRO (Neuroscience Clinical Research Organization) supports residents and fellows by providing guidance with respect to the IRB and other administrative issues. Our faculty are participating in a variety of clinical trials, often in leadership positions. 
Research electives are available for residents with a defined project and mentor. Residents must provide a written plan of goals/objectives for the rotation and a summary of what they accomplished. They must still attend their continuity clinic and 1-2 subspecialty clinics/week in an area related to their research project.
As part of their training, all residents participate in both formal and informal teaching opportunities. This includes informal teaching on rounds (with medical students, interns and other residents) and informal presentations at conferences like Interesting Case Conference, Neuroradiology Conference and Morning Report. Residents are also called up to make more formal presentations at several conferences:
PGY-2 residents:
Journal Club

Evidence Based Neurology

Neuro-ICU Conference
PGY-3 residents:
Neuromuscular Conference

Clinical Neurophysiology Conference

Pediatric Neurology Conference
PGY-4 residents:
Grand Rounds

Stroke Conference

Behavioral Neurology Conference

Neuro-oncology Conference.
There are also formal teaching opportunities, including participation in the Brain & Behavior Course (a first-year medical school neuroscience course) as teaching assistants. Every resident serves as a teaching assistant for this course at least once (4 weeks in January), mainly leading small group discussions and labs. They also have the opportunity to review some basic neuroscience and neuro-anatomy as part of this course. Residents have opportunities to develop additional teaching skills. This includes working with faculty to develop curricula, conferences/lecture series, and enduring materials for other learners.
Residents have opportunities to develop additional teaching skills. This includes working with faculty to develop curricula, conferences/lecture series, enduring materials for other learners. The Duke GME office and Duke Ahead also offer several opportunities to both residents and faculty.
Some leadership and administrative tasks are required of all residents. This includes leading teams as PGY-2 residents and larger groups as PGY-4 residents. Residents are also heavily involved in the day-to-day administration of the program including making the daily schedule and adjusting schedules as needed. Also, residents are the primary source of feedback to the program regarding almost all aspects of the program. Their feedback (both direct and anonymous) often forms the basis of many discussions/changes in both the residency program and departmental/hospital matters. Residents also have a large role in the education of their colleagues – PGY-3 and PGY-4 residents take the lead in selecting topics for conferences.
There are also additional opportunities at the departmental and institutional level. At the departmental level, this includes participation in the Program Evaluation Committee, interviews/orientation of applicants and new residents, and participation in departmental performance improvement and quality improvement projects. At the institutional level, there are numerous opportunities including the GME Resident Council and Patient Safety and Quality Council.
"Residents get to train with attending physicians and mentors who are leaders in their fields. Opportunities for learning are abundant, with a great variety and complexity of patients, in addition to daily didactic sessions. Lara Wadi, MD, Resident, class of 2023"