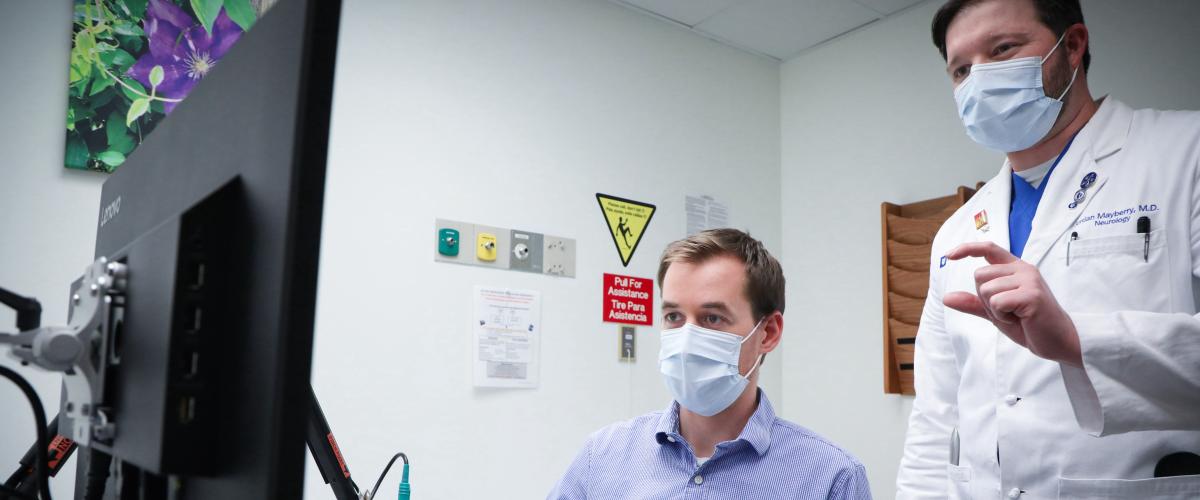 Our ACGME-approved fellowship in neuromuscular medicine provides trained neurologists with expertise in diagnosis and management of patients with peripheral nerve, neuromuscular junction, and muscle disorders.
The fellowship meets the certification requirements of the American Board of Electrodiagnostic Medicine and the requirements of the American Board of Psychiatry and Neurology for added qualifications in neuromuscular medicine. A second year of advanced study is available by special arrangement.
The Duke Neurology Department recognizes that diversity is a necessary component of its mission of world-class patient care, education, and research. Our program is committed to building and maintaining a diverse and inclusive community where all members thrive in a welcoming and engaging environment. Read more about our diversity and inclusion efforts across the Department here.
"One of my favorite parts of working with our fellows is watching them become independent, skilled neuromuscular specialists over such a short period of time. I consider our fellows to be colleagues, not 'trainees,' and hope that I can inspire them to consider academic neuromuscular medicine as a career." - Lisa Hobson-Webb, MD
The fellowship includes experiences in outpatient neuromuscular clinics and inpatient neuromuscular consultation. There is a major time commitment in the electromyography laboratory where fellows master standard electrodiagnostic techniques. Fellows may also learn advanced electromyographic techniques such as single-fiber electromyography.
In addition, fellows receive training in EMG-guided chemodenervation for the treatment of dystonia and spasticity. Training in neuromuscular ultrasound, skin biopsies, and core needle muscle biopsies is also provided. Peripheral nerve and muscle pathology and genetics are reviewed in scheduled conferences.
There are opportunities for clinical research during the fellowship. A research project suitable for publication is strongly encouraged.
Neuromuscular fellows interested in additional training may continue their fellowship for a second year. This advanced fellowship program will allow participants to develop advanced electrodiagnostic skills including single-fiber EMG, quantitative motor unit potential analysis, and motor unit number estimation. Fellows will also collaborate in genetic, immunologic, and histopathologic investigations relating to neuromuscular disease.
This advanced year will focus on building fellows' skill with issues of clinical trial design including population sample and study design methodology, data collection and management, and statistical analysis. The trainee will acquire a set of skills important for a successful academic career in neuromuscular medicine.
We will be participating in the universal timeline application as sponsored by the AANEM and recommended by the AAN. Applications should be made through the AANEM Fellowship Portal (download the attached documents at the end of this website below for more information about this process). We only accept applications from neurology residency program trainees.
Our program is committed to abiding by the following fellowship application process – interview offers will not be made before March 1 of the year prior to the fellowship start date. Fellowship positions will not be offered before June 1 of the year prior to the fellowship start date. Violations of this will result in removal of our institution from the AANEM NM Fellowship Portal.   More information about our program and how to apply to our program through the new portal system will be available soon. Visit the AANEM Fellowship Portal for more information and updates.
Applicants with visas must demonstrate that their visa will allow completion of the fellowship. The Duke Visa Services Office may serve as an informational resource to address this issue, and can be contacted at www.visaservices.duke.edu.
Applicants should review the employment requirements for all Duke graduate medical education trainees at this page. Applicants who do not qualify for employment cannot be ranked. 
Please refer questions regarding your application or the application process to Christine Berry.
Important dates for the fellowship application process are as follows:
January 1: Upload documents to AANEM portal
March 1: Programs will be able to review applications uploaded at this time.
March 2 – May 31: Interviews will take place during this time
June 1: Universal timeline for offers
Contact Information
Christine Berry, Program Coordinator
E-mail: christine.berry@duke.edu
Karissa Gable, MD
Director, Neuromuscular Medicine Training Program
Duke University Medical Center
DUMC 3909
Trent Drive, Clinic 1L
Durham, NC 27710-3403
Attachments
Our Fellows