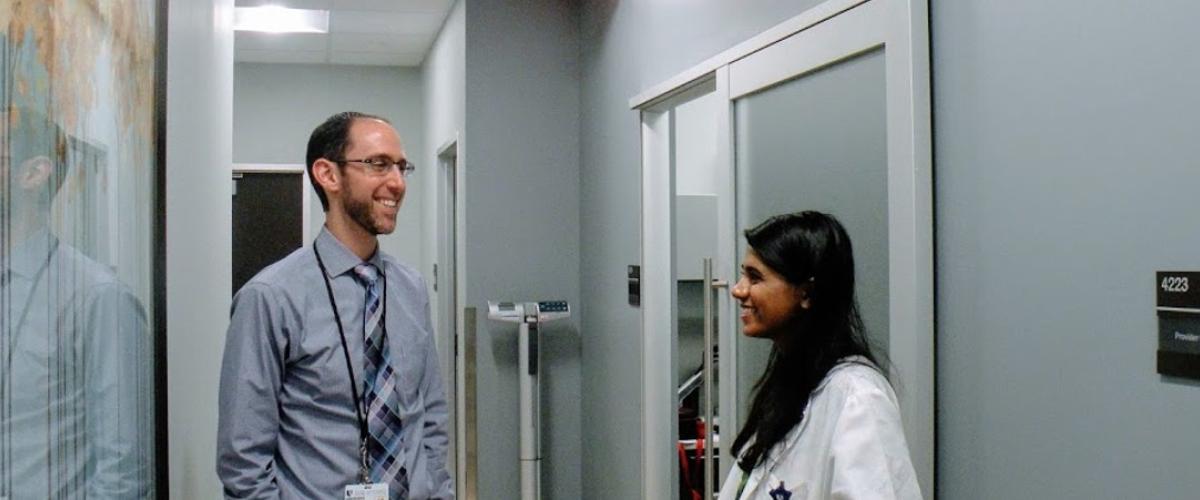 The Duke University Sleep Medicine Fellowship is a one-year, ACGME-accredited program that emphasizes advanced training in the interpretation of sleep testing and the diagnosis and management of sleep disorders, with up to two trainees a year.
Trainees will gain extensive experience interpreting in-lab polysomnograms, home sleep tests, and multiple sleep latency tests. They will see patients in academic and community settings, providing broad exposure to all of sleep medicine as it is practiced in various settings. Training in both adult and pediatric sleep medicine is provided.
The Duke Neurology Department recognizes that diversity is a necessary component of its mission of world-class patient care, education, and research. Our program is committed to building and maintaining a diverse and inclusive community where all members thrive in a welcoming and engaging environment. Read more about our diversity and inclusion efforts across the Department here.
The fellowship is based at Duke University Medical Center (6 months) and the Durham Veterans Affairs Medical Center (6 months) with clinical experiences in several local sleep clinics. The Duke Sleep Disorders Center is accredited by the American Academy of Sleep Medicine and is located in the Millennium Hotel, nearby Duke's campus in Durham. The Durham VAMC has its own sleep lab. Both labs perform studies seven nights per week. A separate pediatric sleep lab provides fellows the opportunity to interpret pediatric sleep studies.
 
Prerequisite: Completion of an ACGME, CFPC, or RCPSC accredited residency in Neurology, Child Neurology, Psychiatry, Internal Medicine, Family Medicine, Pediatrics, Otolaryngology, or Anesthesiology.
 
Salary Level: Commensurate with experience (i.e. graduates of a 3-year internal medicine residency will be paid at the PGY-4 level).
Contact Information
Program Director:
Andrew R. Spector, MD, FAASM
Andrew.spector@duke.edu
Fellowship information requests:
Program Coordinator:
Christine Berry
Christine.Berry@duke.edu
919-613-0314
The Duke Sleep Disorders Center in Durham, North Carolina, and the Durham Veterans Affairs Medical Center (VAMC) Sleep Disorders Center, offer fellows the chance to train in a variety of clinical settings. Fellows rotate through general sleep disorders clinic, sleep apnea clinic, insomnia clinic, and pediatric sleep clinic with the opportunity to work with otolaryngologists who perform sleep surgeries.
The sleep medicine clinicians at Duke come from neurology, psychiatry, psychology, pulmonary, pediatric pulmonary, pediatric neurology, otolaryngology, and nursing providing the fellows with a multi-disciplinary approach to training.
The faculty of the Duke Sleep Disorders Center include internationally recognized leaders in the field and welcome fellows to work on a variety of ongoing research projects. Fellows are encouraged to participate in ongoing research projects or develop ones of their own.
There are numerous conferences during the week. Didactic sleep conference is held weekly. A case conference to discuss difficult sleep medicine patients, a journal club, and a special pediatric sleep conference are all held regularly.
The sleep medicine fellows also work one-on-one with sleep technologists to learn about scoring sleep studies.
Conferences
Sleep medicine interesting case conference
Sleep medicine didactics
Sleep journal club
Neurology Grand Rounds
Clinics
Sleep continuity clinic
Obstructive sleep apnea clinic
Pediatric sleep clinic
Sleep psychology clinic
ENT clinic
Our Fellows