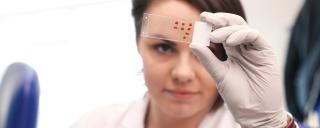 Research at Duke Neurology
From exploring the underlying causes of Alzheimer's disease to designing an iPhone app to help people manage multiple sclerosis, the Duke Department of Neurology conducts transformational basic, transformational, and clinical research in all major areas of neurology. Click on the links below to learn more about our work.
We are actively seeking collaborators, both from other neurosciences and other disciplines. Some of our current partners include the Duke Departments of Neurobiology, Immunology, Neurosurgery, and Statistical Sciences.