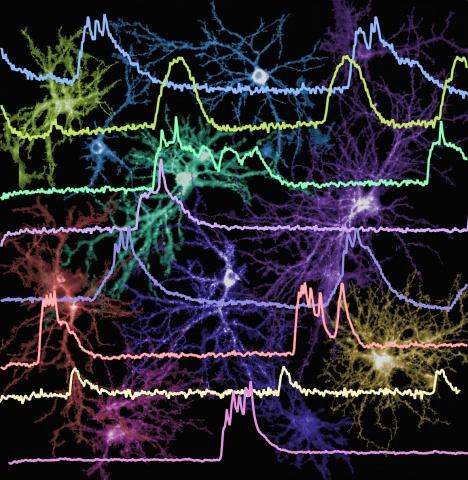 A new blood-based test for Parkinson's disease, improved monitoring techniques for epilepsy, and a chapter discussing the use of transcranial magnetic stimulation (TMS) as a noninvasive treatment for dystonia are just a few examples of the latest research from members of the Duke Neurology Department. Read the paragraphs below to find bite-sized summaries from the 11 peer-reviewed journal articles and one book chapter by members of the Duke Neurology Department this August, as well as links to the original research itself.
 
Epilepsy, Sleep, and Clinical Neurophysiology
Birgit Frauscher, MD, PhD, was the senior author of a new study showing the potential for targeted density electrode placement for presurgical epilepsy evaluation, a new approach that might facilitate implementation of electrical source imaging (ESI) in epilepsy centers. Frauscher and colleagues analyzed and compared localizations obtained from traditional high-density EEG to those of targeted EEG montages requiring significantly less electrodes than the gold standard. Their analysis found that the ESI solutions closely matched the results from HD EEGs. Tamir Avigdor, MSc, also contributed to the study, which appears in

Clinical Neurophysiology

. Read it here.
Memory Disorders
Deborah Koltai, PhD, and Thomas Farrer, PhD, were the senior authors of a new pilot study comparing the impact of intravenous versus inhalational anesthesia on postoperative cognitive decline and delirium. Koltai, Farrer, and colleagues randomized close to 200 older patients to receive either inhalation anesthesia (ISO) with isoflurane or total intravenous anesthesia (TIVA) with propofol for maintenance anesthesia, following up at 3-6 months and 12-18 months. Their analysis found no significant difference in either cognition between anesthetic types or in occurrence of postoperative delirium. Read the full article in

Applied Neuropsychology: Adult.
Multiple Sclerosis and Neuroimmunology
People living with multiple sclerosis (MS) often require complex medication regimens to help with their symptoms, modifying the course of their MS, and managing any other conditions they may have. Jenelle Montgomery, PharmD, was the senior author of a new literature review examining the role neurology clinical pharmacists play in managing these medications and optimizing patient care and quality of life. Read that article in the

International Journal of MS Care.

Suma Shah, MD, contributed to a new commentary article discussing the current state of the science of smoking among people living with multiple sclerosis, as well as the need for a targeted intervention to address this public health concern. Read that article in

Nicotine & Tobacco Research

.
Neurocritical Care
The lack of targeted therapies for traumatic brain injury (TBI) remains a compelling clinical unmet need. Daniel Laskowitz, MD, MS, and David Van Wyck, DO, wrote an article discussing ApoE mimetic peptides as a potential therapy for this condition and outlining the reverse translational approach that has allowed for the development of this promising therapeutic approach. Read that article in

Neurotherapeutics.
Parkinson's and Movement Disorders
A new blood test could identify and monitor Parkinson's disease by identifying damage from mitochondrial DNA (mtDNA) caused by the condition. Senior authors Laurie Sanders, PhD, and Rui Qi, MS, developed a PCR-based assay that quickly and accurately quantifies mtDNA damage in a scalable platform. The new test could allow for rapid, noninvasive, and accurate identification of the condition. Claudia Gonzalez Hunt, PhD, Michael Lutz, PhD, Andrew West, PhD, Ivana Barraza, and Nicholas Pena also contributed to the study, which appears in Science Translational Medicine.
Transcranial magnetic stimulation (TMS) has shown promise as a lasting clinical therapy for dystonia, but that promise has not yet translated to FDA-approved therapy. In a new review article in dystonia, senior author Noreen Bukhari-Parlakturk, MD, PhD, Nicole Calakos, MD, PhD, and colleagues discuss the current and historic challenges for translating TMS into an approved therapy for dystonia. They also discuss progress that has been made over the past decade to overcome these barriers. Read that article in

Dystonia.

Noreen Bukhari-Parlakturk, MD, PhD, co-authored a new chapter in the

Handbook of Clinical Neurology

reviewing the symptoms, development, and molecular mechanisms of isolated and combined dystonias. The chapter also examines the current state of clinical trials and therapeutic strategies to treat these related conditions. Read that chapter here.
Stroke and Vascular Neurology
Dysphagia is a common complication after a stroke, with the potential to slow recovery, reduce quality of life, and increase risk mortality from dehydration, malnutrition and pneumonia. Wuwei "Wayne" Feng, MD, MS, wrote a new commentary for

Lancet Neurology

outlining the scope of this public health problem while also how better diagnosis and treatment can improve outcomes for patients. Read that article here.

Brian Mac Grory, MB BCh, MRCP, contributed to a discussion of the pending PROOF phase IIb clinical trial, which investigates the use of normobaric oxygen (NBO) therapy within 6 h of stroke symptom onset or notice e for brain-protective bridging until endovascular revascularization of acute intracranial anterior-circulation occlusion. 

Read the full article in the

International Journal of Stroke.

There are no current medical interventions that improve functional recovery for subacute stroke patients, but the forthcoming PISCES 3 trial may change that. The randomized, placebo-controlled study will examine whether CTX0E03, a conditionally immortalized neural stem cell line linked with a standardized rehabilitation therapy regimen for the upper limb, will improve functional outcomes in patients 6-12 months after an ischemic stroke. Daniel Laskowitz, MD, MHS, and Brad Kolls, MD, PhD, were the senior authors of a new article discussing the design and methodology of this trial. Deborah Koltai, PhD, also contributed to this study, which appears in

Frontiers in Stroke

. Read it here.
Translational Brain Sciences
Theta-burst transcranial magnetic stimulation is a non-invasive therapy with the potential to provide lasting benefits for people living with depression, movement disorders, Alzheimer's, and other conditions. Senior author Simon Davis, PhD, Noreen Bukhari-Parlakturk, MD, PhD, Andy Liu, MD, MS, and colleagues wrote a correspondence article discussing the use of this therapy in a patient with both mild cognitive impairment and trigeminal neuralgia. Read that discussion in the

Journal of ECT.
Other
White matter injuries (WMIs) are the leading cause of neurologic impairment in prematurely born infants. A team including Simon Gregory, PhD, identified a potential therapeutic target for these impairments found in human break milk: 20-αHydroxycholesterol (20HC). In mouse models 20HC improved myelination in periventricular white matter and induced subventricular zone-derived oligodendrogenesis, resulting in improved motor outcomes. Read the full article in

Cell Stem Cell.