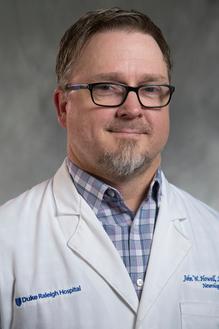 Nurse Practitioners (NPs) are essential for the function of the Duke University Health System and the Duke Department of Neurology, where they treat patients within all of our major disciplines. To help mark National NP week, this week's spotlight interview shines on Duke Raleigh's John Howell II, MSN AGACNP-BC, whose typical week includes patients with stroke, seizures, multiple sclerosis, and other conditions. Howell talks to us about what he loves about hospital neurology, the honor and hard work that goes into connecting with patients going through difficult times, and being a private pilot, aviator, and family man when he's not at work. 
What are your responsibilities at Duke Raleigh? What does a typical day for you look like?
I am an acute care nurse practitioner at Duke Raleigh, working as a Neuro Hospitalist, where I see neurology consults in the emergency department, intensive care unit, and other units within the hospital. Generally, I work 9-10 hour shifts 5 days a week. My day begins at 7 am, when I compile the list of patients we need to follow up with and any new consults that have been submitted overnight. The early morning is spent reviewing diagnostics, laboratory values, and overnight events. From mid-morning, I am pre-rounding on our patients, following up on recommendations and assessing new consults. I will then round with the attending physician. Throughout the day I am corresponding with nursing staff, hospitalist, therapy and other disciplines to provide seamless high quality care for patients and their families.
How did you decide to focus on treating acute health needs of older patients? What kinds of neurology-related needs does this population have?
I worked nine years in the Neuro ICU as an RN, so it was a natural transition. Working with patients diagnosed with stroke, seizures, and other neurological diseases provided me with a great foundation and background to help my patients through the acute phase of their illness. 
What types of patients do you see most often? What sort of care are you able to provide them?
I work in an inpatient setting on the neurology consult service, so I will care and treat patients with strokes, seizures, multiple sclerosis, and other demyelinating diseases.  The largest volume would have to be strokes and seizures. The variety of patients make each day unique and challenging, as you are never sure what is coming next.
You completed your master's degree in nursing last year. What was the most valuable part of that experience for you? How does that knowledge inform your current work?
For me, the most valuable experience was the interaction with class and clinical instructors. Information and insight provided during those interactions helped prepare for transition from bedside nurse to a provider, which has been the most difficult transition. Having the experience of those who have gone through the transition before me has proven invaluable.
What do you enjoy most about your work?
One of the most enjoyable aspects of my work is developing relationships with the patients and their families and seeing the patient's health improve. It is both an honor and humbling experience to connect with patients and families during dark and difficult times. It is my goal to provide a caring hand and open ear during these tough times.
What's the hardest part of your job?
The most difficult aspect of this job is delivering negative news to patients and families. In providing care for our patients, I sometimes have to provide prognosis and goals of care that are life altering for both the patient and their family. It is a part of the job that is not easy, nor should it be. 
What passions or hobbies do you have outside of Duke?
Outside of work, I enjoy spending time with family. My wife, Susan, and I have two boys. Our oldest, Dakota is planning on a career in dentistry and the military. Our youngest, Kaleb is an avid baseball player and takes a great deal of our weekends traveling around the Eastern states for baseball tournaments. I am also a private pilot and love all things related to aviation. I enjoy all sports, especially golf and baseball.