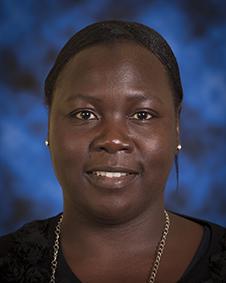 For Mary Guhwe, DNP, FNP-BC, a typical workday on our Inpatient Stroke Service begins at 6:30 a.m. and includes a mix of patient care, speaking with families, and teaching other providers for 13 to 14 hours. As part of this week's "Spotlight" interview, Guhwe talks to us about these long, busy days, her loves of clinical education and interdisciplinary collaboration, and her two visits to sub-Saharan Africa, where she was part of a team to improve the delivery of neurointensive care. She also talks about her recent project where she examined how clinicians engage in shared decision-making with stroke patients here at Duke. 
What are your current responsibilities here at Duke Neurosciences? What does your average day look like?
I am one of four nurse practitioners on the Inpatient Stroke Service. I am also Team Lead for the stroke and Neurosurgery inpatient APPs in the department of advanced clinical practice. My workday during the week and my workday during the weekend are different. They are both generally busy but my responsibilities tend to be different depending on whether it is a week day or not.
On days that I am staffing I get to work between 6:30 and 7 am and collaborate with the resident and the intern to be sure all the patients on the team have a provider. Then we round for the depending on team efficiency and patient census. Weekday rounds tend to be teaching rounds compared to weekend rounds. Most times work through lunch because there are always pages to respond to and patients to see while the residents and intern are at noon conference, and then spend the afternoon getting patients discharged or admitted, calling consults and following up on recommendations, working on progress and discharge notes, speaking with families, collaborating with the nurses throughout the day to coordinate care and be sure everybody's questions are answered. I also try to find time for teaching/ exchange of clinically relevant information within the interdisciplinary team in the afternoon. The day is supposed to end at 7 PM when we sign over to the night team but in my many years on the stroke service I can say it generally ends around 8 or 8:30 PM.
On a weekend that I am working, I am the only provider on the service unless the census is high then a resident comes to help with rounds in the morning but they generally leave by 12 and I am covering the team by myself for the rest of the day. That means I am admitting, discharging, managing the patients on the floor, working on progress and discharge notes, speaking with families, collaborating with the nurses throughout the day to coordinate care and be sure everybody's questions are answered so it is a busy day.
In addition to your work within the neurosciences, you're also involved with the School of Nursing at Duke. What does that work involve?
For as long as I have been at Duke, I have taught at the bedside by precepting students from Duke School of Nursing. In the past, I have explored formally teaching in the classroom at UNC-Greensboro. My interest in going into the classroom was to try and bridge the gap that sometimes exists between what is taught in the classroom and what happens clinically at the bedside. That experience taught me that although I love teaching in the classroom, my first love is patient care, so for now, my teaching focus is mostly precepting students.
I also think academia still has some way to go in terms of recognizing the contributions of clinical faculty who may not necessarily be focused on research but more so on mentoring and coaching successful clinicians. There is room for both but for a long time, academia has focused on research and grooming future research-focused individuals, failing to recognize that for those researchers to have the time to focus on their research, they need high-functioning clinicians to still provide efficient and excellent clinical care.
What do you enjoy most about your work?
I love that each day caring for patients on the service is different. Each day brings different patient presentations, different interactions, and lasting relationships. I can honestly say that I have formed a lot of relationships that I treasure within the group of people I work with.
I also love the professional development opportunities. The Department has a lot of clinical and academic mentors that are always generous with their time. I won't even attempt to name individuals because I have learnt for a lot of folks.
Finally, the interdisciplinary collaboration within the Department is excellent. I have worked in a variety of settings and in different organizations, and I can say the Department has great interdisciplinary collaboration. I would not be able to do my work without the nurses, pharmacists, physical therapists, occupational therapist, speech pathologists, case managers, staff, residents, fellows, the attendings and many more folks that I can't possibly name. Whenever I take potential faculty on to the neuroscience floors, they always comment on how the interdisciplinary relationships are evident just by how we interact with each other in the hallways.
What's the hardest part of your job?
Spending enough time with each patient to make sure their questions and concerns are addressed effectively when the census is high can be difficult. Also, the NP is the consistent member of the team since they are on the team on a regular basis, and everyone else rotates off the team every week or every two weeks. The NP gets exposed to each attending style of practice, each resident and intern, and various medical and nursing students.
It can be tough to adjust each week depending on team dynamics to ensure the team continues to function well regardless of who is on the team once rounds are over and the attending is out of the hospital. The NP keeps that dynamic stable and collaborates with the neurology resident so that the neurology resident gets some autonomy in being a team leader as part of their learning objectives as well. Finally, making sure that students on the service get enough learning opportunities. When the service is busy, it can be tough to pause and ensure that the students' needs are adequately met. So basically, even though it can be great that each day is never the same on the service, it can also be a challenge to keep up with.
You've been part of two trips to sub-Saharan Africa to train people there about neuro-intensive care. What's one memory that stands out about each of these trips? Are you planning on attending any other similar trips?
The one memory that stands out each time is how incredibly positive the people are over there. There is a lot of difficulty that they face with a complex and cash-strapped health system and economy, but every person you meet is smiling and welcoming not only to visitors but to each other. Patients and their families are grateful for the care they receive and are very realistic about their expectations. It makes me remember always to pick my battles. The world we live in is a tough and imperfect one. It is important to focus on the bigger picture.
The family is also very much an integral part of patient care, meaning not only being informed of the plan of care but the family does all the grooming, feeding etc for the patient. This is essential because it keeps that familial bond intact and allows the families to learn how to care for the patient once the patient leaves the hospital since most patients do not stay for long periods of time and can not go to a rehab facility as they are scarce to none. I do plan to go on more similar trips, I have just not gone in the last year because I had a lot going on but should be back to going in the next year or so.
You recently presented at the World Stroke Congress in Montreal about a study about stroke patients' knowledge about their care. Can you tell me more about the origins and the main findings of this project?
I presented a quality-improvement project that evaluated our current process regarding shared decision-making regarding intravenous tPA for ischemic stroke in the ED. It was a collaborative effort with Carmen Graffagnino, Nilam Patel, Stephanie Chancy, Sandra Napier, Sue Chioffi, Heather Forrest, and myself.
Usually emergency situations just make effective communication difficult, but added to this is that each clinician determines how they communicate with their patients, which can vary greatly depending on the provider and their expertise. This variation can make it difficult for patients to understand their treatment. When patients do not understand their diagnosis or options for treatment including both benefits and risks, they can end up refusing life-saving or critical care that could be beneficial.
Our QI project shows that our providers have excellent bedside manner and do a great job of reassuring the patient and making them comfortable with the decision to treat. However, the patient's understanding of their actual diagnosis as well as risks and benefits of being treated with tPA was not that great.
We have now collaborated with some residents: Ovais Inamullah and Maggie Kilgore as well as Bob Blessing, and now have plans in the making to implement a few innovations like incorporating audiovisual aids as well as some standardizes training for the front line providers in effective communication etc and we will be sharing those results once implementation is complete.
What's one memory of your time at the conference that stands out to you?
It is difficult to pick one because it was a fully packed conference. Besides all the great knowledge exchanged at the conference, I think seeing a few individuals that I have not seen in many years was a real treat. I saw Dr Larry Goldstein. I was lucky to meet up with him because he is a popular legend and had a large number of folks waiting to see him. My only regret is I didn't take a picture to remember the moment but I do know where to find him so I cannot complain. I also met up with Chen Lin, one of our former residents who is now an attending in Alabama and figuring out his own path in the world of vascular neurology and rehab.
What other passions or hobbies do you have outside of the Department?
I read a lot. I read anything except sci fi. I also love cooking and take a lot of joy from making sure my kids continue to have cringe-worthy moments of me to remember me by when I am old and can't keep up with them.