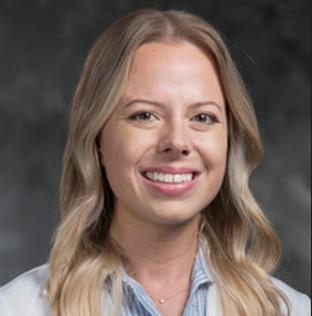 As a child, Sarah Mason, PA-C, loved listening to the stories her grandfathers, both of whom were doctors, told about their work helping patients. Now as the newest physician assistant in our Kernodle Clinic, Mason is treating a new group of patients with memory loss, headaches, seizures, and other conditions. For this week's Spotlight interview, we talk to Mason about her fascination with the brain, the joys of connecting patients with resources and seeing them improve, and staying active through jogging, yoga, and time in the outdoors when she's not at Duke.
What are your current responsibilities at the DukeHealth Kernodle Clinic? What does a typical day look like for you?
I work as a physician assistant in outpatient Neurology at Kernodle Clinic Burlington. Most days, I get into the office around 7:45. I use the morning time to catch up on messages from patients, review labs and imaging, and look over my patients for the day. Then it's time for patients! I typically see about 10-15 patients a day, and some of the most common conditions I see include headaches, neuropathy, stroke, memory loss, and seizures. At the end of the day, I wrap up by finishing notes and making sure all medications and orders have been placed and sent in. 
How and when did you first get interested in being a PA? How did you decide to focus on working with patients with neurological conditions in particular?
Growing up, I was always interested in working in health care. Both of my grandfathers were doctors, and I loved hearing all of their many stories as a child. I first became interested in working as a PA when I started shadowing different healthcare professions. I loved the flexibility and teamwork element of this role, as well as the goal of the PA profession to extend access to high-quality care.
As far as neurology specifically, I am fascinated by the complexity of the brain and nervous system. I studied biology and psychology in undergrad, and really enjoyed learning about how the brain can affect the body, and vice versa. In PA school, I knew I wanted to do my elective rotation in neurology, and ended up spending several weeks in neurology at Kernodle Clinic. I love the broad variety of conditions seen in neurology as well as the fact that it is a constantly growing field, so I am very grateful to be working in this specialty. 
What do you enjoy most about your work?
My favorite thing about working in neurology is seeing my patients improve. It is incredibly rewarding to have a patient who has struggled with a condition for years finally find a medication or treatment regimen that works for them. I also love that working in the outpatient setting really allows me to get to know my patients and form a relationship with them. 
What's the hardest part of your job?
One of the most difficult parts of working in healthcare is understanding how social determinants of health impact my patients, and how I can best serve them. Patients face many barriers to care including transportation issues, language barriers, or financial struggles which can make it challenging for them to receive the care they deserve. It is one of my goals to help connect patients with resources that can ensure they are able to receive the best quality care no matter what circumstances.
What's one thing you wished more patients and their loved ones knew about neurological conditions?
I wish that more patients understood that many neurological conditions are related to an individual's overall health, and that all of our different body systems are closely connected. Things like diet, exercise, and sleep can play such a large role in the management and treatment of many health conditions, and neurology is no exception. While this is one of the aspects of neurology that can be challenging for both patients and providers, I hope patients can feel empowered to make lifestyle choices that augment their treatment plans. 
What other passions or hobbies do you have outside of the Department?
In my free time, I enjoy staying active, from running to hiking to yoga. I also love traveling, and look forward to exploring checking a few more places off my bucket list over the next few years!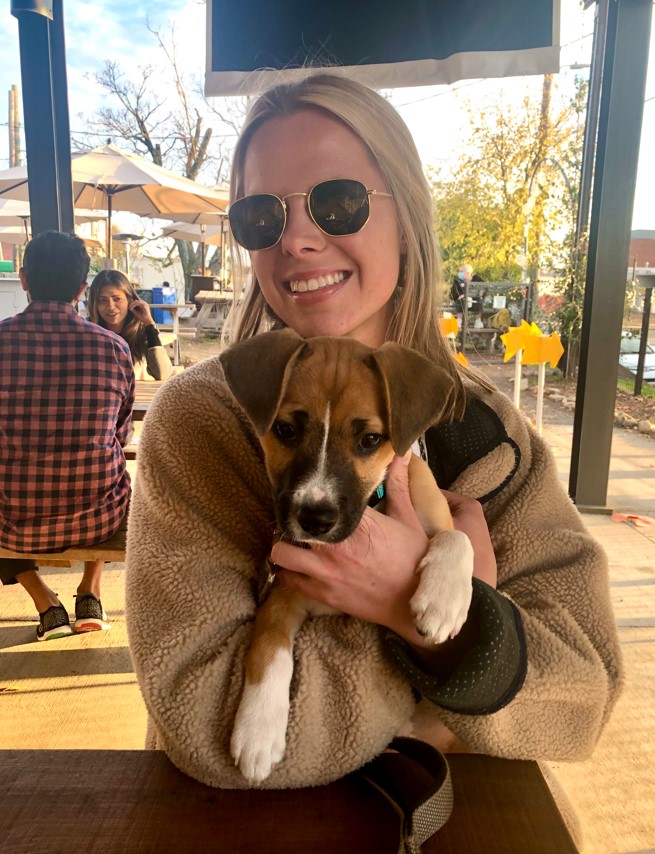 Mason's dog Millie shares their owner's fondness for the outdoors.