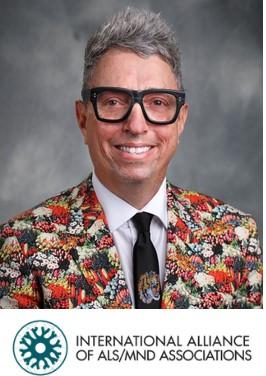 The International Alliance of ALS/MND Associations has given its 2022 Forbes Norris Award to Professor of Neurology Richard Bedlack, MD, PhD. This distinguished award honors his decades-long contribution to the management of and advances in understanding amyotrophic lateral sclerosis/motor Neuron disease (ALS/MND), a group of diseases in which the nerve cells that control muscles undergo degeneration and die, to the benefit of people living with the disease.
Bedlack operates from the belief that everyone living with ALS/MND should receive the highest quality of care possible. It is with this philosophy in mind that he created and directs the Duke ALS Clinic. By adhering to best practices, he offers families the resources of a large interdisciplinary care team, presenting all available treatment options, so they are able to approach the disease in the way that is best for them.
Leading and participating in research initiatives that create a better understanding of and better treatments for ALS/MND is integral to Dr. Bedlack's approach to patient care. Through his involvement in multi-center trials, investigator-initiated studies and research, he has established himself as a leader in the field. From innovative study models to the training of Research Ambassadors through the NEALS Clinical Research Learning Institute, Bedlack has been on the forefront of advocacy and education initiatives to expand research opportunities and increase trial participation, with the goal of creating a world free of ALS/MND.
One of his most notable public contributions is the creation of the ALSUntangled website. A tremendous resource to the ALS/MND community, it provides scientific reviews of alternative and off label treatments to help people make informed decisions about their care.
"What began with seeing his first person with ALS/MND and a desire to 'do better' has led to a 20-year career of striving to continuously offer better care and treatments for those living with ALS/MND," says his colleague Stacey Asnani.
"During this time, Dr. Bedlack has built a world-class ALS clinic, made significant contributions to clinical research, and engaged in advocacy that has advanced initiatives leading to positive changes in care provision, education, benefits and research."Dr. Bedlack truly embodies the term "patient care" through the empathy, compassion and commitment he displays with every patient he sees. His unwavering dedication to the ALS/MND cause is apparent in every facet of his work, making him an inspiration to everyone affected by this disease across the globe.
The International Alliance of ALS/MND Associations was founded in 1992 to provide an international community for individual ALS/MND associations. Its vision is a world free of ALS/MND. The Alliance helps members thrive by adding value to existing and future associations through curation and creation of information and by acting as a global gateway through which Alliance Members, people living with ALS/MND and their caregivers, and internal and external stakeholders connect. Read more about the Alliance and its work here or email Communications Coordinator Shae Cameron at shaecameron@als-mnd.org for more information.