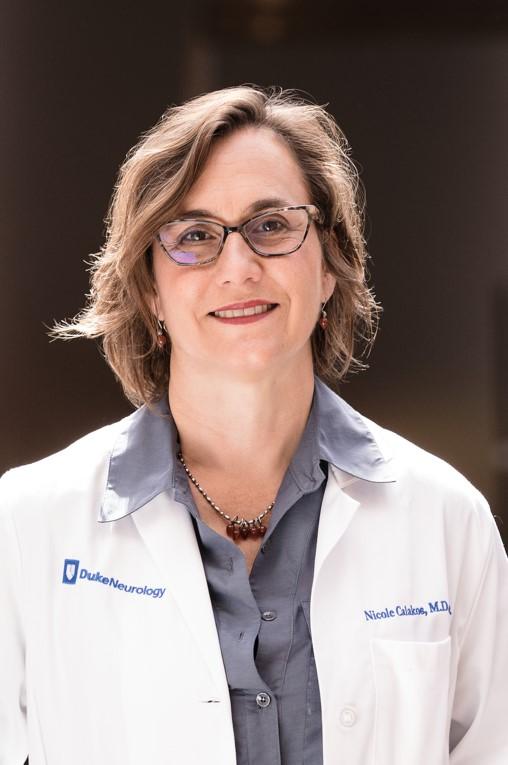 Nicole Calakos, MD, PhD, a professor of neurology and Lincoln Financial Group Distinguished Professor of Neurobiology, has been elected to the U.S. National Academy of Medicine (NAM).  
Election to the Academy is considered one of the highest honors in the fields of health and medicine and recognizes individuals who have demonstrated outstanding professional achievement and commitment to service. 
Calakos is a physician-scientist who has become a leader in her field with discoveries in basal ganglia physiology and its role in disease. She has pioneered approaches to studying basal ganglia circuitry; detailed fundamental concepts for the molecular, cellular, and circuit basis of habit and compulsion; and discovered a unifying pathway mechanism for the movement disorder dystonia which may lead to drug development opportunities. 
"Dr. Calakos' election to the Academy is a truly well-deserved honor," said Rich O'Brien, MD, PhD, Disque D. Deane University Distinguished Professor and Chair of the Neurology Department. "In her time at Duke, Nicole has had an outstanding record of seminal academic achievements and international recognition for her role as a clinician, scientist, and mentor in the field of movement disorders. We are proud of what she has achieved in search for effective therapies for her patients and look forward to her future accomplishments." 
New National Academy of Medicine members are elected by current members through a process that recognizes individuals who have made major contributions to the advancement of the medical sciences, health care, and public health. Calakos, one of 100 new members elected this year, joins 51 other Duke faculty who have been elected to the National Academy of Medicine. 
"We are so proud of Nicole who is joining a number of NAM members at Duke, who are all leaders in their respective fields," said Dean Mary E. Klotman, MD. "It reflects our strong culture of collaboration. Great minds want to work with other great minds in the ongoing effort to care, teach, discover, and give back to the communities we serve." 
NAM, established in 1970 as the Institute of Medicine, serves alongside the National Academy of Sciences and the National Academy of Engineering as an adviser to the nation and the international community. NAM works to address critical issues in health, medicine, and related policy and inspire positive action across sectors. With their election, NAM members make a commitment to volunteer their service in National Academies activities. 
"This extraordinary class of new members is comprised of exceptional scholars and leaders who have been at the forefront of responding to serious public health challenges, combatting social inequities, and achieving innovative discoveries," said National Academy of Medicine President Victor J. Dzau. "Their expertise will be vital to informing the future of health and medicine for the benefit of us all. I am truly honored to welcome these esteemed individuals to the National Academy of Medicine."