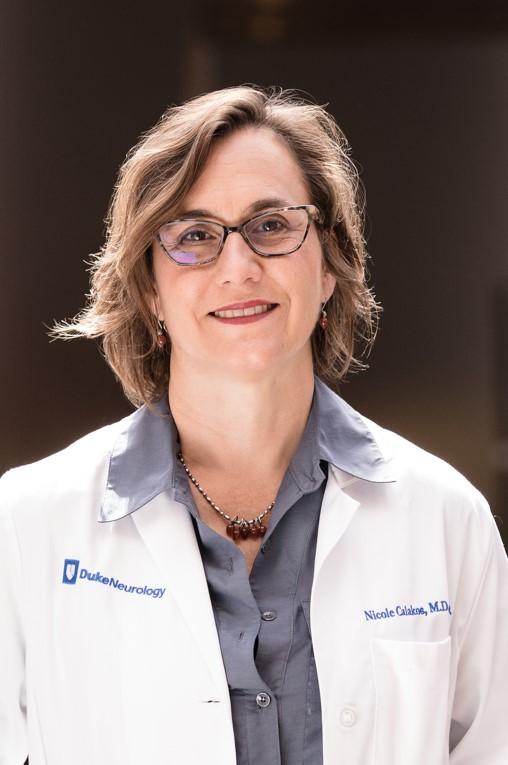 The American Society for Clinical Investigation (ASCI) has awarded Nicole Calakos, MD, PhD, its 2023 Stanley J. Korsmeyer Award. The Korsmeyer Award recognizes outstanding achievements of ASCI members in advancing knowledge and mentoring future generations of life science researchers. Calakos received this award for her contributions to understanding basal ganglia physiology and its involvement in diseases such as compulsive behavior and movement disorders.
Calakos is the Duke Lincoln Financial Group Distinguished Professor of Neurology, Neurobiology, and Cell Biology, as well as Chief of the Duke Division of Parkinson's and Movement Disorders. Her research focuses on mechanisms of adaptive plasticity involving the striatal circuitry of the basal ganglia.
The brain's basal ganglia circuitry influences a wide range of behaviors that involve the selection and execution of action plans. A host of neuropsychiatric disorders ranging from obsessive-compulsive disorder (OCD) to Parkinson's disease and dystonia are associated with basal ganglia dysfunction. Calakos' research has helped reveal the ways the basal ganglia normally adapts to experience, such as in habit learning, and how brain diseases like compulsive behavior and movement disorders arise.
"Dr. Calakos is the epitome of a successful physician scientist and well deserving of the Korsmeyer Award," said Richard O'Brien, MD, PhD, Disque D. Deane University Distinguished Professor of Neurology and Chair of the Department of Neurology. "Her research has advanced our understanding of plasticity within the brain while also identifying new therapeutic options for a variety of conditions. While conducting this research she has also helped mentor a generation of physician scientists and build a collaborative research network that reaches across Duke."
Calakos' research has revealed a crucial role for a biochemical pathway, known as the "integrated stress response" (ISR), that regulates protein synthesis in multiple inherited and sporadic forms of the movement disorder, dystonia. These insights have led to the development of new drug candidates for dystonia and uncovered non-canonical roles for the ISR in the healthy brain, where it was found to be constitutively active in neuromodulatory neurons to maintain the integrity of dopamine and acetylcholine signaling. The significance of recognizing new ISR roles in the brain's acetylcholine system also reaches beyond dystonia because ISR-inhibiting small molecules are being advanced to treat traumatic brain injury and dementia.
Her laboratory continues work to study the basic-science ramifications of this unusual cell-type specific engagement of the ISR in neuromodulatory cells as well as advance ISR-targeting therapeutic approaches for dystonia toward the clinic. Based on the discovery that the HIV protease inhibitor ritonavir may be efficacious for dystonia in preclinical models through a mechanism involving the ISR, a multi-center collaborative project supported by the Department of Defense (DOD) is ongoing to advance to human subject studies.
Calakos received a bachelor's degree in molecular biology from University of California-Berkeley followed by graduate research in Neuroscience under the mentorship of Richard Scheller, PhD, at Stanford University. She received her MD and doctoral degrees from Stanford, completed a residency in neurology at the University of California, San Francisco, and a postdoctoral fellowship with Robert Malenka, MD, PhD at Stanford.
Throughout her career, Calakos has advocated for physician-scientist development and built bridges between the scientific and medical communities to enhance translational research. She co-directs the Duke Scholars in Molecular Medicine Neurosciences track and has served on the executive committees for Duke's Medical Scientist Training program, Strong Start program for physician-scientists, third-year research program for medical students and the NIH/NINDS K12 career development program for pediatric neurology physician-scientists.
Calakos' laboratory has been continuously supported by the NIH (National Institute of Neurological Disorders and Stroke, National Institute of Mental Health). Her work has also been supported by the DOD and private foundations, including the Dystonia Medical Research Foundation, Tyler's Hope for a Dystonia Cure Foundation, Bachmann-Strauss Dystonia Parkinson's Foundation, Klingenstein Fund, McKnight Foundation for the Neurosciences, Harrington Discovery Institute, Tourette Syndrome Association, The Kahn family foundation, The Holland-Trice family foundation, the Ruth K. Broad Biomedical Research Foundation, the Chan-Zuckerberg Institute, and the Aligning Science Across Parkinson's Foundation.
In addition to the Korsmeyer Award, Calakos has also received the Brain and Behavior Research Foundation Award (formerly NARSAD) (2007), Klingenstein Fellowship in the Neurosciences Robert H. Ebert Clinical Scholar distinction (2007), Tourette Syndrome Association Early Career Award (2009), Harrington Discovery Institute Scholar-Innovator Award (2015), and Duke Health Scholar (2016). She was elected to the American Neurological Association in 2012 (and served on its Board of Directors from 2012 to 2015), the ASCI in 2017, the American Association for the Advancement of Sciences in 2020, and the National Academy of Medicine in 2022.
(A version of this story appeared on the ACSI's website. Read that story in its original context here).
For more information on Dr. Calakos and her work, read her recent interview with the Journal of Clinical Investigation.