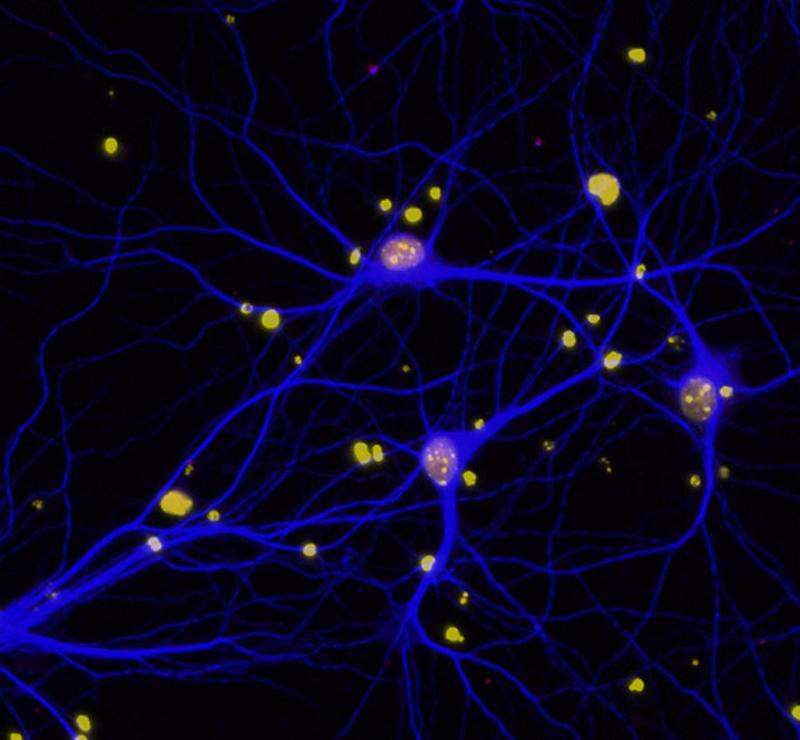 Members of the Duke Neurology Department contributed to 21 new studies in peer-reviewed journals this March, advancing our ability to understand, treat, and prevent diseases and conditions from across the field of neurology. Brian Mac Grory, MB BCh, MRCP, and other members of our stroke and vascular neurology helped answer questions about the best way to treat patients who have a stroke in their sleep. Two recent collaborations with the Duke Department of Ophthalmology were able to identify Alzheimer's and Parkinson's disease based on retinal images, offering a potential safe, non-invasive way to identify those diseases before symptoms occur. And Wolfgang Lietdke, MD, PhD, meanwhile, was the senior author of a new study that identifies how the processes leading to arthritis begin in arthritis. Read short summaries of each of these publications, and find links to the original articles below.
Neurocritical Care
A new study in the Journal of Neurosurgery investigated whether neurosurgical intervention for traumatic brain injury was associated with reduced risks of death and clinical deterioration in Uganda, a low-income country with a relatively high neurosurgical capacity. The team, which included Brad Kolls, MD, PhD, found associations between surgery and rates of poor outcomes varied with traumatic brain injury severity and were influenced by several factors. Read the full study here.
Neuro-Oncology
Cancer patients' spiritual beliefs often influence their attitudes and decisions about treatment and end-of-life care. A new study in Neuro-Oncology Practice specifically examined how spiritual well-being in primary brain tumor patients was associated with health-related quality of life. Senior authors Katy Peters, MD, PhD, and Dina Randazzo, DO, as well as Annick Desjardins, MD, and colleagues at the Duke Department of Neurosurgery contributed to the study, which appears in Neuro-Oncology Practice. Read that study here.
Memory Disorders
Andy Liu, MD, MS, and colleagues from the Duke Department of Ophthalmology performed a systematic review of the use of optical coherence tomography angiography (OCT‐A) technology in Alzheimer's disease. This new technology may someday allow for the use of identifying Alzheimer's and dementia from retinal images. This approach would provide a safe, non-invasive method of identifying Alzheimer's and dementia before symptoms appear. Read that review in Alzheimer's & Dementia: Diagnosis, Assessment & Disease Monitoring.
Parkinson's Disease and Memory Disorders
Parkinson's disease psychosis has a major impact on quality of life and care partner burden; however, little is known about the experiences of care partners of patients living with this condition. Sneha Mantri, MD, MS, was the first author of a qualitative study examining this important group. That analysis uncovers important aspects of the care partner experience, including challenges they face navigating the medical system and communicating with professionals. Read that study in PLOS One.
Nicole Calakos, MD, PhD, contributed to a new case report of a 70-year-old woman with treatment-refractory diaphragmatic dystonia who underwent awake bilateral pallidal deep brain stimulation with microelectrode recording. Read that article in BMJ Case Reports.
Retinal analysis holds the potential to act as a non-invasive, effective method of identifying Parkinson's before symptoms develop, according to a new study by members of the Duke Department of Ophthalmology as well as Buron Scott, MD, PhD. The team examined capillary perfusion density (CPD), capillary flux index (CFI), retinal nerve fiber layer (RNFL) thickness, and other characteristics of individuals with Parkinson's as well as a control group. Read what they found in Ophthalmology Retina.
General and Community Neurology
Spasticity remains under-treated in the long-term care setting, despite the fact that safe, effective treatments exist. Resident Amanda Currie, MD was part of a Geriatrics study that analyzed awareness of this condition, as well as options for therapy in a group of nursing home and veteran's home residents. Read the results of that survey here.
Multiple Sclerosis
Lead authors Simon Gregory, PhD and medical student James Giarraputo, Christopher Eckstein, MD, and colleagues investigated a potential new biomarker for severity, progression, and treatment for multiple sclerosis: serum neurofilament light chains and glial fibrillary acidic proteins. The team used a single-molecule array to measure serum protein concentrations from twenty-five participants for five years. Read what they found in the Journal of Neuroimmunology.
Stroke and Vascular Neurology
Clinical Neurophysiology, Epilepsy, and Sleep
A standard format for neurophysiology data is urgently needed to improve clinical care and promote research data exchange. Aatif Husain, MD, was part of the DICOM Working Group, which proposes the Digital Imaging and Communication in Medicine  standard for this purpose. Husain and colleagues discuss an initial set of standards this group has produced as well as a DICOM neurophysiology codec design competition to propose future development. Read their discussion in the latest issue of Clinical Neurophysiology. 
Translational Brain Sciences
Neuromuscular Disease
The ALSUntangled series is examining alternative and off-label treatments for people with ALS one by one for their theoretical mechanisms, existing data, and other factors that may merit further investigation. In the latest issue of Amyotrophic Lateral Sclerosis and Frontotemporal Degeneration, first author Rick Bedlack, MD, PhD, and colleagues examine their 60th potential treatment: light therapy. Read what their review found here.
In an editorial for Clinical Neurophysiology, Karissa Gable, MD, and Lisa Hobson-Webb, MD, discuss the axonal Z-score and whether electrodiagnostic testing can find a new role in chronic inflammatory demyelinating polyneuropathy.  Read that article here. 
A new study from senior authors Jeffrey Guptill, MD, MHS, and Yingkai "Kevin" Li, MD, PhD, Melissa Russo, and colleagues offers other researchers a normative range of plasma cytokines in healthy human adults. The team used a cohort of 126 carefully screened, racially diverse healthy adults between the ages of 18-64 years. These data, which are freely available to researchers as a reference range for research involving peripheral cytokines, are available here in Data in Brief.
Other Topics
Simon Gregory, PhD, contributed to a new study answering important questions about circulating tumor cell genomic evolution and hormone therapy outcomes in men with metastatic castration-resistant prostate cancer. Read that study in Molecular Cancer Research.