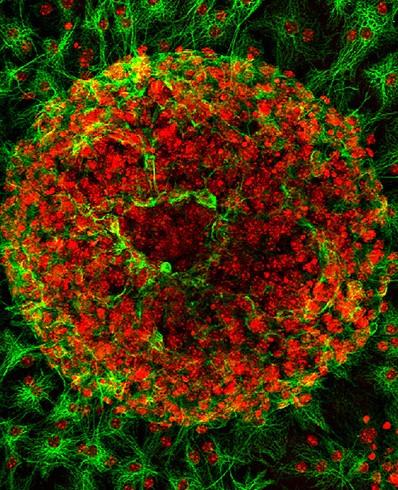 This March, new research from members of the Duke Neurology Department advanced our missions of patient care, translational and clinical research, and neurology training, contributing to 16 new peer-reviewed journal articles. Highlights from this research include a study showing the potential benefits of yoga for patients dealing with concussion, a study that sheds light into our understanding of how repetitive transcranial magnetic stimulation (rTMS) functions, and an examination of opportunities and challenges in building long-term cross-identity mentoring relationships. Read the paragraphs below for brief summaries of each of these articles, along with links to the complete published articles.
 
Epilepsy, Sleep, and Clinical Neurophysiology
General and Community Neurology
A new pilot study indicates that yoga may help alleviate the short term symptoms of concussion. Senior authors Joel Morgenlander, MD, and Elizabeth Devore, ScD, MSN, and colleagues designed the Mindfulness and Yoga for Treatment After Concussion (MYTAC) protocol and compared patient self-reported symptoms before and after they completed recorded yoga sessions. They found that symptoms measured using the SCAT3 toolkit decreased by about 50% during the intervention period. Read the full study in the International Journal of Yoga Therapy.

William Powers, MD, was the senior author of a new study that found that magnetic resonance imaging (MRI) may be a viable way to detect early changes in white matter caused by cerebral small vessel disease. Powers and colleagues used ultra-high field 7 T MRI to examine alterations in white matter penetrating arterioles (PA) in patients with diabetes with ultra-high field 7 T MRI. They observed significantly increased diameter or decreased velocity among patients with diabetes as well as age. Read the full study in Magnetic Resonance Imaging.
Memory Disorders
Kathleen Welsh Bohmer, PhD, and Thomas Farrer, PhD, were the senior authors  of a new study that provides insight into how visual clinical ratings of brain structural integrity predict cognition in older adults. Welsh Bohmer, Farrer, and colleagues performed clinical ratings of MRI scans across two ascertainment periods among 187 community-dwelling older adults and correlated these ratings with MMSE, CERAD memory performance, and general cognitive ability. Their findings support previous research that the integrity of different regions of the brain correlate to function in a meaningful way. Read the full study in JAR Life.
Neuro-Oncology
Katherine Peters, MD, PhD, contributed to a new study shedding light on the burden of caregivers for people with the aggressive brain cancer glioblastoma. Peters and colleagues designed an 89-item survey focusing on patient's symptoms, cognitive dysfunction, and caregiver burden. Read what they found in Future Oncology.
Neuro-Ophthalmology 
OCT angiography (OCTA)  has recently emerged as a rapid, noninvasive method for visualizing the retinal microvasculature as well as a possible biomarker for observing small retinal microvascular changes caused by neurodegenerative diseases. Andy Liu, MD, MS, Kathryn Moore, MD, MHS, and Kim Johnson, MD, contributed to a new study demonstrating intrasession reliability for OCTA, helping to validate this technique. Liu, Moore, Johnson, and colleagues performed a cross-sectional study with patients with a diagnosis of Alzheimer's disease, Parkinson's, mild cognitive impairment, and normal cognition, finding high repeatability for images for participants with normal cognition and those with neurodegeneration.

Read that article in Ophthalmology Science.
Neuromuscular Disease
Vern Juel, MD, and Tabitha Karatz contributed to a new study that offers insights into immune checkpoint inhibitor-induced myasthenia gravis (ICI-MG). Juel, Karatz, and colleagues performed a serological assessment of five symptomatic patients diagnosed with ICI-MG using highly sensitive, quantitative assays. Their findings challenge the accuracy of serological testing alone in establishing a definite ICI-MG diagnosis and corroborate the need for more in-depth ancillary investigations when evaluating muscle-related irAEs. Read the full article in Annals of Clinical and Translational Neurology.
Residency Program
Cross-identity mentoring relationships pose both challenges as well as opportunities for early-career neurologists and neuroscientists from backgrounds that are underrepresented in science and medicine. Deborah Rose, MD, was part of a team that examined this practice from individuals participating in the Diversifying the Community of Neuroscience program. Rose and colleagues identified themes and mentorship needs by developmental stage, that provide insights mentors can use to better support the success of their mentees with diverse intersectional identities. Read that article in Frontiers in Integrative Neuroscience.
Translational Brain Sciences
Chronic lung allograft dysfunction, (CLAD), the leading cause of death in lung transplant recipients, has no approved therapies, and the mechanisms underlying its development remain poorly understood. A team including Simon Gregory, PhD,  performed single-cell RNA-Seq and spatial transcriptomic analysis of lung tissue from people with CLAD, providing insights into the cell-to-cell interactions driving airway-centric alloimmune injury in CLAD, and suggesting a potentially novel therapeutic strategy for CLAD prevention or treatment. Read that study in JCI Insight.
Simon Davis, PhD, was the first author of a new study that addresses gaps in our understanding of how repetitive transcranial magnetic stimulation (rTMS) functions. Davis and colleagues compared task-related functional connectomes based on an idiographic goal priming task tied to emotional regulation acquired before and after simultaneous rTMS/psychotherapy treatment for patients with major depressive disorders and compared these changes to normative connectivity patterns from a set of healthy volunteers (HV) performing the same task. Read what they found in the International Journal of Clinical and Health Psychology.
Vascular Neurology and Stroke
Strokes are often secondary to arterial or venous disease, making determining the etiology and secondary prevention strategy important for preserving the injured brain, preventing recurrent strokes, and maintaining good functional outcomes. Dylan Ryan, MD, and Wuwei "Wayne" Feng, MD, MS, were the senior authors of a

new narrative review that adds to this discussion. Ryan and Feng summarize the medical evidence surround selection, timing, and choice of therapy, including utilization of left atrial appendage closure, in patients with ischemic, hemorrhagic or venous stroke. Read that review in CNS & Neurological Disorders - Drug Targets.
While earlier systematic reviews have compared the efficacy of intravenous tenecteplase and alteplase in acute ischemic stroke, they have not yet directly compared complications of these two treatments. B were the senior authors of a new article in Stroke that answers that question. Their systematic review found that complications were similar for these two treatments at low and medium doses. Wayneho Kam, MD, Jay Lusk, MD, Annie Cavalier, MD, Elizabeth Marriott, MD, Daniel Laskowitz, MD, MHS, and Wuwei "Wayne" Feng, MD, MS, also contributed to that study. Read it here.