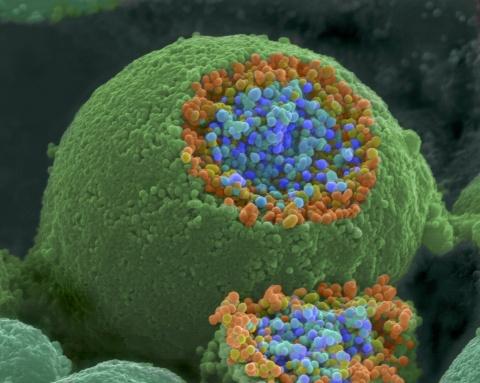 Members of the Duke Neurology Department contributed to eight articles and two correspondence letters published in peer-reviewed journals this July. The subjects of these publications include an analysis of the "gender gap" for treatment of acute stroke, a discussion on challenges and opportunities in academic research on structural racism and health care,and a review of the social amoeba Dictyostelium discoideum's potential to better understand how neurodegenerative diseases in humans. Read the paragraphs below for more information on these and other recent publications from our Department, along with links to the original articles themselves.
Epilepsy, Sleep, and Clinical Neurophysiology
Advanced interventional pain management approaches need to lesion neural targets to achieve desirable analgesia while also preserving motor and sensory function for regional bystander nerves. Aatif Husain, MD, was the senior author of a new report that provides an interventional radiology directed framework of thermoprotective techniques available during thermal ablation. Read that article in Seminars of Interventional Radiology.
Equity, Diversity, and Inclusion
Memory Disorders
Brenda Plassman, PhD. contributed to an article estimating the relationship between traumatic events over the lifespan and cognitive trajectories and predicted dementia incidence. The team found that traumatic events experienced later in life were associated with cognitive decline, but no overall relationship between lifetime trauma and predicted dementia incidence. Read the article in the American Journal of Preventive Medicine.
Neurocritical Care
Daniel Laskowitz, MD, MHS, and David Van Wyck, DO, were the senior authors of a new study evaluating the potential of CN-105, a 5-amino acid apolipoprotein E (ApoE) mimetic peptide, to mitigate the effects of traumatic brain injury (TBI) if administered beforehand in a clinically relevant murine model. The team found that CN-105 improved functional outcomes and reduces hippocampal microglial activation, showing its potential as a pre-injury prophylaxis for soldiers at high risk for TBI. Brad Kolls, MD, PhD, MCii, Haichen Wang, MD, and Viviana Cantillana also contributed to the article, which appears in Experimental Brain Research.
Neurodegeneration and Neurotherapeutics
The genome of the  social amoeba

Dictyostelium discoideum

contains a huge number of microsatellites, or repetitive sequences associated with many neurodegenerative diseases. Matthew Scaglione, PhD, was the senior author of a review article discussing the microsatellites in this species as well as its potential utility for identifying novel mechanisms that utilize and regulate regions of repetitive DNA. Read that article in Frontiers in Neuroscience.
Neuromuscular Medicine
Translational Brain Sciences
Michael Lutz, PhD, was part of a study that examined single nucleotide polymorphisms (SNPs) associated with accelerated aging to see whether those SNPs were also associated with the progression from mild cognitive impairment to Alzheimer's disease. Their analysis found multiple genetic variants with pleiotropic effects on both epigenetic accelerated aging and progression to Alzheimer's suggested a shared genetic architecture between the two. Read the full result in the Journals of Gerontology: Series A.
Vascular Neurology and Stroke
A new JAMA Network Open study provides new insights into current practices of prescribing patterns in dual antiplatelet therapy for secondary prevention among patients with acute ischemic stroke changed after recent clinical trial findings and American Heart Association/American Stroke Association practice guideline updates. Wuwei "Wayne" Feng, MD, MS, Brian Mac Grory, MB BCh, MRCP, and Daniel Laskowitz, MD, MHS, contributed to the analysis of more than 132,000 patients from nearly 2000 hospitals participating in the AHA/ASA Get With The Guidelines–Stroke program. Read that story here.
William Powers, MD wrote a "Stroke Lore" article discussing common but unsubstantiated beliefs and customs about intracranial volumes and pressures following cerebral hemorrhage, as well as what the existing data and studies on the subject indicate. Read that discussion in the Journal of Stroke and Cerebrovascular Disease.

The "gender gap" for endovascular therapy (EVT) use for acute ischemic stroke has disappeared after 2015, along with increases in EVT for both genders, according to a new analysis of

more than 300,000 patients between 2012 and 2019

by 

Brian Mac Grory, MB BCH, MRCP, and colleagues at the Duke Clinical Research Institute. Read the full analysis in the latest issue of Stroke.