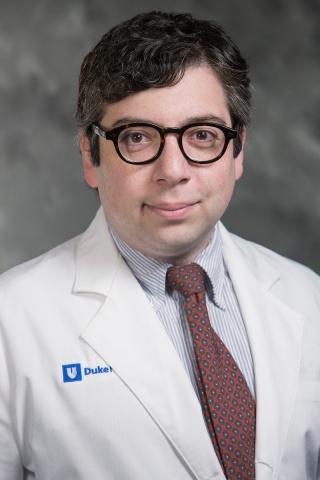 Cina Sasannejad, MD, first became interested in neuroscience as an undergraduate student, when he observed how the field brought together elements of biology, chemistry, psychology, and culture to provide an understanding of the workings of the brain. Now he's one of our neurointensivists in Duke Central Tower, where he manages the brain and organ system of some of our most critically ill patients. In this week's "Spotlight" interview, Sasannejad talks to us about the teamwork and synthesis involved in neurocritical care, writing short stories and collecting fountain pens in his spare time, and the time he ran into the "extraordinarily tall and kind man" Conan O'Brien.
What are your current responsibilities within the Neurology Department? What does a typical day look like for you?
I am one of the intensivists in the Neurocritical Care Unit in the Duke Central Tower and am responsible for managing one of three teams, one week at a time. A typical team consists of myself, a fellow, an advanced practice provider, and a resident, managing 8-10 critically-ill patients at a time. On a typical day on service, we will receive signout from the overnight team at 7 a.m., round patient by patient between 8 a.m. and noon, going through each patient's plan for each organ system (starting with the brain!), and spend the afternoon doing procedures, meeting with patient families, and doing education. 
I think education is an important part of everything we do, not just for learners from various levels of experience and different disciplines, but also for patients and their families. Even the most complex concepts in neurocritical care can—and should—be explainable at multiple different levels of complexity, from how an extra-ventricular drain works to why people with subarachnoid hemorrhages are at risk for vasospasm, and I enjoy tailoring the explanation to be relevant and interesting to each person on their own terms.
How and when did you first get interested in neurology? What interests you the most about neurocritical care in particular?
I first became interested in the neurosciences in college after noticing how important it was to integrate information from multiple different disciplines to understand it: it struck me as an area that is not just strictly biological, but also incorporates chemistry, physics, psychology, and culture. 
Despite majoring in biochemistry, I joined a neurobiology lab that investigated molecular mechanisms of stress and how ion channels affect activation of stress responses, and of my labmates introduced me to a project that ended up turning into an undergraduate peer-review journal called the Cornell Synapse, which published articles ranging from electrical mechanisms of communication between fish to mathematical models of neuron firing. 
My interest in neurocritical care followed a similar desire to apply novel combinations of seemingly-unrelated things toward a common synthesis. I didn't even know that neurocritical care was a specialty until my last rotation in medical school, which was a relief to me, as my favorite rotation had been MICU despite my love of neurology, and it had been starting to dawn on me that I had to reconcile this with the traditionally outpatient setting of most neurological practice. 
This interest was solidified for me as a junior consult resident, as I realized how many of my consults were coming from various ICUs around the hospital: while all other units systematically tackled all other systems in the human body, it was only the Neuro ICU that directly managed all of these systems plus the brain.
You were the first author of a 2019 study that reviewed long-term cognitive impairment after acute respiratory distress syndrome (ARDS). What were the main findings of the study and how will they help us better understand or treat patients?
In the natural history of any disease, the outcomes we monitor and target begin in broad brushstrokes—for example, "6 month mortality"—and later, with knowledge and technology, evolve into outcomes that more accurately reflect the actual quality of life. While we have started to learn more about the long-term cognitive side effects of prolonged ICU hospitalizations and the consequences of delirium and sepsis, I had been startled to learn about the high prevalence of cognitive and psychiatric consequences of ARDS. 
While sepsis literature provides an example of what can happen in a systemic inflammatory state, I set out to write a review article putting together what we know from basic, clinical, and translational research in ARDS and what mechanisms underlie how cognitive impairment arises in patients experiencing this condition. By better understanding the mechanisms, we can then find out which ones are modifiable and how to modify them to maximize our patients' quality of life after leaving the ICU. 
It happened that this paper was published mere months before the outbreak of COVID-19, and the high prevalence of both ARDS and persistent cognitive impairment ("Long Covid") in this patient population, prompted interest in this paper. The relationships between critical illness, ARDS, and cognitive impairment have become particularly relevant, which will hopefully continue to generate more data and insight in this area.
What do you enjoy most about neurocritical care? 
The best part of neurocritical care is that it constantly calls upon the entire collective synthesis of one's knowledge: not only in clinical management but also research, procedural skills, basic sciences, pathophysiological mechanisms, emotional intelligence, philosophy, and ethics. Each of these areas can interrelate with one another at the interface of different combinations of organ systems at any time.
Clinically, this also highlights the importance of teamwork and camaraderie between members of large teams in which each person contributes different perspectives of the same clinical situation: providers are constantly working with nurses, pharmacists, physical therapists, occupational therapists, speech therapists, social workers, and, in a teaching hospital, it is always energizing to have learners of each level within each of these disciplines.
What's the hardest part of your job?
The most difficult part of my job is navigating visitor restrictions in the setting of Covid, which, though necessary to control the spread of infection, can be isolating for patients and challenging for family members unable to spend as much time with their loved ones as they ordinarily would have been able to. Although some creative applications of technology like FaceTime have helped somewhat, it is impossible to replace the comfort of a family member at bedside and the daily rapport from getting to know patients' family members face to face during the course of their ICU stay.
What other passions or hobbies do you have outside of the Department?
I enjoy keeping up with current events and culture, avidly watch soccer and hockey, play tennis, play piano, and write short stories; I actually recently competed in a short story slam featuring physicians throughout the Northeast. I have been known to procrastinate issues of the New Yorker, inevitably leading to cramming as many issues as possible as if studying for a final. I also have a modest fountain pen collection, at least one of which I have accidentally dropped nib-first during rounds. If you have been watching a new series on Netflix, I have probably already seen it, several times.
Do you have a photo of yourself in a non-work setting that you can share?
I ran into Conan O'Brien in New Haven! He is an extraordinarily tall and kind man. I told him I have been watching his show since I was 10 years old, staying up until irresponsibly late hours, and I thanked him for shaping my entire comedic sensibility. Ever the gentleman, Conan asked me what I do, and when I told him I am a neurointensivist, he quite graciously responded, "you're the one shaping lives."