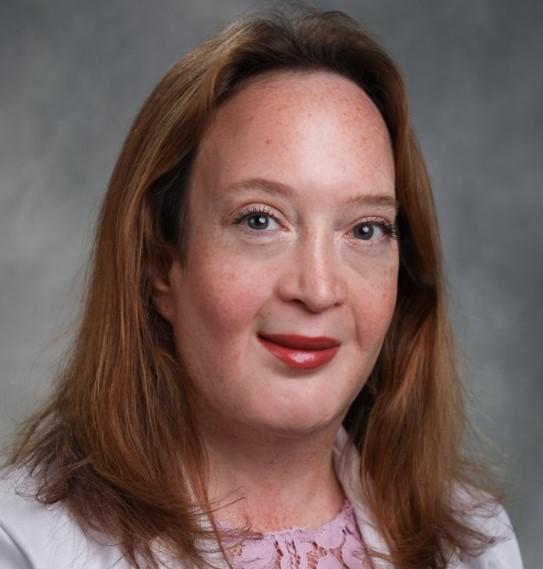 Epilepsy is more than a physical disease. Beyond causing seizures, epilepsy can cause problems with memory or attention, and the stresses of living with the condition also make people more vulnerable to both depression and anxiety. Fortunately, a variety of therapies and life adjustments that can help people living with epilepsy navigate these challenges.
In this week's Faculty Spotlight interview, Jill Stuart, PhD, talks about her work helping people understand and treat consequences of epilepsy as a clinical neuropsychologist at the Duke Comprehensive Epilepsy Center (DCEC). Stuart talks about common issues people living with epilepsy and their loved ones face and as well as how she and patients work together to overcome them. She also shares some of the themes she'll be discussing about epilepsy and emotional health for our 17th annual free "Life Without Limits" epilepsy symposium on November 11. 
What are your current responsibilities within the Neurology Department and at Duke?
At this point, much of my work is related to caring for patients with epilepsy through the Duke Comprehensive Epilepsy Center (DCEC). Characterizing a patient's cognitive functioning, including localization and lateralization of weaknesses, can help our epileptologists with determining the best options for managing a patient's epilepsy. 
This can include identifying a need for additional tests as part of a pre-surgical work-up, consideration of change in medication due to CNS side-effects, or helping advise a patient on their surgical options and potential for cognitive risk. For patients who may need disability due to the severity of their cognitive or memory problems, characterization of their functioning can support their application. For our younger patients, providing justification for work or educational accommodations based on their cognitive testing can help them be more successful. 
What does a typical day look like for you?
I can usually be found at Morreene Rd. My clinic days start in the morning, reviewing notes for the cases to be seen that day and planning test batteries that assess a broad range of cognitive skills and psychosocial functioning. I then rotate between meeting with patients (and their families) and checking-in with my technicians who are administering the cognitive tests. I spend a lot of time talking with patients about their cognitive complaints, medical and developmental history, daily functioning, and their psychiatric history. 
Living with a chronic illness can be challenging for many patients, but patients with epilepsy are at a higher risk for having co-occurring depression and anxiety. Understanding if they need more support and connecting them to those resources is very important for their quality of life, not to mention health outcomes. For patients considering surgery, I like to understand their support system and their expectations. After meeting all my patients, I spend time reviewing data as it is collected to follow-up on any unexpected findings. 
I can also be found pushing snacks or providing words of encouragement to patients who may be discouraged or worried about their performance. When I am not seeing patients, I can be found writing up reports characterizing my patient's cognitive and psychological functioning, and providing tailored recommendations or information that may help surgical planning. 
I attend epilepsy surgical conferences where I present my findings and opinions as part of the team. If a patient needs specialized testing, such as intra or extra-operative language mapping, I will prepare the patient and do real-time assessment alongside the epileptologist or surgeon who is electrically stimulating cortical areas. I also enjoy the times I get to teach residents and fellows during the clinical neurophysiology educational seminars, and also during patient-centered seminars such as our annual Living with Epilepsy Symposium.
 How and when did you first get interested in neuropsychology?
I first became interested in neuropsychology during my Brain and Behavior class when I was a freshman at UNC-Chapel Hill. In graduate school, one of my first clinical rotations was in Pediatric Neuropsychology at UIC. It felt like solving puzzles and I was hooked instantly!
What are some of the cognitive changes associated with common neurological conditions?
The most common cognitive complaints I get are problems with memory, word finding, or attention. For patients with temporal lobe epilepsy, memory problems are often direct sequelae of their seizure focus. However, many of our patients take multiple medications which can contribute to CNS suppression, such as problems with processing speed and attention.
What forms of treatment or therapy are available for these conditions?
I am very excited to be involved with expanding self-management programs to patients with epilepsy, including cognitive training for the complaints mentioned above. For patients with mood or anxiety disorders, cognitive behavioral therapy (and related modalities such as mindfulness training) is the gold standard.
You're speaking at Duke's coming Living with Epilepsy Symposium about epilepsy and emotional health. What are some of the common challenges to emotional health that people living with epilepsy face?
Many of our patients experience depression and anxiety. Most patients with epilepsy cannot drive which contributes to a lack of independence and feeling like a burden. They face many practical challenges for staying socially engaged (in non-virtual ways), as well as finding and maintaining employment. The medications patients take to control their seizures are not without side-effects, both cognitive and mood related. It can be an isolating and frustrating experience to not have the agency to do what you want or function how you want.
What's one thing you wished more people living with epilepsy (and their loved ones) knew about their emotional health?
I wish persons with epilepsy and their family knew that they did not have to walk their journey alone. There is support out there, via therapy and various support groups. I also wish they knew that therapy can be effective, even in just a few visits. The skills one can learn in therapy can be long lasting.
What do you enjoy most about your work?
I enjoy exploring the uniqueness of each person I meet and helping to put together pieces of their puzzle. I also love that my work can provide information and recommendations which can help them and/or their medical providers immediately.
What's the hardest part of your job?
The hardest part of my job is not being able to wave a magic wand that would reverse the impact of their condition on their cognition or physical functioning.
What passions or hobbies do you have outside of Duke?
I have two school-age boys, so free time is sparse. I am passionate about cheering for my kids at their Little League games. I like to travel with my family, cook, and explore various restaurants around town.