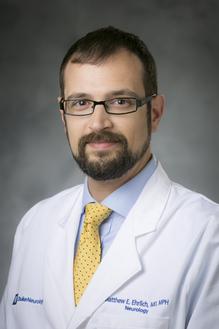 Matthew Ehrlich, MD, MPH, got his first exposure to hospital neurology seven years ago as a vascular neurology fellow. He came to love the complexity and variety of cases during that rotation and joined the division after completing his fellowship. For this week's Spotlight interview. Ehrlich talks about working as a hospital and vascular neurologist across our three hospitals. He also shares his hopes for the field of hospital neurology, offers advice he received as a trainee, and shares his loves of performance driving and horology when he's not at Duke.
What are your current responsibilities within the Neurology Department? What does a typical day look like for you?
I wear several hats these days, with feet in both the Vascular/Stroke division and the Hospital Neurology division; I am director of the neurology consult service at Duke Regional Hospital as well as Medical Director for the Primary Stroke Center program at Regional. I see patients in stroke clinic, and via Telestroke, and also get to spend a few weeks on the DUH Stroke teaching service. 
That said, it's difficult to say what a 'typical' day is. In my primary clinical role as a neurohospitalist at Regional, my day is spent seeing new consults for a wide array of neurologic problems, on the floor, in the ICU and in the Emergency Department, as well as managing acute stroke patients at a moment's notice.
How did you decide to join our Hospital Neurology division? What do you enjoy most about this specialty?
At the time we formed the new Hospital Neurology division, my clinical duties were best characterized as a neurohospitalist. It was the best fit, and gave those of us providing this type of medical care a unified "home." For me, being a neurohospitalist provides great intellectual stimulation as we have to care for a wide variety of neurologic disease, or neurologic complications of very medically ill patients. I enjoy the acuity and rapid pace of inpatient care. It is also heavily skewed toward vascular neurology, which of course was my first neurologic love.
You first came to Duke as a vascular neurology fellow. What's one experience or memory from that time that stands out to you?
Actually, the experience that led me to my current role was the most impactful. During my fellowship we spent several weeks at DRH (before the service line really existed here) as an "acting neurohospitalist." I had not worked in a "community hospital" setting before that time, and I was also allowed a substantial amount of supervised autonomy to manage consults during those weeks. It really opened my eyes to the kinds of interesting patients and pathologies seen in the community hospital setting, and I really enjoyed the overall atmosphere of tight knit camaraderie in the smaller hospital. 
What development or trend in hospital neurology (or other aspect of neurology) are you most excited to see over the next decade?
As the patient population becomes more and more complex and acutely ill; and as science advances have provided neurologists with more diagnostic and therapeutic options for acute neurologic disease, it is becoming increasingly recognized as its own nuanced and focused subspecialty.
As a result, more and more large academic institutions, our own included, are developing fellowship training opportunities in hospital neurology. This provides more of an avenue to build not only the academic side of hospital neurology, but also affords opportunities for more QI work, program development and administrative hospital systems roles.
What's one piece of advice you wished you had received as a resident or fellow?
Keep an open mind and continue experiencing new things - even if you think you know exactly where you want your career to go.
What other passions or hobbies do you have outside of the Department?
My main hobby is performance/track driving, and I do some Time Trial competition driving as part of that. I have an old (1998) BMW built from the ground up for the purpose, and enjoy fiddling with it in the garage. I've also really gotten into watch collecting and horology over the past year as well.