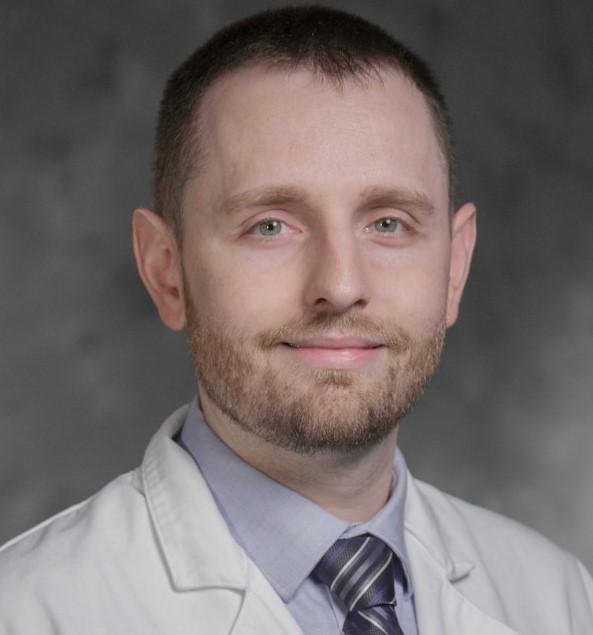 Michael Morris, MD, first found himself drawn to neurology shortly after starting his clinical rotations as a medical student. Later, he decided to specialize in neurocritical care after experiencing the acuity and hands-on nature of the specialty. Now, he's the newest member of our neurocritical care team, where he works to help individuals with life-threatening illnesses within our Neuro-Intensive Care Unit. For this week's Spotlight interview, Morris talks to us about the advances he sees coming to our ability to treat patients with neurocritical injuries in the next decade as well as his passion for teaching. He also shares his love of following college sports, hiking, and camping when he's not at Duke.
What are your current responsibilities within the Neurology Department? What does a typical day look like for you?
I will be working as an attending in the Neuro-Intensive Care Unit. My day consists of working with a multidisciplinary team to care for patients suffering from life-threatening neurologic illnesses. 
How and when did you first get interested in neurology? What drew you to neurocritical care in particular?
I became interested in neurology during medical school shortly after beginning my clinical rotations. I was fascinated by the importance of the neurologic examination in diagnosing and localizing injury. During my intern year, I found a passion for critical care medicine due to the high acuity and hands-on nature of the field. 
What advances in our ability to understand or treat patients with neurocritical care injuries do you see coming in the next five to 10 years?
I am excited to see where advancements in the understanding of the comatose patient leads the field in terms of new diagnostic and therapeutic approaches in the coming years.
What's one thing you wished more patients and their loved ones knew about neurocritical care?
I think a better understanding of the uncertainty of neuro-prognostication and variability in recovery timelines would help families to prepare themselves to support their loved ones after neurologic injury.
What do you enjoy most about your work?
I enjoy the opportunity to teach. Learners often don't have extensive exposure to neurocritical care, and I feel that this provides a unique opportunity to share my passion with others. 
What's the hardest part of your job?
I think breaking bad news to families is always very challenging. Our patients often suffer sudden and unexpected injury that will change their lives forever.
What other passions or hobbies do you have outside of the Department?
I am a huge sports fan. College football season is my favorite time of year. I also enjoy outdoor activities like camping, fishing, and hiking.