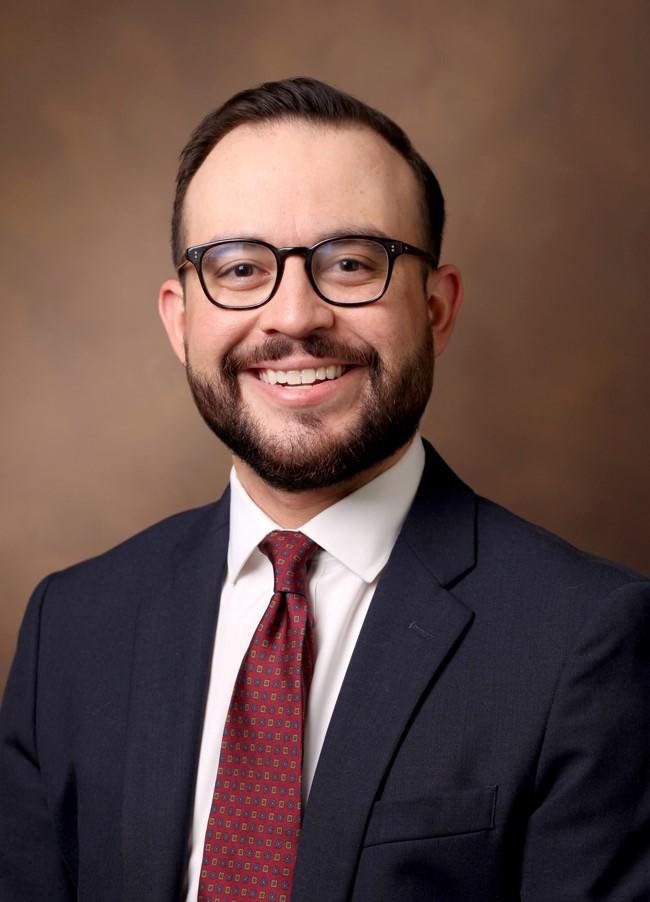 As an undergraduate student, Alan Salgado, MD, knew he wanted to pursue neuroscience, but vacillated between pursuing medical or graduate school. Perhaps influenced by his father, a fellow neurologist, he chose a medical degree and a career in neurology. Now, in his final months as a neuromuscular medicine fellow at Duke, Salgado talks to us about the stroke research he performed as a resident, his future plans as a faculty member within the University of Michigan, and enjoying breweries, staying active and major league baseball when he's not at Duke.
What are your current responsibilities as a neuromuscular fellow? What does a typical day look like for you?
My current responsibilities as a neuromuscular fellow include seeing patients in the neuromuscular clinic and performing electrodiagnostic studies in the EMG lab. A typical day can consist of a half-day in clinic and a half-day performing nerve conduction studies/EMGs. As fellows, we work with different neuromuscular faculty members throughout the year in 3-month rotations, each of whom focus on specific types of neuromuscular disorders. There is a wide variety of clinical exposure as we see patients in the Duke neuromuscular clinic, adult MDA clinic, ALS clinic at Morreene Road, and pediatric MDA clinic at Lenox Baker Children's Hospital.
How and when did you get interested in neurology? How did you decide to focus on neuromuscular medicine in particular?
I have always had an interest in neuroscience. I studied neurobiological sciences in college and debated on going to either medical or graduate school. I knew early on I wanted to go into a career where I could work with people and make a direct impact on their lives. Additionally, my father is a neurologist and he had a major influence on my decision to go into medicine. 
As a medical student, I was torn between two specialties, internal medicine and neurology. I applied to internal medicine and began a categorical medicine residency after medical school. However, early on in my intern year, I realized internal medicine was not for me. Having my neurology rotation early in intern year reaffirmed my interest in neurology and so I re-entered the match and completed my neurology residency at Vanderbilt.
My interest in neuromuscular medicine began early on when I worked with a neurologist in medical school who introduced me to neuromuscular disorders and was an excellent clinician and role model. I carried that interest into residency and I made the decision to go into neuromuscular medicine after I completed my EMG rotation in my 3rd year of residency. 
There were many factors that drew me to neuromuscular medicine, some of which included the variety and complexity of diseases, how meaningful the history and neurologic exam was in guiding clinical decision making, the increasing number of treatments, the intuitive nature of NCS/EMG in understanding the underlying pathophysiology of neuromuscular disease, and most importantly, the patients.
You contributed to two recent studies examining mechanical thrombectomy in patients with ischemic stroke. What were the main findings of those studies, and how will they help us better understand or treat people who've had a stroke?
Both studies I was involved in while I was a resident. The first paper compared the functional and procedural outcomes of patients with minimal and moderate pre-stroke disability who were treated with mechanical thrombectomy after suffering from an acute ischemic stroke. Patients who present with higher disability at baseline are more likely to be excluded from getting thrombectomy. The conclusions from the study suggest that thrombectomy may be an option for those patients with higher disability levels as there was insufficient evidence that functional outcomes were worse in the moderate group of patients (mRS 3) compared to the mild disability group (mRS 0 to 2). 
The second study was a small case series that highlighted characteristics and outcomes of patients with severe disability prior to stroke who underwent mechanical thrombectomy. There is very little evidence to help guide the interventional treatment of stroke patients with severe disability. Historically, these patients have been excluded from thrombectomy treatment in clinical trials. In our study, around a third of patients in the series undergoing thrombectomy returned to their pre-stroke baseline status, around 40% transitioned to comfort care, and a quarter of patients died in the hospital. Overall, this information is valuable to know when making clinical decisions for those patients who may be candidates for mechanical thrombectomy.
What plans do you have for after you complete your fellowship? Where do you see yourself in five years?
After fellowship, I will be joining the Department of Neurology at the University of Michigan as a neuromuscular neurologist. Most of my time will be spent seeing patients with different neuromuscular disorders in various clinics (e.g., general neuromuscular, ALS) as well as performing electrodiagnostic studies in the EMG lab. Additionally, I will be spending several weeks a year rotating on the inpatient neurology services with the neurology residents and rotating as an attending in neurology resident continuity clinics. 
In five years, I hope to become more involved in neurology resident and fellow education opportunities with a goal of one day becoming a program director. 
What I am looking to the most after fellowship though is spending time with my wife and children before I begin working. My wife is an active-duty military officer in the U.S. Navy and so we have had to live apart since we both graduated medical school. 
What's one experience from your time as a fellow so far that's been especially memorable or useful for you?
One memory that sticks out is when I first met my co-fellows and we all performed nerve conduction studies on each other. That was a fun and educational experience! This was during our fellowship orientation at the start of the year. Looking back, it was a valuable experience as it allowed me to understand what patients go through when having the procedure done.
What other passions or hobbies do you have outside of the Department?
I love sports. When I was growing up, I played at least 2 sports throughout the year up until the end of high school, including baseball, basketball, tennis, soccer, and rowing. I am a big Florida Gator fan (Go Gators!) as I grew up in Gainesville, FL and attended the University of Florida for my undergraduate and medical education. Besides collegiate sports, I follow many other professional leagues as well. Otherwise, I love staying active, playing sports, watching movies, and playing with my kids and seeing them get interested in the things I used to love (Legos!). My wife and I really enjoy food, cooking, baking, hiking, traveling, and going to as many breweries and MLB baseball stadiums as we can. Once my wife and I settle down after training, I am interested in getting into woodworking as well.