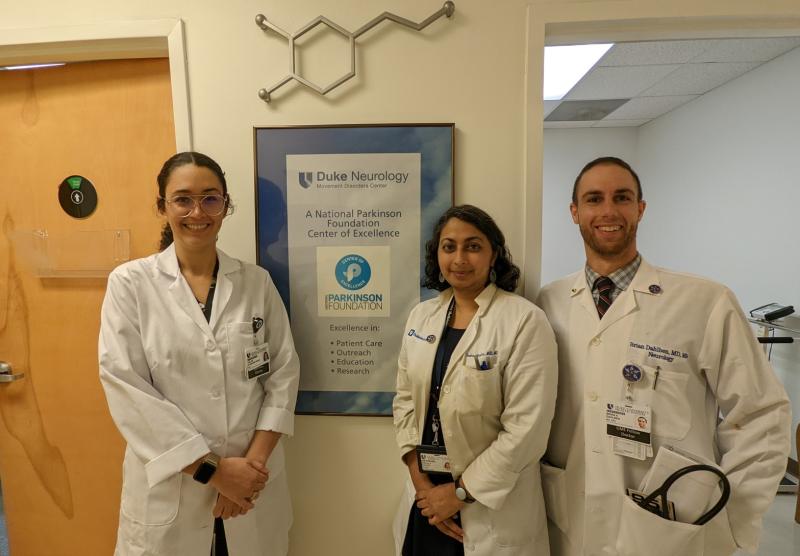 The Duke Neurology Department has expanded its movement disorders fellowship program to provide fellows with a research-immersive second year, thanks to a pledge from Dr. Randy Schilsky and his RMS Family Foundation. This support will allow our movement disorders fellows to extend their training beyond the first year, which is immersed in clinical training, and undertake research projects to advance our understanding of Parkinson's disease and other movement disorders.
"Creating opportunities to immerse physician trainees into the research process has a particularly powerful long-term effect because these individuals, when dually trained in clinical practice and research, are uniquely poised to advocate and advance for translation between bench and bedside throughout their careers," said Nicole Calakos, MD, PhD, Lincoln Financial Group Distinguished Professor of Neurology and Neurobiology, and Division Chief of Parkinson's and Movement Disorders.
Working with program leadership, Schilsky fellows will identify areas of interest and opportunities for collaboration for their research project during their first year, and then design and complete a research project during their second year. Fellows will have opportunities for basic, translational, and clinical research, as well as opportunities to collaborate with national experts in the Departments of Neurosurgery, Neurobiology, Biomedical Engineering, Psychiatry, Physical Therapy, and Radiology.
The Schilsky Foundation's initial gift of $250,000 will support Duke's current two Movement Disorder Fellows, Brian Dahlben, MD, MSc, and Talita D'Aguiar Rosa, MD.
Dahlben completed his neurology residency at Albany Medical Center, where he served as chief resident. At Duke, his research projects include the use of advanced neuroimaging to improve outcomes for patients undergoing deep brain stimulation and other surgical interventions, the application of real-time 3D sensors to better quantify cervical dystonia, as well as educational initiatives to increase medical student and resident interest in movement disorders.
Rosa completed her neurology residency at the University of Louisville. She also holds a Master of Science in Global Health from the University of California - San Francisco and served as the Atlantic Fellow for Brain Equity at the Global Health Brain Institute. Her interests include global health and implementation and data science applied to access in healthcare.
"By allowing us to offer a two-year fellowship experience that includes access to the outstanding research environment that Duke is known for, the Dr. Randy M. Schilsky Fellowship positions us to recruit the top talent nationwide and train the next leaders in movement disorders," said Sneha Mantri, MD, MS, Director, Movement Disorder Fellowship program.
Read more about the Schilsky Movement Disorders Fellowship program or the RMS Family Foundation.