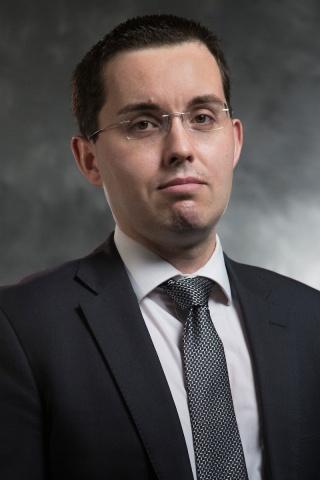 Brian Mac Grory, MB BCh BAO, has won  the American Heart Association/ American Stroke Association's 2020 Stroke Progress and Innovation Award (first place) for his research examining treatment for central retinal artery occlusion (CRAO), a rare type of stroke affecting the eye. The study performed by Mac Grory and colleagues found that "clot-busting" medications, if given within 4.5 hours after the eye stroke, improved the chances of vision recovery for patients with CRAO. This research, published July in Stroke, offers the best observational evidence for treating CRAO with thrombolysis that is currently available.
"This award is a fitting recognition for Dr. Mac Grory's research, which answers a critically important question on an underrecognized and undertreated medical condition," said Department Chair Richard O'Brien, MD, PhD. "This study has the potential to change medical practice worldwide."
CRAO causes sudden blindness in one eye and at present there is no available treatment. "Clot busting" thrombolytic therapy was one potential option, but until now there was no evidence that this therapy could be effective. CRAO is also rare, making up less than 1% of all strokes, compounding the difficulty of studying it effectively.
Mac Grory and Matthew Schrag, MD, PhD, from Vanderbilt University's School of Medicine pooled data from multiple studies performed in the USA, Germany, France and Australia in which patients with CRAO were given a clot-busting medication and analyzed the results. The resulting article, "Intravenous Fibrinolysis for Central Retinal Artery Occlusion," was published in Stroke, the top journal in the field of vascular neurology. Other key figures in the study included Sven Poli, MD, (Hertie Institute for Clinical Brain Research, Tubingen, Germany), Martin Spitzer, MD, PhD, (University Hospital Hamburg, Hamburg, Germany), Max Nedelmann, MD (Sana Regio Klinikum, Pinneberg, Germany), Benoit Guillon, MD (CHU de Nantes, Nantes, France), Celia Chen, MD, and Andrew Lee, MD, (both from Flinders University Medical Center, Adelaide, Australia), David Greer, MD, (Boston University School of Medicine),  Karen Furie, MD, MPH, (Brown University) and Patrick Lavin, MD (Vanderbilt University School of Medicine).
Mac Grory will build on the findings of this study with his work in the forthcoming Duke Eye Stroke Center, which will aid in the treatment of this CRAO and other forms of strokes that affect vision. This multidisciplinary center will feature national experts in neurology as well as neuro-ophthalmology, hyperbaric medicine, interventional radiology, and emergency medicine, and other fields.
The Stroke Progress and Innovation Award recognizes research that encourages new paths, new methods and new ways of thinking and awards a 1st, 2nd and 3rd place each year. It is open to all research published in Stroke. The award will be presented at the International Stroke Conference in March 2021. Read more about other recipients of the award here.