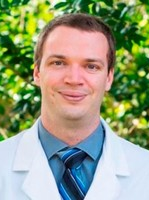 Resident rotations in neurocritical care are always intense. This summer COVID-19 made the experience especially challenging for Elijah Lackey, MD, who had to rotate between patients dealing with critical injuries to their head and nervous system as well as overflow patients from the first wave of the pandemic. For this week's "Resident Spotlight" interview, Lackey talks about what he and his fellow residents learned from this experience. He also talks about his time researching the biophysics of mucus and airway clearance at UNC's Cystic Fibrosis Center, keeping his morale up with a list of personal patient success stories, and his plans for specializing in neuroimmunology after graduation.
What are your usual responsibilities as a PGY-3 (third-year) resident? What does a typical day for you look like?
As PGY-3, or senior residents, we teach medical students, interns, and junior residents while developing our skills as future neurologists. We spend much of our time on the adult inpatient consult service. There, we see floor and ED consults, run stroke codes, and manage neurologic emergencies such as status epilepticus or intracranial hemorrhages until they get to the ICU. As seniors, we learn the basics of EMG and nerve conduction studies. We also have our first experiences on pediatric neurology where we rotate through each of their inpatient services.
How has the coronavirus crisis affected your experience as a resident so far? What's one successful strategy that you and your colleagues and your colleagues have used to cope or compensate?
I was in the neuro-ICU in July, before it moved to its new location in Duke Central Tower, and half of my patients had COVID. Taking care of patients with COVID was challenging because it required the use of airborne precaution PPE and different skills for management of their respiratory distress than what I was used to. Since the neuro-ICU moved, we no longer take care of COVID patients as the primary team but are often consulted on them. We also run stroke codes in the ED where, because of the acuity, we cannot know whether the person has COVID. These changes have been stressful and challenging, but our resident class has adapted quickly and become closer as friends and colleagues. We've coped by relying closely on each other, knowing that we're all working together as a team.
You spent two years at UNC's Cystic Fibrosis center as a research specialist. What was the focus of your research, and how does that time influence your work as a resident?
My research focused on the biophysics of mucus and airway clearance. We cultured airway cells, studied mouse models, and collected sputum from patients to learn about the properties of mucus and to see how different therapeutics affect its clearance. I used tools including a laser cutter, desktop mill, and 3D printer to build instruments. Helping design and build instruments, while also performing experiments, taught me how to innovate and think more broadly about research design. Now, as a senior resident, I'm considering what kind of research I would like to be involved in during my career and hope to apply this innovative thinking to my future research.
How and when did you first get interested in neurology?  What interests you the most about the field?
I first became interested in neurology during medical school when I started studying neuroscience and found it fascinating. That led to me working as a neuroanatomy teaching assistant and taking electives in neurology. Clinically, neurology appeals to me because there are many new treatments available and many more being developed. It's fun to be part of a field where new discoveries are frequently being made and the pathophysiology of diseases are still being elucidated.
What have you enjoyed or found most helpful about the residency experience so far? What's a memory of your first two years that stands out for you?
I started a list of "Good Outcomes" in my Epic chart where I keep success stories for people who were critically ill but have improved dramatically. There are several stories on that list that inspire me and raise my spirits after a difficult day. One patient, who I did a stroke code for, had a large intracranial thrombus causing what would have been neurologically devastating symptoms. After thrombectomy, he recovered completely and left the hospital a few days later. It's those memories of patients getting better from terrible diseases that continue to inspire me and stand out the most from my residency experience.
What plans (if any) do you have for after you complete your residency? If you could have any job in the world, what would it be?
I plan to do a neuroimmunology fellowship after residency and then likely pursue a job at a teaching hospital. If I could do any job in the world it would probably still be working as a physician. Other possible ideal jobs would be marine archaeologist or alpaca farmer.
What other passions or hobbies do you have outside of the Department?
My wife and I have a two-year-old daughter, and I enjoy spending time with our very curious and energetic toddler. Before the pandemic, we regularly took our daughter to the Museum of Life and Science. Now, I spend a lot of time at the park with my daughter. I also enjoy Scuba diving, biking and fishing.