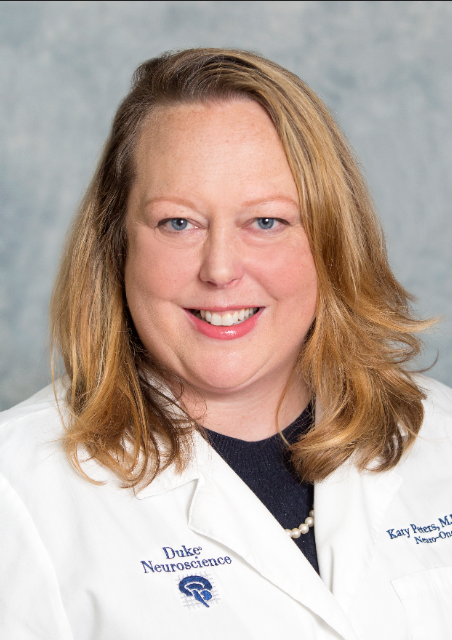 A new treatment improves survival rates for some types of brain tumors while also reducing the need for invasive therapies such as surgery, radiation, and chemotherapy. Vorasidenib, a medication known as mutant IDH1/2 inhibitor, was found to increase progression-free survival for patients with IDH mutant low-grade gliomas to 27.7 months compared to 11.1 months for patients receiving placebo in a phase-three clinical trial. The results were published in the New England Journal of Medicine.
"This is something we haven't seen in more than 20 years in neuro-oncology," said Katherine Peters, MD, PhD, a Duke neuro-oncologist and author of the study. "For patients with IDH mutant low-grade glioma, vorasidenib slows both tumor progression and delayed the need for more aggressive therapies such as surgery, radiation, and chemotherapy."
While IDH mutant low-grade gliomas represent only about 7 percent of primary brain tumors, they are the most common form of brain tumor appearing in adults under 50 years of age. The tumors, and the aggressive therapy they usually require, have a major impact on quality of life and often disrupt patients' lives as they are starting families, advancing their careers, or completing their education.
Vorasidenib functions by inhibiting two mutated enzymes known as IDH1 and IDH2 that are present in nearly all low-grade gliomas. This inhibition prevents or delays tumor growth rather than relying on chemotherapy or surgery to physically destroy or remove the tumors. 
In the study, 331 IDH mutant low-grade glioma patients who had already received surgery as part of their treatment were assigned to receive vorasidenib or placebo. In addition to having longer progression-free survival, patients receiving vorasidenib were also 60 percent less likely to have their tumors progress than patients receiving placebo during the study period. The preliminary results from the study were so promising that the placebo wing was closed early so that those patients could receive access to vorasidenib.
Future research will build on these early results to see how effective vorasidenib is for IDH mutant higher-grade gliomas and for patients who have undergone radiation or chemotherapy.
 "Vorasidenib represents a significant advance in the treatment of IDH mutant brain tumors. This new therapy will hopefully allow our patients to live longer, thrive longer, and improve their quality of life," Peters said. 
In addition to Peters, the article's authors include Ingo Mellinghoff, MD, Martin van den Bent, MD, Deborah Blumenthal, MD Mehdi Touat, MD Jennifer Clarke, MD, Joe Mendez, MD, Shlomit Yust-Katz, MD, Liam Welsh, MD, Warren Mason, MD, François Ducray, MD, Yoshie Umemura, MD, Burt Nabors, MD, Matthias Holdhoff, MD, Andreas Hottinger, MD, Yoshiki Arakawa, MD, Juan Sepulveda, MD, Wolfgang Wick, MD, Riccardo Soffietti, MD, James Perry, MD, Pierre Giglio, MD, Macarena de la Fuente, MD, Elizabeth Maher, MD, Steven Schoenfeld, MD, Dan Zhao, MD, Shuchi Pandya, MD, Lori Steelman, MD, Islam Hassan, MD, Patrick Wen, MD, and Timothy Cloughesy, MD.