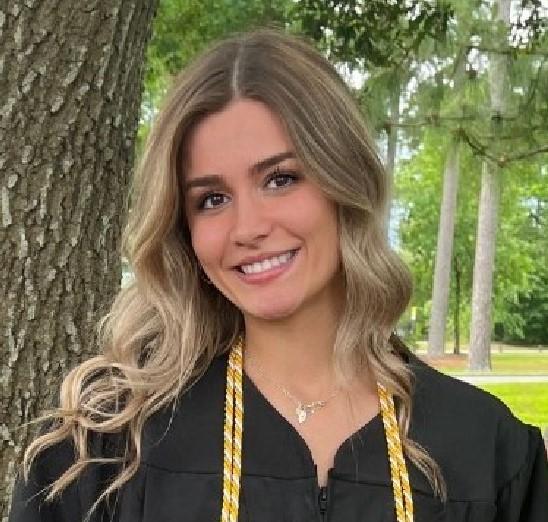 Conducting clinical research is a complicated, time-consuming process, requiring careful monitoring of patients' blood work, cognitive measures, and other data points over time, recording and analyzing that data, and then synthesizing it to look for long-term trends over time. Hailey Zampa, a clinical research coordinator in our Morreene Road Clinic, is a part of that effort for several potential treatments for amyotrophic lateral sclerosis (ALS). In her Staff Spotlight interview, Zampa talks to us about the joys and challenges of this work, how her background in public health has prepared her for this role, and spending her time reading, trying new restaurants, and at the gym when she's not at Duke.
What are your current responsibilities in the Neurology Department? What does a typical workday look like for you?
My current position at Duke is a clinical research coordinator. I am currently working at the Duke Neurology clinic off of Morreene Road. A typical workday for me would include carrying out any patient visits I have for any of my studies that day, processing and sending off labs from those visits, and completing all of the data entry and post visit tasks that must be completed after a subject visit.
What research projects are you currently involved in, and how will they help us better understand or treat neurological conditions?
I am involved in a number of different studies in which we test different study medications and observe the progression of symptoms of ALS in our subjects over a period of time. Currently that list includes: Combat ALS, Platform, Clene EAP, and the Neurological Disease Biorepository. During this study period, we monitor and test different aspects of a patient's progression through a series of cognitive, physical, mental, and other exams/tests along with routine blood work and vital monitoring.
What are your long-term career plans? If you could have any job in the world, what would it be?
I plan on staying at Duke long term, working to further my career as a clinical research coordinator. Ideally, one day, I would like to have my own studies and act as the primary coordinator on a study. I really enjoy learning new things so maybe exploring other neurological diseases would be a possibility as well.
Your bachelor's degree is in public health. How does your expertise in that area inform your current work?
Growing up, I always knew I wanted to enter the medical field, but was unsure of what exactly I wanted to do, which is why I chose public health. Majoring in public health has been a benefit to me at my current position daily as it contributed to my research and data skills as well as teaching me a great deal about general health.
What do you enjoy most about your work?
I really do love every aspect of my job, but if I had to choose my favorite part it would be the work I get to do with data. I am a very task-oriented person, and have always been a big fan of data entry, analysis, which just so happens to be a large portion of my position here at Duke.
What's the hardest part of your job?
I would say the most difficult part of my job is just how detailed everything is. There are multiple steps to any task you will be doing, so making sure you double and triple check your work to ensure its accuracy because small things can slip by sometimes.
What other passions or hobbies do you have outside of the Department?
When I am not working, I enjoy going to the gym, reading a good book, hanging out with my family and friends, and I love going out to a restaurant for a good meal. If you see me after work, I am either reading, out to dinner, or at the gym!