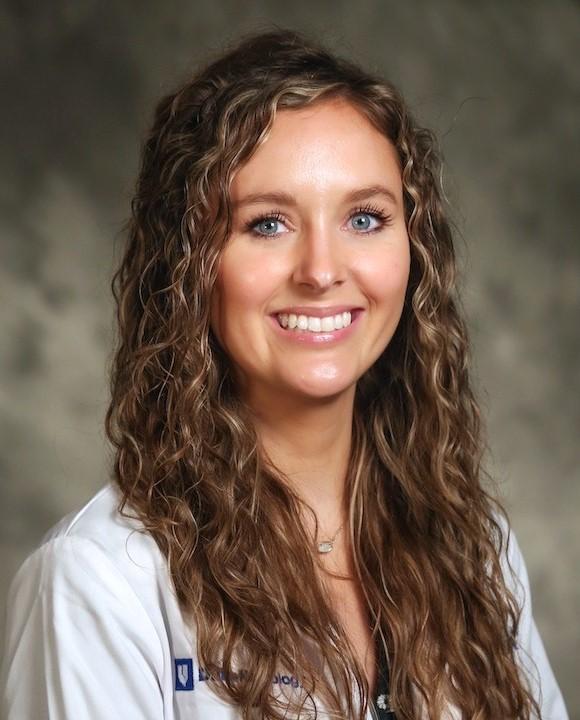 Neuro Intensive Care Units, or Neuro ICUs, are some of the most intense, demanding locations in a hospital. Amber Anderson, MSN, AGACNP-BC, FNP-BC, fell in love with this challenging but rewarding environment as a nurse practitioner, and decided to join our APP Residency program so she could spend more time there. For this week's Spotlight interview, Anderson talks to us about her time as an APP Resident so far, her history in various areas in nursing, and her hopes for a future in neurology. She also shares her loves of traveling, family and friends, and college football when she's not at work. 
What are your current responsibilities as a neurology APP resident? What does a typical workday look like for you?
Right now, I am trying to learn and absorb everything that I can. I just started the program so I am currently shadowing the neurology providers in the exam room. It is a great learning environment for me to strengthen my assessment and diagnostic skills. As the program progresses, I will see patients on my own to obtain a comprehensive history and come up with differential diagnoses. I will then report my findings and plan for the patient to the provider.
What were you doing before you came to the APP residency program?
I graduated with my master of science degree this year and became a dual-certified Acute Care and Family Nurse Practitioner. I have been a registered nurse for seven years in various places such as Neuro ICU, PACU, Med-surg, and a travel nurse. My most recent job was in the Surgical ICU as a travel nurse leading up to this residency.
How did you decide to join the APP residency program? What are you most excited about?
I grew to love neurology during my time in the Neuro ICU at Vanderbilt University Medical Center in Nashville, TN. It is a very challenging area as a bedside nurse that requires patience, diligence, and being a team player. I made the decision to specialize in neurology as a NP after watching the providers problem solve, act quickly under stress, and seeing the genuine love for what they do.
I joined this residency program because it will give me an excellent opportunity to learn and grow as a provider that I would not receive anywhere else.I am excited about the wealth of knowledge that I will gain during my time in the program and for the exposure to all the different areas of neurology. My experience will give me a better perspective in what area I would like to pursue going forward. I am truly grateful that I was chosen for this program!
What plans do you have for the future? If you could have any job in the world, what would it be?
I plan to pursue a job in neurology, and am just unsure of the subspeciality right now. My absolute dream job outside of healthcare would be to travel around the world to paint beautiful landscapes, animals, and architecture. I guess one could call that a travel blogger and an artist.
What other passions or hobbies do you have outside of the Department?
I enjoy traveling with my husband, hiking, and spending time with family and friends. Our favorite place traveled to has been Banff, Canada. It was truly a winter wonderland.I am a big lover of the fall season. I love when I can go sit by the fire, wear flannels, and watch college football- Go Vols! I also love to paint and draw in my free time.