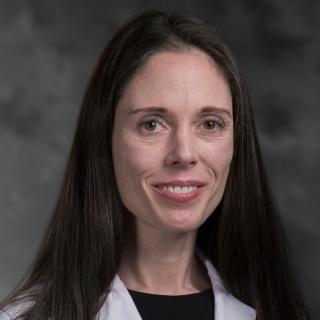 As a new physician assistant in 2007, Erika Jacumin, PA-C, saw firsthand the enormous impact deep brain stimulation (DBS) could have on the lives of people living with Parkinson's disease. Now, she's helping to manage patients with Parkinson's disease and other movement disorders in our Morreene Road Clinic. For this week's "Spotlight" interview, Jacumin talks to us about her previous work helping patients with movement disorders. She also discusses working with patients to find tailored, multidisciplinary treatment plans and enjoying traveling, cooking, and spending time with family when she's not at Duke.
What are your current responsibilities within the Neurology Department? What does a typical day look like for you?
I am a physician assistant with the Movement Disorders Team at the Duke Neurology Clinic located at Morreene Rd. I see new and established movement disorder patients and also program/manage patients with deep brain stimulators and Duopa pumps. 
Before coming to Duke, you worked with neurology patients in Ormond Beach, Florida, and Wichita, Kansas. How does your current work compare to those positions?
In Wichita, I worked primarily with movement disorder patients in an outpatient clinic. I also assisted in the management of patients with Parkinson's disease in an inpatient rehabilitation hospital, adjusting medications while they completed intensive physical therapy, occupational therapy, and speech therapy programs. 
In Ormond Beach, I was focused on movement disorders but also saw general neurology patients in an inpatient hospital and outpatient clinical setting. I managed our clinic's patients with DBS, Duopa pumps, VNS and was a sub-investigator on multiple clinical research trials.
How and when did you decide to become a physician assistant? How did you decide to focus on patients with movement disorders in particular?
I became interested in becoming a physician assistant while I was in college. I had always had an interest in neurology and when I did my preceptorship during PA school with a movement disorder specialist I knew that it was the right fit for me. During my first job as a neurology PA in 2007, I learned how to program DBS and was able to see what an enormous impact we could make in patients' lives. It has been very rewarding getting to develop relationships with my patients and their families and give them the best quality of life possible. 
What's the biggest change in how we treat or understand movement disorders since you became a PA?
The biggest change has been in the treatment options for Parkinson's disease, such as directional leads for DBS and the introduction of the Duopa pump. There has also been a bigger push to focus on treating not only the motor symptoms, but also the non-motor symptoms in Parkinson's disease, which can make a big impact in a patient's quality of life.
What's one thing you wished more people with movement disorders and their loved ones knew?
I wish they knew that movement disorders do not have a "one size fits all" treatment plan and sometimes it takes a little time to find the right medication regimen. I also wish they understood what an important role physical therapy, occupational therapy and speech therapy can play in the management of their disease process. 
What passions or hobbies do you have outside of Duke?
I enjoy traveling, cooking and spending time with family. My family and I have really enjoyed exploring the Triangle since moving here in September 2021.