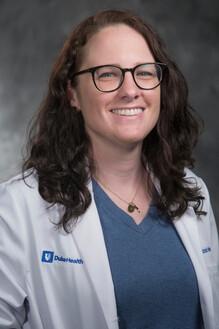 Kristi Kehoe, PA-C had been interested in neurology since childhood, but didn't settle into a specialty until after she completed her training and found a mentor in neurologist Howard Natter, MD. Kehoe was impressed by the complexity, dynamism, and eloquence of the field and has never looked back. In this week's Spotlight interview, the new addition to our vascular neurology team talks to us about her work on Duke University Hospital's inpatient stroke service. She also talks about the joys and challenges of working with stroke patients, why she decided to list herself as a DukeHealth LGBTQ+ ally, and enjoying snowboarding, traveling, and being an amateur historian when she's not at Duke.
What are your current responsibilities at Duke? What does a typical day look like for you?
I am one of the several extraordinary advanced practice providers on the inpatient stroke service here at DUH. I work with a team consisting of attending physicians, advanced practice providers, resident physicians, medical students, case managers, physical and occupational therapists, speech language pathologists, nurses, and a number of other ancillary staff to manage patients admitted to our stroke service, most of which have suffered an acute stroke. 
How and when did you first decide to pursue a career as a physician assistant? How did you decide to focus on stroke or neurological conditions in particular?
In my junior year of college, I was thinking of applying to medical school. I saw a flier advertising an information session about a career path as a physician assistant and decided to attend. I was intrigued by the history of the profession (Side note, it was started here at Duke!) and really drawn into the intention of creating the profession: access to care. Ironically, I was also afraid to commit to a particular specialty.
My settling into neurology was serendipitous. My Nonna suffered from Parkinson's disease and ultimately died from complications. Part of me was always interested in finding out more about it. I was not able to obtain an elective rotation in neurology as I had hoped during my training; however, things fell into place after PA school. I interviewed for an outpatient neurology position with a neurologist who ended up being instrumental in my love of neurology and whom I owe so much to for his guidance (shout out to Dr. Howard Natter in Philly!). I simply never looked back. Neurology is complex, eloquent, and dynamic enough to continue to interest me.  
Your Duke Health profile lists you as a LGBTQ+ Ally. What does being an ally to these communities mean to you? What are some ways other providers can be allies in the field of health care?
Those, like myself, who identify as queer, face certain implicit biases (even those inflicted on oneself) that are important to keep in mind. I remember seeing a gynecologist and feeling too embarrassed to open up about my sexuality. It took years until I was honest about it. Withholding of healthcare information for any reason is ultimately detrimental to an individual's care, as there are certain factors to keep in mind depending on the population. We are all different in beautiful ways. We can be allies by making these populations feel safe. A simple "Equality" or "Safe Space" sticker where healthcare is being provided lets patients know it is safe to open up without fear of judgment. The mental health toll that fear of discrimination takes on the LGBTQ+ population is astronomical. 
Your master's project focused on omega-3 supplements for treating attention-deficit/hyperactivity disorder (ADHD). How did you examine this issue, and what were the findings of your study?
I analyzed the available data at the time and theoreticized its application. Truthfully, studies are underpowered, and I still would not be able to make recommendations in the absence of data. Some of the studies did suggest improvement of ADHD symptoms as reported by both parents and teachers on a rating scale, and I think there could be a role for supplementation as an alternative to stimulant treatment. But there is still a huge need for well-constructed safety and efficacy studies before I could even imagine that. 
What do you enjoy most about your work?
Diagnosis. A new patient with a myriad of neurological symptomatology is like a puzzle. The best feeling is being able to solve that puzzle as well as educate the patient as to prevent future episodes. That's one of the reasons I like vascular neurology. There is usually something we can do for these patients to prevent future suffering, whether it be medication, lifestyle modifications, or simply educating them. 
What's the hardest part of your job?
It is not easy seeing people with devastating strokes. We have medications and interventions that have greatly improved outcomes, but we still see those that are disabled from their strokes. This is particularly difficult in younger patients. But I still find patient and caregiver education in these cases to be rewarding nonetheless. 
What other passions or hobbies do you have outside of the Department?
I am somewhat of an amateur historian, especially when it comes to Philadelphia history. I lived there my entire life until recently and am proud. Philly has done a lot more for this country than just house the Liberty Bell and make delicious cheesesteaks and I like to delve into this whenever I can. I also love spending time with my partner and our baby dog, Vito Corleone, traveling, bowling, billiards, snowboarding, bike riding, kayaking, and watching professional sports. (Go Eagles!)