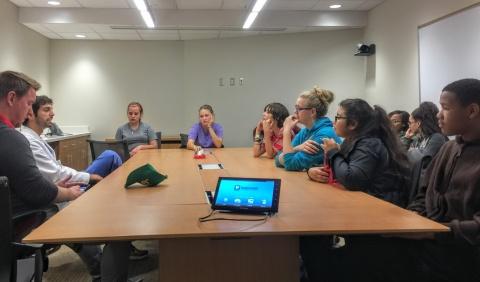 Middle and high-school students got a glimpse inside the world of neurology, from touring Duke Hospital's Neuro intensive care unit (ICU) to learning about stroke, concussion, and the brain, last week. The experience was part of a partnership between the Building Opportunities and Overtures in Science and Technology (BOOST) program and the Neurology Department's Marc-Alain Babi, MD, and Christian Hernandez, MD (left, in photo).
Guided by BOOST coaches as well as Duke medical students from the Student National Medical Association (SNMA), 25 students came to the ICU, where they toured the ICU in small groups, learned the warning signs of stroke (and what to do if a stroke occurs), and learned about other neurological conditions.
"I was surprised by how savvy the students were about clinical conditions in neurology such as stroke and Alzheimer's," said Krystina Quow, a medical student who helped guide the students on their first visit to Duke. "It was interesting seeing their awe as they experienced healthcare from our perspective for the first time and learned about different clinical specialties within medicine."
Quow said the visit didn't just interest the students--it also opened their eyes. "After touring the neuro ICU, one 7th grade girl told me about someone she knew who had experienced a stroke. The day had inspired her to not only want to come to Duke for medical school but to become a neurologist so she could help others like a doctor had helped someone she loved," Quow said.
BOOST is a multidimensional program is designed to excite young people – particularly underrepresented minorities, girls, and kids from economically challenged backgrounds – about science and inspire them to pursue careers in medicine and related fields. BOOST holds regular events, both at Duke and at schools in Durham, and is always looking for volunteers. To learn more about BOOST, or about how you can help, email Douglass Coleman at Douglass.Coleman@dm.Duke.edu. The students visited Duke through NC State's STEM Career Club, which is funded by the National Science Foundation through NC State University and its College of Education and the College of Sciences.