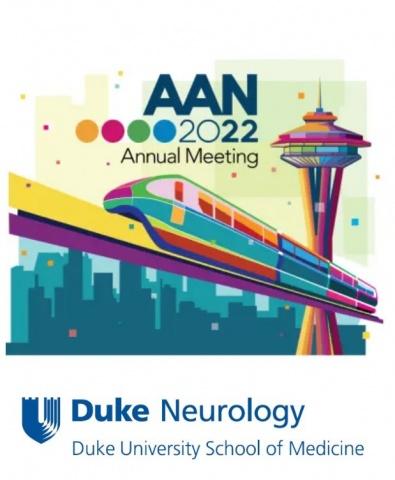 The American Academy of Neurology (AAN) returned to an in-person meeting this week, bringing together neurologists from around the country and world to Seattle to learn about the latest research and clinical advances in neurology. Members of the Duke Neurology Department are playing a critical role in these proceedings this year, leading lectures and group talks, leading specialist groups, and presenting a dozen posters and scientific abstracts. Our Department's contributions to AAN this year include the following honors, sessions, presentations, and awards.
Noreen Bukhari-Parlakturk, MD, PhD, received the AAN's 2021 Career Development Award, which provides $150,000 a year for three years for her project, "Non-invasive modulation of deep brain networks for treatment of movement disorders." This project will elucidate the fundamental relationships between the electrical parameters delivered by a non-invasive brain stimulation technology and the induced brain and behavior changes. This work builds on Bukhari-Parlakturk's training and previous work in human neurophysiology research and clinical movement disorders.
This year, Wuwei "Wayne" Feng, MD, MS, was re-elected Chair of the AAN's Neuro Repair and Rehabilitation Group, while Katherine Peters, MD, PhD, was elected Vice Chair of the AAN's Neuro-Oncology Group.
Members of our Department are leading or participating in the following lectures, sessions, posters or abstracts at the 2022 annual meeting in Seattle:
Lectures or Sessions
Wayne Feng, MD, MS: Neuro-rehabilitation Update,Neuro-rehabilitation: Neuromodulation, Cutting-edge Concepts and Applications in Technology, Cellular Therapy, Imaging, and Interventions and Rehabilitation of Stroke
Andrew Spector, MD: Developing your Department's Diversity Officer 
Chris Berry - Coordinator Roles, Time Management, & Best Practices
Katy Peters, MD, PhD - Core Principles of Brain Tumors 
Janice Massey, MD - Autoimmune Encephalitis, Paraneoplastic Neurologic Disorders, Antibody-Mediated Diseases, Immunology
Aatif Husain, MD - EEG: Normal EEG, Normal Variants, and How to Avoid the Common Pitfall of Overreacting
Posters and Abstracts
Racial Disparities in Dementia and Parkinson's Disease Incidence, Healthcare Utilization, and Outcomes among Medicare Beneficiaries - Jay Lusk, Kim Johnson, MD Margarethe Goetz, PhD, P-AC, Rich O'Brien, MD, PhD, Sneha Mantri, MD, MS
PROMISE-MG: A Multicenter Prospective Observational Comparative Effectiveness Study of Myasthenia Gravis Treatments - Don Sanders, MD 
THRIVE-PD: Transforming Health and Resilience through Interdisciplinary Virtual Engagement in Parkinson Disease - Sneha Mantri, MD, Kyle Mitchell, MD
Knowledge, Skills, and Confidence of Healthcare Professionals Participating in the ECHO MS Program -Mark Skeen, MD
Completing the NIHSS Score Prior to CT Scan to Reduce Time to Acute Intervention for Stroke: A Quality Improvement Project -Paige Sutton, MD
Impairment in Functioning and Quality of Life in Patients With Idiopathic Hypersomnia: the Real World Idiopathic Hypersomnia Outcomes Study (ARISE) - Aatif Husain, MD
Pathogenic Th17 Cells in Autoimmune Myasthenia Gravis Exhibit a Pro-inflammatory Transcriptomic Signature that Promotes Disease Pathogenesis - Yingkai Li, MD, PhD, Janice Massey, MD, Karissa Gable, MD, Shruti Raja, MD, Lisa Hobson Webb, MD
Combining Machine-detected EEG Epileptiform Abnormalities and Quantitative EEG Spectral Features Predicts Post Traumatic Epilepsy - Safa Kaleem
International COVID-19 Vaccine Experience and Perceptions Survey in Patients with Myasthenia Gravis: An Interim Analysis - Yingkai Li, MD, PhD, Tabitha Karatz
Functional Neurological Disorders in Primary Brain Tumor Patients - Katherine Peters, MD, PhD
Pregnancy Course and Musk-Positive Myasthenia Gravis: A Single-Center Case Series -Yohei Harada, MD, Vern Juel, MD, Don Sanders, MD, Lisa Hobson-Webb,MD, Shruti Raja, MD, Janice Massey, MD