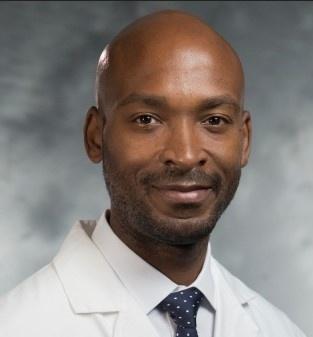 For Dorlan Kimbrough, MD, neurology is both an intellectual challenge and a moral calling, or in his words, "a puzzle that matters." For this week's "Spotlight" interview, the new member of our faculty talks about balancing his work diagnosing and treating patients with neuroimmunological conditions while conducting clinical research to improve treatment for those conditions. He also discusses the medical community's success in treating multiple sclerosis over the past 20 years, his own career path to neurology, and enjoying music, running, and chess in his spare time.
What are your current responsibilities within the Neurology Department? What does a typical day look like for you? 
I recently joined the Multiple Sclerosis and Neuroimmunology Division with a focus on neuromyelitis optica spectrum disorder (NMOSD) and transverse myelitis. I see patients with NMOSD, multiple sclerosis, transverse myelitis, and related conditions. I've also been involved in studies investigating risk and prognostic factors for patient outcomes with these disorders, and look forward to a growing clinical research program here at Duke. So far, there's not a "typical day," and I enjoy the variety. On clinic days, I see patients whose situations started off as mysteries, and it's satisfying to clarify what's going on and how to manage it. And there are research days when I'm reviewing or writing papers, or navigating the paperwork it takes to turn ideas into projects. 
How and when did you first get interested in neurology? How did you decide to focus on neuroimmunology and multiple sclerosis in particular?
Early on during medical school, I considered psychiatry and was fascinated with how internal processes manifest as behavior. Some of that interest stemmed from appreciating music and knowing the biographies of some of my favorite musicians - there's a long tradition of literature about the nexus between artistic expression and psychiatric or neurological conditions for some individuals. But from studying engineering during college and appreciating its problem-solving approach, taking a well-taught neuroanatomy class, and seeing the amazing manifestations of neurological problems that could be treated, I chose neurology.
The neuroimmunology focus came later. I remember during weekly case conferences in residency, the most interesting sessions would start with a story followed by visually striking MRI scans, and sometimes there would be almost as many different opinions on what the diagnosis was as there were people in the room. These were usually the demyelinating or encephalitic cases. And more often than not, the patient's situation would improve with immunosuppressive or immunomodulatory treatment.
What is the most important change in how we understand or treat MS that you see coming in the next decade?
During the past 15-20 years, the MS clinical and scientific community has had a lot of success with dampening the inflammatory aspects of the disease. For most patients, we can reduce the rate and severity of relapses to control MS reasonably well in its early stage. But the insidious progressive stage, accompanied by axonal loss and neurodegeneration, has been much harder to treat.
For patients who have the inflammatory component of MS suppressed well, remyelination strategies during the next decade may eventually either delay or prevent the onset of progression. These drugs are in relatively early stages of development, and so far there have been scientific "proof of concept" studies but unfortunately not compelling success that would lead a patient to say that they feel better in an obvious way. For example, one drug was associated with improved visual evoked potential responses, but not better vision. Remyelination treatment isn't ready for practical use yet, but it will be on the horizon.
What do you enjoy most about your work?
It's a challenge and a service at the same time. That happens in every aspect – research to discover and clarify what we know (or don't know), teaching to pass on the knowledge, and clinical care to help folks out in a practical way. I have a 5x5 Rubik's cube on my desk and I play chess every once in a while, but my work is like having a constant puzzle that matters.
What are you most looking forward to once the COVID-19 pandemic is over?
I have lost people to COVID-19 and it was especially sad that my family could not join in the same place due to safety concerns and travel restrictions. I'm looking forward to seeing the relief and joy that people will feel if and when COVID-19 is gone (or, more likely, when we learn to safely live with it) and there's less fear about gathering and being out in public.
What other passions or hobbies do you have outside of the Department?
I enjoy long distance running, music, and chess.