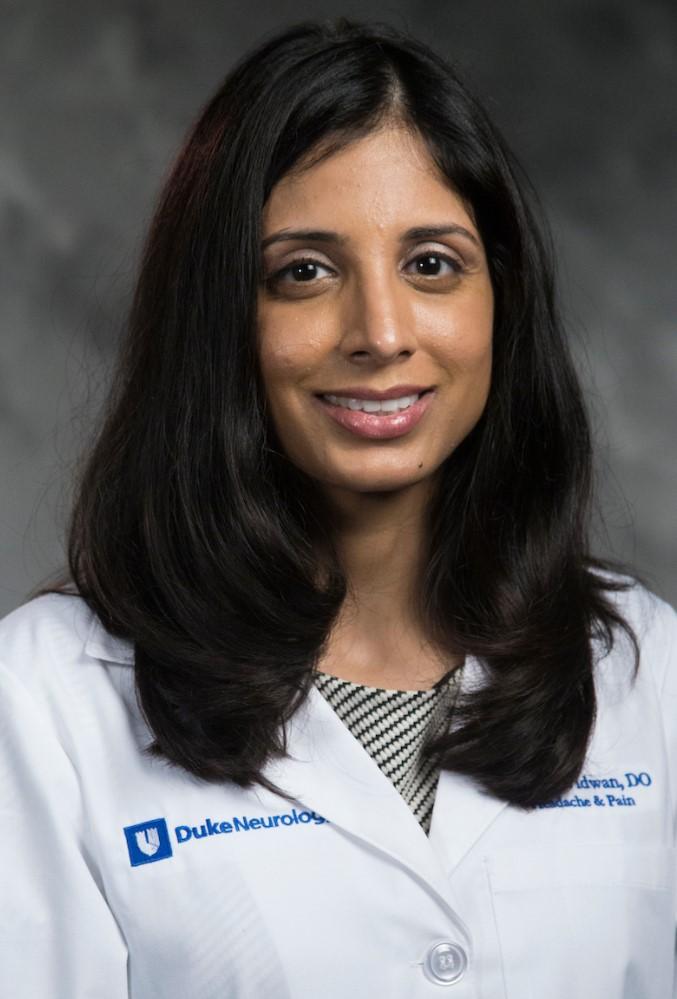 Jaskiran "Kiran" Vidwan, DO, first became interested in both neurology and head and facial pain as a medical student, when a rotation with a headache specialist showed her the complexity of both headache conditions and the therapies used to treat them. Now, as our newest faculty member in our growing Headache and Pain Division she's working with patients of her own to make sure they understand the nature of their conditions and receive the best possible care. In this week's "Spotlight" interview, Vidwan talks to us about how her work here compares to seeing patients in private practice, building a relationship with her parents, and baking and spending time with her family when she's not at Duke.
What are your current responsibilities within the Neurology Department? What does a typical day look like for you? 
I see patients who have headache and facial pain at the Morreene Road Clinic. My typical day involves managing the care of patients and performing procedures such as nerve blocks and Botox injections to treat resistant headache or chronic migraine. My goal is to work closely with our neuroradiology colleagues who are doing important work in identifying spontaneous intracranial hypotension in patients with severe headaches.
How does this work compare to your private practice work that you were performing in Maryland before you came to Duke? What's the biggest difference in your day-to-day work?
I have experience working in both private and academic clinics. In private practice, it is difficult to collaborate with colleagues from different fields and provide a truly multidisciplinary approach to headache care. I feel this will be the biggest difference to the care I am able to provide at Duke. Plus, here at Duke, I get to be part of a growing headache team that is actively involved in teaching our next generation of neurologists and headache specialists.
How and when did you first get interested in neurology? How did you decide to focus on headache and facial pain in particular?
I was fortunate enough to rotate with an amazing headache specialist during my third year of medical school. This cemented my interest in both neurology and headache medicine. I was inspired by her approach to complex headache conditions. Throughout residency, I found myself intrigued by patients who suffered from chronic headache. Therefore, it was natural for me to pursue a headache fellowship to expand my skillset and better help these patients.
What do you enjoy most about your work?
My relationship with my patients is the most enjoyable part of my work. I take the time to get to know my patients, provide the best care I can, and stay up to date on the latest treatments in the headache field.
What's the hardest part of your job?
The hardest part of my job is also the most important. It is to continually educate my patients about their disease and establish realistic expectations. I see patients with a variety of headache disorders. It is important to make sure that patients understand there is no quick fix. Treatment takes time, but we will work together to get better.
What are you most looking forward to doing once the COVID-19 pandemic is over?
I am a mom to two young toddlers who have a small social circle because of the pandemic. More than anything, I just want to widen their exposure to the world. Once the pandemic is over, I look forward to doing simple things such as taking my kids to museums, walking around the grocery store, or being in a crowd and not worrying about marks or our risk of infection. 
What other passions or hobbies do you have outside of the Department?
I love to bake with my three-year-old daughter! I confess that we hopped onto the bread baking craze during the pandemic. Other than that, I enjoy spending time with my family outdoors and exploring North Carolina!
Vidwan and her family celebrate their son's youngest birthday with a cake.