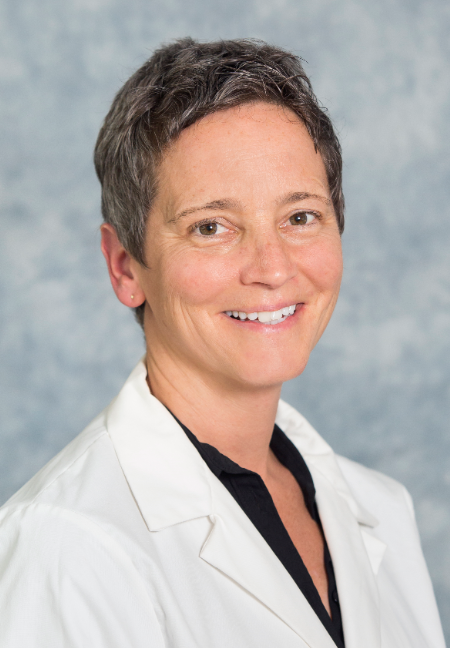 This week's "Spotlight" interview shines on Jodi Hawes, MD. Hawes talks to us about her work treating patients at our Morreene Road Clinic, how her expertise in physical therapy informs and complements her perspective as a neurologist, shares one piece of advice she wished she had as a medical student, and shares her love of jogging and dog rescue when she's not at Duke.
What are your responsibilities within the Department? What does a typical day for you look like?
I spend a good portion of my days in clinic and mostly see general neurology patients. I do have a rehab/spasticity clinic at Morreene Road on Friday. A few weeks out of the year I round with the residents on the general neurology team. I am fortunate to have residents with me in clinic on a fairly regular basis and this is fun and keeps me on my toes. More recently, I have been serving in the role of medical director for our 1L clinic. In this role, I get to work with a great leadership team and our current focus is optimizing medication reconciliation. Our provider group is part of the PDC (Private Diagnostic Clinic) and I attend PDC Board meetings to represent neurology and bring information back to our faculty.
How did you first get interested in neurology?
During my physical therapy training I loved the neurology section and in particular the anatomy and examination. I ended up working with an orthopedic group as a physical therapist but again fell in love with neurology during medical school.
Before becoming a neurologist, you practiced as a physical therapist for several years. How does this training inform your current work?
My orthopedic background helps me greatly both with my general neurology patients and rehab patients. I'm very comfortable seeing back and neck pain and actually like seeing these patients. I enjoy the challenge of trying to find the pain generator/s. This background also helps me with analyzing gait. The orthopedic exam is very hands on and this is similar to neurology. I like using my hands and the mechanics of testing structure/function.
You often help patients recover from mobility issues caused by stroke and other neurological conditions. What's one thing you wished more patients knew about this area?
One, the benefit of exercise. This is so undervalued. Okay, I have one thing regarding spasticity: It can be treated. 
How does being a neurologist compare to what you thought it would be in medical school? What's one bit of advice you wish you could have told your former self?
I wish I had given more thought to what I wanted to do beyond clinical responsibilities. Being in academics, one needs to contribute in another area be that research, administration or teaching. During my training I was so focused on becoming a clinician that I really didn't have a plan beyond that. The better one knows oneself, strengths, weaknesses, likes, dislikes, the better able to make this selection and enjoy their work going forward. Really having a focus helps. Knowing where you want to be in 5, 10 years. These are tough questions but worth thinking about. 
What do you love most about being a neurologist?
Helping people. Our work is meaningful. People share things with us that they don't tell anyone else. This is a great honor, the trust is incredible. 
Have you recently read any books, articles, or websites that would be of interest to others in the Department?
I have really enjoyed John Grinnell's book, Beyond Belief. This is a leadership book and he talks about knowing oneself so one is able to lead onself...and others. This is a very simplistic summary but suffice it to say, I think a book worth reading.
What passions or hobbies do you have outside of the Department?
I love to jog and more recently swim. I find these activities peaceful, rejuvenating, sort of meditative. My partner, Niki, and I recently rescued a dog from Saving Grace in Wake Forest and he is wonderful. If you have room in your family for a dog, please check them out. It is an awesome organization.