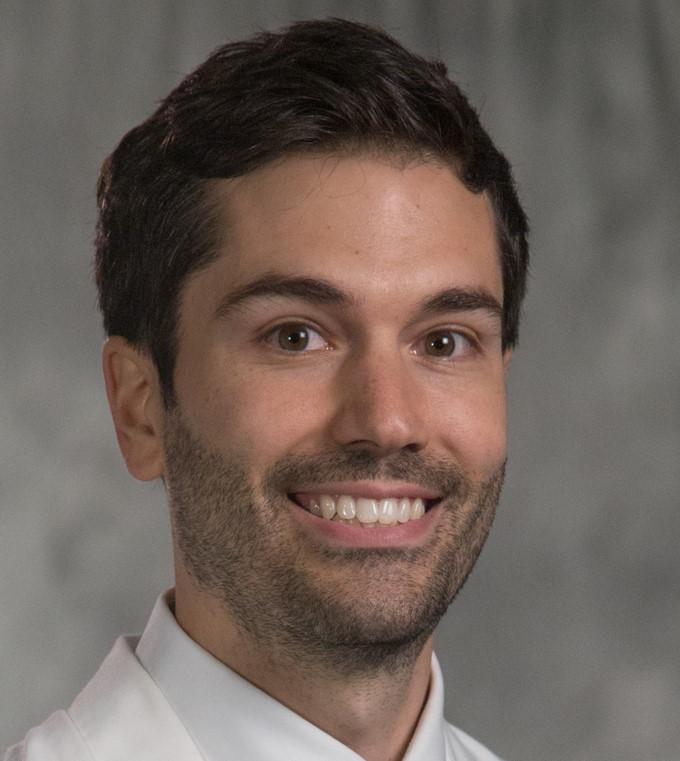 When Ohio State University launched its neuroscience program just over a decade ago, Jonathan Morena, DO, was one of its first and most enthusiastic enrollees. Shortly afterwards, an experience as a camp counselor in a local MDA clinic convinced him to specialize in neuromuscular disorders. Now, Morena is the newest addition to our division of neuromuscular disorders. 
For his Faculty Spotlight interview, Morena talks to us about his path from Ohio State to Duke, and about two case studies he wrote about a recently identified condition known as FOSMN. He shares the joys and challenges of working to meet every patient's personal and medical needs while maintaining a busy schedule.
He also talks about his loves of following Ohio State (and now Duke) sports and enjoying hiking, basketball, and other outdoor adventures when he's not at Duke.
What are your current responsibilities within the Neurology Department? What does a typical day look like for you?
My current responsibilities include seeing patients within the neuromuscular department and rotating on the inpatient general neurology service. A typical day will consist of either seeing patients in clinic 1L or performing EMG/NCS at Duke South or Duke Regional Hospital. I also plan to get involved in clinical research and perform single fiber EMG.
How and when did you first get interested in neurology? What interests you the most about working in neuromuscular diseases?
While I was in college at Ohio State, they created a neuroscience major for the first time. I enrolled in courses and the rest is history; I have loved the field of neurology ever since! I later volunteered as a camp counselor in an MDA clinic which made me particularly interested in neuromuscular disorders. I am most interested in myasthenia gravis, inflammatory neuropathies and brachial plexopathies. My goal is to provide great quality of care for patients with neuromuscular disorders and to perform research with the hopes of pushing our field forward.
You recently completed your fellowship at Weill Cornell Medical Center and Hospital for Special Surgery. What's one experience from your time there that stands out as particularly helpful or memorable to you?
One of my more memorable experiences was seeing a teenager with progressive hand weakness and atrophy who had seen many doctors, had numerous EMG/NCSs and MRI's, and yet still did not have an answer for what he was experiencing. I ordered a particular MRI of the cervical spine with flexion and extension of the head (which had not yet been done), which showed detachment of the posterior dura with anterior displacement causing dynamic spinal cord compression. The patient was diagnosed with monomelic amyotrophy (Hirayama disease). It was rewarding to give the patient answers, guide him through this disorder, and set him up with a surgery to treat this condition.
You recently authored two case reports on individuals with Facial Onset Sensory and Motor Neuronopathy (FOSMN) along with a related literature review. What were the main findings of those case studies, and what further research still needs to be done in this area?
Facial Onset Sensory and Motor Neuronopathy (FOSMN) was first described in 2006 and typically presents with paresthesias in the trigeminal nerve distribution and weakness that progresses rostro-caudally. I saw two cases in residency with similar presentations of facial paresthesias, dysphagia, tongue atrophy with fasciculations, arm weakness, abnormal blink reflexes, and EMG with active and chronic denervation in multiple body regions.
One patient was trialed on IVIG without benefit. There is evidence suggesting that this disorder may be neurodegenerative and on a similar spectrum as ALS. There is a need for further research on this disorder including clarifying the pathogenesis, social risk factors, behavioral and cognitive changes, abnormalities in diagnostic tests, and associated genetic variations that can help lead to treatments and potential biomarkers.
What do you enjoy most about your work?
My favorite part about the work I do is the heterogeneity of the disorders that I see and knowing that every patient requires individualized management. This keeps the job exciting and prevents monotony.
What's the hardest part of your job?
The hardest part of my job speaks to the systemic challenge in medicine of having time constraints; I value being efficient, but I also value giving each patient the time they need to explain their symptoms and concerns. I also enjoy getting to know patients on a personal level.
What other passions or hobbies do you have outside of the Department?
I enjoy playing basketball, hiking, and going on other outdoor adventures. I am an avid Ohio State football fan and now a Duke sports fan!