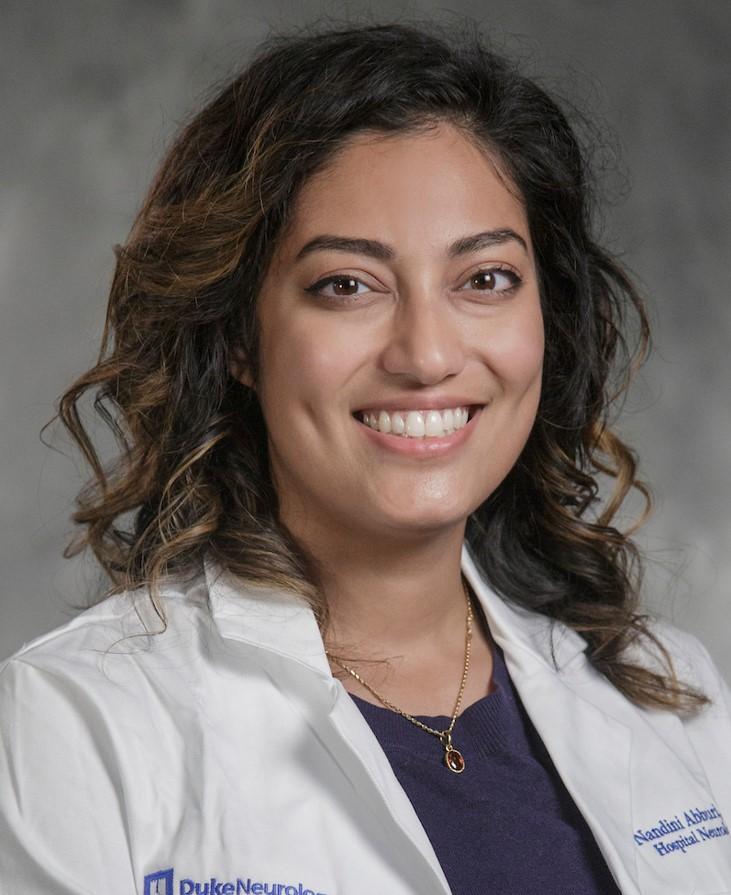 Nandini Abburi, MD, had always found neuroscience interesting, but she was drawn to a career in neurology, and later hospital neurology, when she saw the role neurologists play in bridging the gap between illness as a clinical process and illness as a personal experience. For this week's Faculty Spotlight interview, Abburi talks to us about her three different clinical roles across our hospital system. She also shares why she believes empathy is critical for all of her patient interactions as they navigate difficult life events, as well as her enjoyment of fantasy novels, baking, and digital art when she's not at Duke.
What are your current responsibilities within the Neurology Department? What does a typical day look like for you?
I have three different roles here at Duke. The majority of my time is spent on inpatient service: I spend most of my inpatient weeks at Duke Regional, where I work as a neurohospitalist on the general neurology service, seeing patients with strokes, neuromuscular conditions, seizures, etc. 
When I'm not on service at Duke Regional, I might also be on service at Duke University hospital on the consult service, which is a similar role, but functioning more of a supervisor to the trainees. 
Outside of my inpatient responsibilities, I see patients in stroke clinic. The majority of my clinic patients have had a stroke and previously been hospitalized, and my role is to ensure the diagnostic workup is completed and that they are on the appropriate management plan. I also have shifts on telestroke, where I evaluate potential acute stroke patients at our remote sites over video. 
How and when did you first get interested in neurology? What drew you to hospital neurology in particular?
I've been interested in neurology for a long time--I was a neuroscience major in college--but I really was drawn to clinical neurology in medical school due to my mentors. I learned that neurologists have a unique role in bridging the gap between disease process and illness experience, and hospital neurology exemplifies this. 
Patients with neurologic conditions that are severe enough to be hospitalized are often overwhelmed, and often physically and mentally debilitated. This is a life-changing event for them much of the time, and it's really important that hospital neurologists are empathetic to the patient's experience of their illness. I am passionate about this topic, and so I've found that hospital neurology is a good fit for me to continue to exercise my compassion and empathy.
In your Duke Health profile video, you mention your passion for working with patients to navigate their recovery and treatment plans. What are some ways that providers and patients can reach an optimal plan that best meets patients' needs?
The first step and I think the most important step is to cultivate a relationship between the provider and the patient, and that is based on good communication which fosters trust. It's our job as physicians to understand disease processes and how the landscape of diagnosis and management is changing, but it is also our role to bring that back into the context of the patient and how we can guide them into making decisions about their healthcare. 
What do you enjoy most about your work?
I enjoy the satisfaction of being able to provide guidance to my patients, and especially when they feel like I have answered their questions and they feel empowered to take control of their neurologic health. I also really enjoy guiding trainees to hone their practice and style, so they too feel empowered and encouraged to practice independently after their training. 
What's the hardest part of your job?
The toughest part is navigating difficult situations with my patient or their families when the answer is not as clear cut. I wish sometimes that I could give more clear answers, or that we were better at predicting the future. 
What other passions or hobbies do you have outside of the Department?
I enjoy reading fantasy novels, baking, digital art, and exercising.