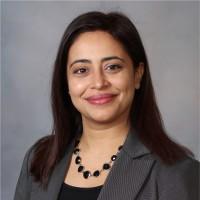 Shruti Agashe, MD, MS, first came to Duke as a biomedical engineering student. After medical school, this perspective, as well as her fascination with the human brain, drew her to neurology and epileptology. Now as one of the newest members of our faculty, Agashe is bringing her clinical and engineering knowledge together to improve care for her patients. 
For this week's Spotlight interview, Agashe talks to us about her growing interest in using neuromodulation to help patients with epilepsy and helping patients with epilepsy achieve their dreams. She also shares what she missed the most about her earlier time at Duke, and her hobbies of bicycling and trying new foods.
What are your current responsibilities within the Neurology Department? What does a typical day look like for you?
I primarily see patients with suspected or confirmed epilepsy in clinic. I cover the epilepsy monitoring unit and the General Neurology service for a few weeks. I have a special interest, both from a clinical and research standpoint, in neuromodulation including deep brain stimulation, responsive neurostimulation and vagus nerve stimulation for epilepsy. 
How and when did you first get interested in neurology? How did you decide to specialize in epilepsy and clinical neurophysiology?
I have always found the brain to be the most intriguing entity in the human body. Being a biomedical engineer by training, the field of epilepsy is a natural fit. 
What's one thing you wished more patients (and their loved ones) knew about epilepsy?
I wish patients knew that epilepsy is not an uncommon neurological disorder. In most cases it is possible to achieve your dreams/goals despite the diagnosis - including graduating college, having a successful pregnancy or for that matter becoming a physician.
In addition to your medical degree, you also have a master's in biomedical engineering from Duke. How does that degree inform or complement your clinical perspective?
My technical knowledge lends itself very well to both clinical care and research in epilepsy. I was introduced to neuromodulation several years ago at Duke and the interest has only kept growing over the years. I now have the ability to translate my engineering knowledge into devices to directly benefit my patients.
What have you missed most about Duke (or about living in the Triangle) since you were away?
I missed walking by the Chapel; I missed the vibrant Duke gardens, overall I missed the natural beauty of North Carolina.
What other passions or hobbies do you have outside of the Department?
I love tasting food from different cultures/countries. I enjoy biking with my  husband and 11-year-old son as a family.