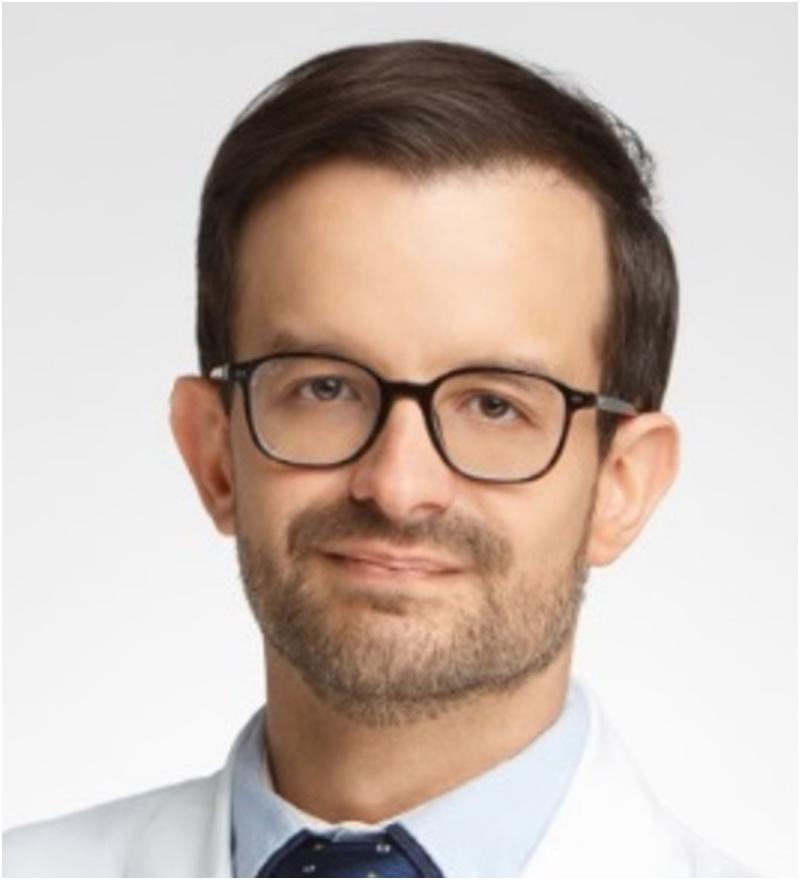 Gabriel Torrealba-Acosta, MD, hadn't thought much about neurology until his final year of medical school, when a trusted mentor's enthusiasm convinced him to pursue the ever-changing, challenging field. The rush and excitement during  Torrealba-Acosta's time in the neurocritical intensive care unit (neuro ICU) convinced him to specialize in neurocritical care and join our neurocritical care fellowship program.
For his Fellow Spotlight interview, Torrealba-Acosta talks to us about learning from our team of advanced practice providers during an early stressful night in our neuro ICU. He also talks about his ongoing research project that he hopes will help restore function to patients in a minimally conscious state. Finally, Torrealba-Acosta shares the joys and challenges of his time as a fellow and enjoying cooking, traveling, and making music with his wife when he's not at Duke.
What are your current responsibilities as a second-year neurocritical care fellow? What does a typical day look like for you?
As a second-year fellow, I have much more autonomy with patient care. This comes at the expense of a higher expectation from my attendings. My day usually starts with getting a sign-out from the overnight APP. Our sign-out is very thorough as we review every organ system, highlighting the last 24-hour events. Immediately after, the team (an APP, the pharmacist, a nurse, sometimes a resident/intern, and me) rounds systematically and methodically on each patient.
After examining the patient, we summarize the clinical exam, laboratories, and available imaging to arrive at a correct assessment and plan for each organ system. My role is to lead the discussion while writing the notes and ensuring that every team member is involved and able to contribute to rounds. After rounds, we will all tackle the required procedures, update patients' relatives, follow up on labs and imaging results, and reach out to consultants for their input. We may have Zoom or in-person conferences and multidisciplinary rounds, according to the day of the week.
How and when did you get interested in neurology? How did you decide to pursue a fellowship in neurocritical care?
Like many other med students who jump from one specialty to the other, when I was in my 3rd and 4th year of Med School, I had already considered doing surgery, pediatrics, cardiology, and gastroenterology. However, one of my most senior and seasoned attendings, who back in the day had trained at Harvard and had come back to Costa Rica to pretty much build a neurology specialty over there, had a profound impact on my decision process as he presented neurology as an ever-changing and challenging field. His lectures were as intriguing as they were intimidating.
I decided to pursue a neurology residency in Costa Rica, and again (for credentialing purposes), I had to re-do my residency at Baylor College of Medicine in Houston, TX. Initially, my idea was to train under Dr. Joseph Jankovic (one of the fathers of movement disorders, still at BCM). Nonetheless, Baylor's residency program turned out to be very heavy on neurocritical care, and very quickly, I realized I enjoyed my days in the ICU much more than my clinic days.
What's one experience from the first year of your neurocritical care fellowship that stands out as particularly helpful or memorable?
I remember one of my first-night calls when we admitted a teenager with a self-inflicted gunshot to the face. Upon his arrival at the unit, the whole scene was striking. He was barely holding his vital signs while requiring vasopressors and blood transfusions due to the multiple injuries he presented.
Amid this "controlled chaos," one of our APPs (Gary Macy), one of the persons who has taught me the most, started to orchestrate the crew of nurses, other APPs, and me around the care of this patient in a very calm and secure manner. He made people feel comfortable and safe about what they were doing and how they were collaborating. He even trusted me to place a US-guided axillary central line (one of the most challenging lines). That night, I realized critical care providers needed to project composure and confidence, particularly during such situations.
You recently received the Don Sanders Residents and Fellows Research Fund to work on a study on vestibular stimulation in minimally conscious state patients. What are the goals of that study, and how will it help us better understand or treat patients who have had neurological injuries?
I'm very grateful to receive the Don Sanders Research Fund, which will be directed towards obtaining neurophysiological endpoints in patients enrolled in this clinical trial. I'm helping Drs. Laskowitz and James, with this study, assessing the safety, feasibility, and preliminary efficacy of time-varying caloric vestibular stimulation in patients in a minimally conscious state.
The device we are testing delivers oscillatory warm and cold waves to the vestibular nuclei in the brainstem through aluminum earpieces that fit inside the ear canal. The activation of the vestibular nuclei relays on the thalamus and then projects to several brain networks, putatively eliciting a restorative effect.
What plans do you have for after you complete your fellowship? What would it be if you could have any job in the world?
I was on a clinical-scientist track at BCM that taught me about seeking funding and life as a researcher. Upon finishing my fellowship, I plan to stay at an academic center and develop a research career as an independently funded physician-scientist. My ideal job would involve partitioning my working hours between clinical duties in the neuro ICU and having my own lab where I can continue working on grants and projects in neuro-engineering and data science.
What do you enjoy most about your work?
In the neuro ICU, I mostly enjoy doing procedures and the rush of having crashing patients. When working on my research, I can spend hours and hours programming in R and Python for the different projects I'm involved in.
What's the most challenging part of your job?
Facing death, for some weeks, even on a daily basis. It is a constant reminder that we will all die inevitably and that we should enjoy our present time regardless of our problems and troubles. Many nights, I yearn to come home to kiss my wife and dogs and simply be grateful I can have that precise moment of life to be with them.
What other passions or hobbies do you have outside of the Department?
 Many. I just wish I had more time. I spend most days outside the hospital with my wife, watching TV, cooking, shopping, and playing with my dogs. We enjoy making music together where she sings, and I play the piano/guitar for her. We frequently go to the movies and play Nintendo. Whenever we can, we will travel somewhere just to reset our brains.