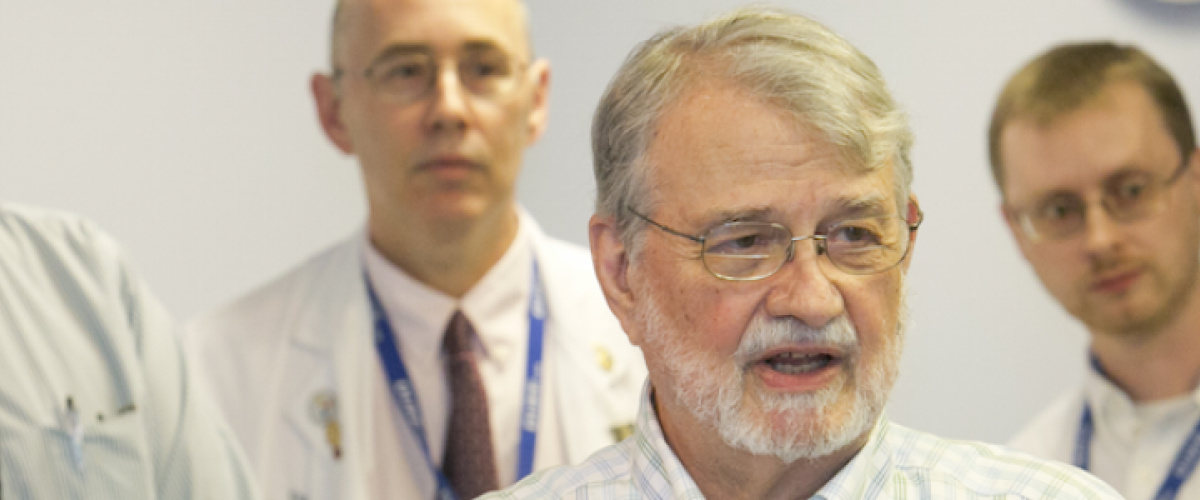 Jump-Starting the Work of Young Neurologists
For neurologists at the beginning of their careers, even small amounts of funding can make a huge difference.  At the right time, a few hundreds of dollars can pay for an early research project, travel opportunity, or other project that catalyzes a career-long interest in a disease or condition.
The Donald B. Sanders Residents and Fellows Research Fund, or Sanders Fund, provides this opportunity to residents and fellows within the Department of Neurology. After three years of expenditures following our last major fundraising effort, the Sanders Fund is currently running low.
This fund was started in 2011 through the generous support of Donald B. Sanders, MD, who envisioned a self-sustaining source of support to help our Duke trainees become future leaders in Neurology. Sanders' original donation helped build the academic careers of several of our trainees who later transitioned to faculty positions at Duke, including Jeff Guptill, MD, MHS, and Justin Mhoon, MD.
Triple Your Impact
Your private, tax-deductible donations to the Sanders fund are needed more than ever. For a limited time, these donations will also make a triple impact. All donations to the Sanders fund in the near future will be matched twice: first, by the Department itself, and second, by a generous anonymous donor. Select donors will also receive periodic updates from residents and fellows whose lives they helped.
"I received the Sanders fund as a resident to support my research regarding the use of quantitative EEG in the Neuro ICU. The funds covered travel costs to present my results at the Neurocritical Care conference, and ultimately the paper got published in the Neurocritical Care journal. This paper has been cited and quoted many times since its publication, and it has led to a second prospective study in our unit, currently being revised for publication."  - Jennifer Kang, Resident, Class of 2019
You Can Make a Lasting Difference
Your donations to the Sanders Fund make a direct impact for our residents and fellows, often for years after they complete their training. By providing stability and support to neurologists as they begin their academic careers, these donations are also helping to advance the next generation of clinical and translational neuroscience research. 
Recent recipients of the Sanders fund include:
Elijah Lackey, MD, (resident, class of 2022), who was able to pay the publication fees for an article he wrote for Case Reports in Neurological Medicine. The case report, "Negative Diffusion Weighted Imaging on Magnetic Resonance Imaging of the Brain in Creutzfeldt Jakob-Disease," was published in late 2020.
Jennifer Kang, MD, (resident, class of 2020, current senior neurocritical care fellow), who received funding to pursue a clinical research project involving neuro-oncology in the Intensive Care Unit.
Jennifer Creed, MD, PhD, (resident, class of 2017), who was able to pay for laboratory supplies for a project examining whether inhaled argon could improve recovery, neuroinflammation, or neurologic outcome in mice. The results of this project were published in a recent issue of Neurocritical Care.
 "As a third year resident I wrote my first case report and wanted to submit to an open access journal. The journal accepted my publication and the Don Sanders fund paid my article publication fee. Having this funding resource available opens up opportunities for residents to write and publish during their training as we create a foundation for our careers." -Elijah Lackey, MD, resident, class of 2022
How to Give
You can contribute to the Sanders fund in three ways:
The Donald B. Sanders Fund for Residents and Fellows
Duke Health Development and Alumni Affairs
300 W. Morgan Street Suite 1200 Durham, NC 27701