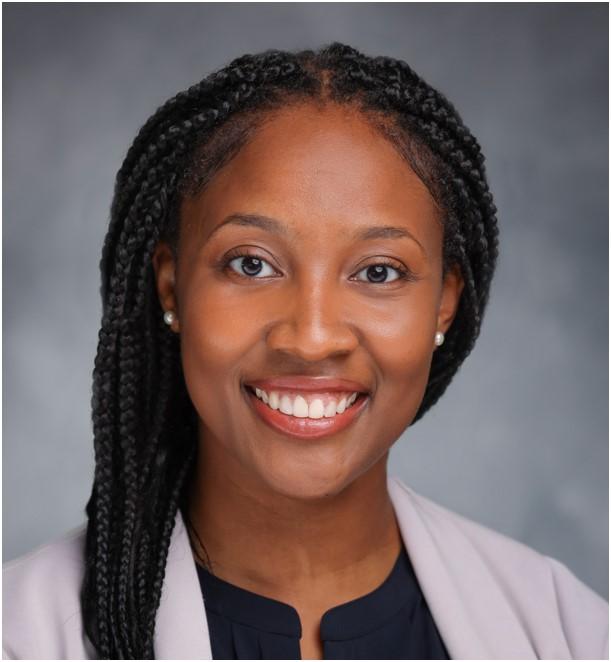 Even as Alzheimer's disease and dementias grow as a national health crisis, there remains a shortage of clinicians willing to treat people with these conditions as well as to perform the necessary clinical research to improve how we treat dementias and mitigate their effects. Fortunately, our second-year resident and a recent recipient of a  R38 CARiNG-StARR award, Deborah Rose, MD, will be taking on both of these roles during her training. As a resident, Rose is studying the role stress plays  in the development of Alzhiemer's disease--and how stress may contribute to racial disparities in the condition-- while she receives her clinical neurology training. For this week's Spotlight interview, Rose tells us about her personal and professional interests in Alzheimer's disease, her plans for the future, and enjoying traveling, journaling, and time with family when she's not at Duke.
What are your current responsibilities as a CARiNG-StARR resident? What does a typical day look like for you?
I'm grateful to have been awarded the R38 CARiNG-StARR (Creating Alzheimer's disease and Related Dementias Researchers for the Next Generation – Stimulating Access to Research in Residency) grant. With Dr. Andy Liu from the Memory Disorders Division and Dr. Cathrine Hoyo from the Department of Biological Sciences at North Carolina State University, I am studying the impact of prenatal stress on epigenetic regulation in the development of Alzheimer's disease in African American and Caucasian individuals. 
The primary aims to investigate this will be to establish the relationship between self-reported stress and biomarkers of prenatal stress, determine differences in prenatal stress biomarkers between African Americans and Caucasians, and explore differences in regulatory gene sites called imprint control regions in patients diagnosed with Alzheimer's disease and normal cognition. 
As a Junior Assistant Resident, my day-to-day responsibilities vary depending on the rotation. As PGY-2s, we complete inpatient rotations in stroke, general neurology, the neurology consult service, the  NeuroICU, and outpatients rotations in neuroimmunology, headache, neurodegenerative (i.e. movement, memory disorders), and at the VA Hospital. We also have a few weeks of elective time which we can use to complete rotations in certain sub-specialities and related areas such as neuro-ophthalmology, neuro-otology, sleep medicine, neuroradiology, and research. 
How and when did you first get interested in neurology? What led you to focus on Alzheimer's disease and dementia in particular?
Prior to medical school, I developed a deep interest in the neurosciences during my gap year of research at the National Institute of Mental Health. Our lab studied and mapped neuronal activity in the amygdala and orbital pre-frontal cortex of the rhesus monkey. Subsequently, my neuroanatomy and neuropathophysiology courses in medical school solidified my interest in the neurosciences, and my Neurology clinical clerkship made it clear that my passion is rooted in the field of neurology and caring for patients with debilitating neurological disorders and illnesses. 
My passion for dementia grew during my final year of medical school when I learned that my grandmother was diagnosed with Alzheimer's disease. I spent some time with her in Jamaica for a couple of weeks in the summer of 2019, assisting her with activities of daily living. During the quarantine months in the spring of 2020, I worked as a home health aide and companion caregiver to serve elderly individuals with Alzheimer's disease, non-Alzheimer's disease dementias and other chronic health conditions. I worked directly in the homes of clients, completing daily tasks such as laundry, cooking, cleaning, bathing, and running errands. It was a deeply personal experience that fueled my passion for the advocacy and research of Alzheimer's disease and related dementias.
What specific topics within the field of health disparities and dementia are you hoping to focus on for the research portion of your residency? How will that research help us better understand, treat, or prevent Alzheimer's and dementia?
I am working with a team to investigate epigenetic changes that may explain the racial disparities between African Americans and Caucasians in the development of Alzheimer's disease. In the future, I hope to examine how addiction, psychosocial stress, and other neuropsychiatric illnesses may play a role in the development of Alzheimer's disease and other cognitive disorders. This research will help to elucidate etiopathological mechanisms underlying Alzheimer's, potentially paving the way for the development of new therapeutic targets.
What's one thing you wished more individuals with dementia or their loved ones knew about their condition?
Dementia, of which Alzheimer's is the most common cause, is a devastating condition that affects millions worldwide. It robs individuals of their personhood and essence. After the age of 65, the risk of developing Alzheimer's doubles every 5 years. After the age of 85, the risk is about one-third. This disease is more prevalent among African Americans and Hispanics. The lifestyle habits that contribute to cardiovascular diseases (i.e. heart attacks, diabetes, high blood pressure, high cholesterol, etc) may also contribute to dementia. These habits include smoking, poor dietary habits, lack of social and physical activity, substance use, and poor sleep hygiene. Healthy living is crucial for optimal brain health, and to help prevent the development of cognitive diseases such as dementia.
What plans do you have for after you complete your residency?
My long-term goal at this time is to become a behavioral neurologist to treat patients with memory disorders and other neuropsychiatric conditions. My interest in behavioral neurology has developed due to my exposure to many neuropsychiatric conditions in my family, including Alzheimer's disease (AD), neurodevelopmental disorders, and other mental illnesses.
As someone who has been personally impacted by the grips of Alzheimer's in my family and professional work experience, I plan to remain actively involved in this area of research during my residency training and well into my career.
What other passions or hobbies do you have outside of the Department?
My hobbies are reading, journaling, traveling, blogging, Zumba fitness, going for walks, and spending time with my family and friends.