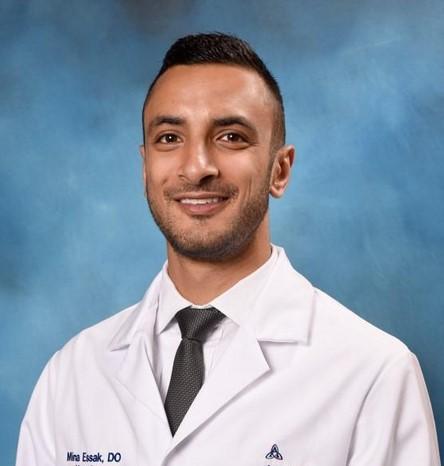 This week's Spotlight interview shines on our newest headache fellow, Mina Essak, DO. Essak talks to us about his work treating patients with migraines and facial pain in our Morreene Road Clinic, how he was swayed from primary care to neurology during his medical school rotations, and why in another life he would be a ski instructor. He also shares his passion for the outdoors and hopes for skiing in Banff this coming winter.
What are your current responsibilities as a headache fellow? What does a typical day look like for you?
My typical day is spent at  our Duke Neurology Morreene Road Clinic. I'm learning to treat patients with refractory migraines and facial pains from both a medication, and a procedural standpoint. A typical workday begins around 8 a.m. and ends around 5 p.m., and throughout the week I also have the opportunity to rotate with other subspecialty clinics including neuro-ophthalmology, pain, CSF leak, and OMF clinic.
How and when did you get interested in neurology?
While I enjoyed the neurology block in med school, my initial choice was in primary care. Just before my externships began, I had my neurology rotation and took a deep interest in the localization of neurologic conditions, and the importance of a detailed neurologic exam. I also found the mix of longitudinal outpatient and more higher-acuity inpatient care to be a favorable balance. 
You recently completed your residency at the Ascension Macomb-Oakland Neurology Program. What's one experience from your time as a resident that stands out to you?
​What I'll remember most from residency is the comradery we developed amongst the residents and care team. Although there were tough days, some longer than others; a great resident team, dedicated nursing staff, and supportive attendings made it a great and enriching 4 years.
What plans do you have for after you complete your fellowship? If you could have any job in the world, what would it be?
​After fellowship, I hope to practice primarily headache medicine, with a mix of general neurology - hopefully here around Durham. I would respond "Headache provider" to my ideal job, but to avoid the cliche, I would be a ski instructor in another life.
What other passions or hobbies do you have outside of the Department?
I love to be outdoors. My dog Marlo and I enjoy trails, and I'm passionate about winter sports. I've skied in Colorado, Utah, Switzerland, and am hoping to ski Banff this coming winter.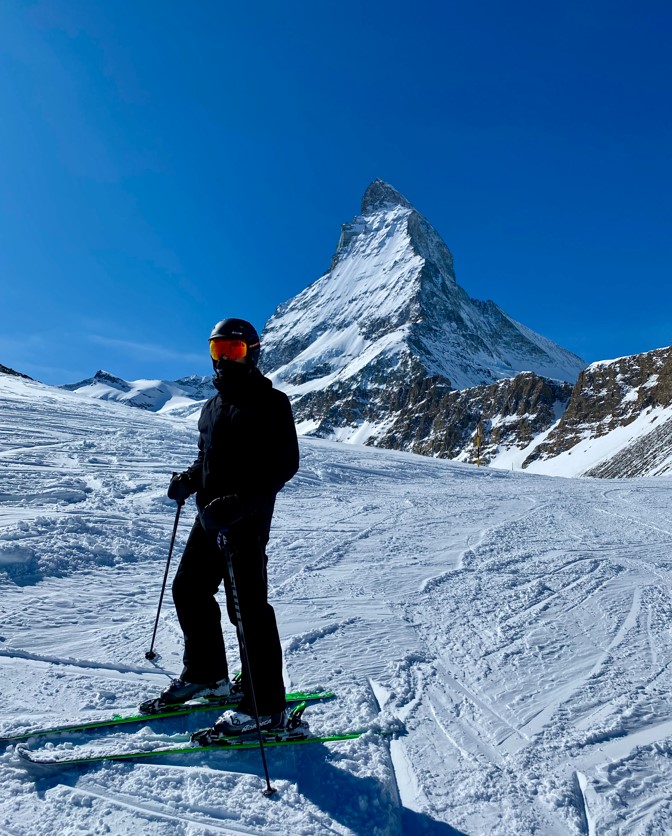 Above, Essak shares a photo of a recent skiing trip.