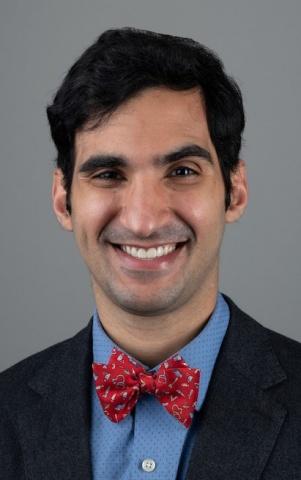 As a medical student, Mohanad AlGaeed, MD, was fascinated by the way a simple neurological history and exam could allow doctors to localize a problem and make an appropriate diagnosis. He decided to specialize in epilepsy and is now completing his training in our new epilepsy fellowship program. For this week's "Spotlight" interview, AlGaeed talks to us about his plans for treating patients with epilepsy in Saudi Arabia and the Middle East, a recent article he wrote discussing the experience of residents during the COVID-19 pandemic, and enjoying running, basketball, geography, and time with his family and dog Nala when he's not at work.
What are your current responsibilities as a clinical neurophysiology fellow? What does a typical day look like for you?  
I am currently an epilepsy fellow. My main responsibility is to read and report electroencephalogram (EEG) and manage patients with epilepsy.  A typical day starts with morning lectures/conference 3 days a week. After that I'm usually reading EEGs in the EMU, long-term studies, or ICU EEG. Fortunately, here at Duke, we are exposed to both adult and pediatric EEG with the supervision of world-class epileptologists. Every couple of months, we do two weeks of night float and periodically check on EEGs from home. I also have a half-day of epilepsy clinic two times per week.  
How and when did you get interested in neurology? How did you decide to focus on clinical neurophysiology and epilepsy? 
I have been interested in neurology since I was a medical student, where I was fascinated by the art of localization and being able to identify an appropriate differential diagnosis solely on the neurological history and examination. From there, I was fascinated by the localization of seizure semiology and wanted to learn more about EEG and surgical planning to help patients with refractory epilepsy.   
Last year you were the first author of a Journal of Clinical Neuroscience article that examined the experiences of residents during the COVID-19 pandemic. What were the main findings or recommendations of that study? 
This was a commentary piece highlighting the challenges facing neurology trainees in the early days of the pandemic. We discussed some of the drastic measures that needed to be taken to ensure health and safety of all. Some included temporarily closing outpatient clinics, working in discrete shifts, seven days on and seven days off, and reducing the number of residents to maintain social and physical distancing. We also commented on how residency programs succeeded in leveraging web-based technologies to continue formal didactics and meetings.  
What were your experiences as a resident like during that same time period?
It was a very difficult time for everyone during the pandemic, especially in the healthcare setting. It was challenging for residents and fellows in terms of their education experience, including myself as a chief resident, but we thankfully managed to implement a night float system and reduce capacity for inpatient rounds, without compromising education. Web-based education has become an integral part of our education, and I am thankful for that.  
You also have a pending publication that discusses the use of electroencephalography when seizure is suspected in a patient experiencing a stroke. What were the findings of this article, and what can be done for individuals experiencing these two concurrent emergencies? 
Post-stroke seizures are not uncommon. As neurologists, we must pay close attention to subtle clinical signs that may be indicative of active seizures. On the other hand, the lack of clinical signs does not rule out subclinical seizures, which makes EEG a very helpful diagnostic tool. If seizure is suspected, EEG should be considered to help guide the next step in management. Our study highlights the yield and cost-effectiveness of EEG in acute stroke in greater detail. 
What plans do you have for after you complete your fellowship? If you could have any job in the world, what would it be?
I plan on going back to Saudi Arabia with my wife and hopefully be able to help patients in the Middle East.  If I could have any NON-medical job in the world, it would be a basketball commentator/podcast host such as Steven A. Smith! I love basketball. I also LOVE dogs and enjoy training them, so a "dog trainer" would be a great second career. 
How do the populations and health systems of Saudi Arabia and the U.S. compare when it comes to neurology and epilepsy in particular? What challenges and opportunities do you see in treating this population?
There are several challenges in both countries treating patients with epilepsy, and they are in some ways similar. The most challenging aspect remains treatment of refractory epilepsy. A recent study demonstrated that the prevalence of medically refractory epilepsy (MRE) is around 30% which is close to other population. Here's a link. 
The resources for treatment vary across institutions in the United States and depending on whether medical/surgical care is sought in rural or urban cities in Saudi Arabia. Medical insurance coverage may at times also create challenges when developing a treatment plan in the U.S., whereas the major tertiary centers in Saudi Arabia have free health care coverage for its population. The difficulty in the latter remains in the reduced feasibility of access to medical care for these patients, especially in the poorer/rural areas. Also, due to the growing population, there is definitely a need to increase the number of specialized epilepsy monitoring units across the country. 
Overall, patients with epilepsy are often complex and face challenging aspects of their disease including insurance coverage, medical access, or lack of awareness of new treatment modalities. They deserve a thorough workup and to thoughtfully develop a treatment plan that works for them and their families to help cure and or improve quality of life.  
What's one experience from your time as a fellow so far that's been especially memorable or useful for you? 
I have learned to appreciate the art of epilepsy in addition to the science behind it.  
What other passions or hobbies do you have outside of your fellowship?
I enjoy running, watching basketball, and playing soccer or tennis.  I also enjoy exploring restaurants with my wife, teaching my dog Nala new tricks, and watching TV shows that have high IMDb ratings. I could challenge anyone to any geography game such as identifying flags or capitals of countries. 

AlGaeed enjoys a quiet moment with his wife and dog Nala.